Some Excellent Cacti and Succulent Varieties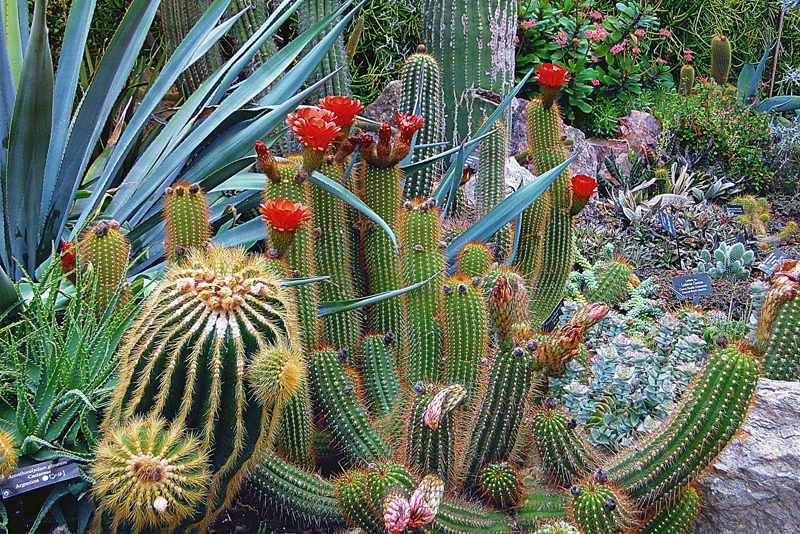 When shopping for cacti and succulents, look for the best varieties available. The following are some promising additions to the lineup.

Of the hardy stonecrops, Sedum Sublime is a great choice for perennial beds and borders. This plant offers beauty in every season. This hybrid is a late blooming variety. The pale pink blossoms open in rounded heads beginning around September or so. This perennial also offers very attractive foliage as well. When the glossy leaves first emerge in the spring, they're bright green. By summer, the margins of the foliage are vivid red.

The stems are brownish-red and bring color even during the winter months. The upright plants form neat clumps. Sublime can be up to two feet in height. This is recommended for zones four through nine.

Among the tender cacti and succulents are some excellent ones that can be grown indoors and in conservatories or greenhouses. The variegated devil's backbone is a delightful succulent that is also known as Jacob's ladder.

This plant is noted for its very attractive colorful foliage. This is green and white with tinges of red. It has the zig-zag stems that are seen in the species. Variegated devil's backbone has gray-green stems that are several feet in length. The spurred blossoms have colorful red bracts that are shaped like a bird's head. About two feet in height, this is a bushy shrub with an
open center.

This plant has a milky latex that is poisonous. As a houseplant, this needs several hours of direct sun each day. When grown outdoors as a landscape plant, it can tolerate partial shade. Variegated devil's backbone is suitable as a landscape plant in zones nine through eleven. When the soil becomes too dry, the leaves are likely to drop.

The devil's backbone is a member of the Euphorbia family. This is native to the West Indies. It is also known as ribbon cactus.

Cameron drunken agave is a delightful landscape plant for warmer climates. Elsewhere, it can be used as a container plant and brought indoors for the winter. The species is native to central Mexico. This trunkless species has stiff, fleshy leaves arranged in a beautiful rosette. The foliage is about a foot in length. The flowers are greenish-yellow. These open on tall stately flower spikes that can be up to 15 feet in height. Cameron drunken agave is hardy to zones nine and higher. This variety is suitable for container gardens.

This is best known for its very beautiful foliage. The edges of the leaves are jagged with prominent red teeth. The leaves are pale greenish-gray with tinges of pink and red.

There are several up and coming new varieties of kalanchoes. The Magic Bells kalanchoe and the Lucky Bells kalanchoes are strikingly different. These have long, pendant, bell-shaped bi-colored blooms that are somewhat reminiscent of fuchsias. As of yet, these are only available in Europe. Tesco in the UK is one source. I expect it will be years before these reach the U.S.

The nice thing about these beauties is that the emerging flower heads are attractive at all stages. Before they fully open, the developing blooms look like dangling earrings.

Lucky Bells kalanchoes are bicolored with lovely pink flower tubes arising from the bell-shaped white or greenish-cream bases.

The Lucky Bells and Magic Bells kalanchoes are premium plants. Because they're harder to grow, expect to pay more than you would for mass market flowering plants.


This site needs an editor - click to learn more!


Related Articles
Editor's Picks Articles
Top Ten Articles
Previous Features
Site Map





Content copyright © 2022 by Connie Krochmal . All rights reserved.
This content was written by Connie Krochmal . If you wish to use this content in any manner, you need written permission. Contact BellaOnline Administration for details.