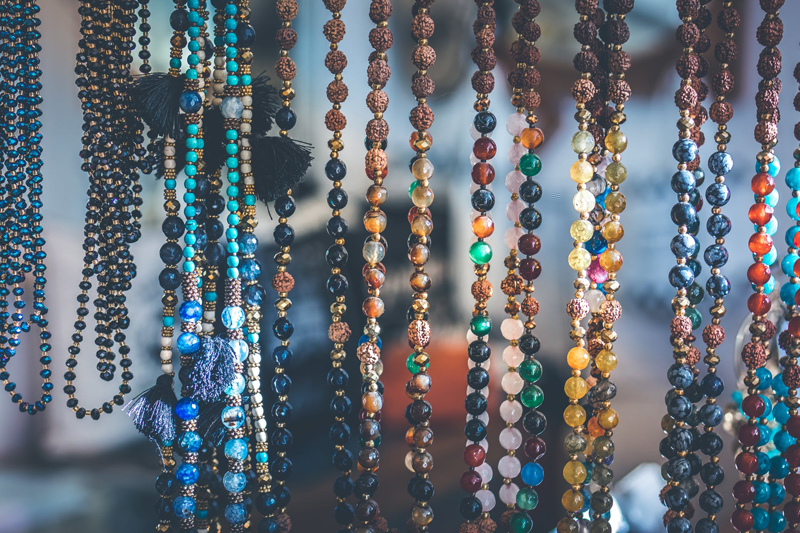 I love using porcupine quills in my beadwork, and I'm sure you've seen them put to great use in earrings.
You can find porcupine quills in a lot of leather and bead shops. I buy them in bags from my favorite local bead store, but you can also find them on
Ebay
.
Porcupine quills come intact. They aren't beads yet, and are sometimes they are a little musty. You can wash them in warm water with a little bit of dish detergent to clean the musty smell off of them.
The ends of quills are barbed, which is why they get stuck so well people and animals when you upset a porcupine, so be careful working with them, and do it only in areas you can keep them away from curious animals or children.
After you clean them, you'll want to sort out the ones you need for your project. What you are looking for is quills that are about the same thickness and straight. Length doesn't matter overmuch because you'll be trimming them down for your project. For the earrings above, I needed 26 quills, so I matched up 30 in case I had a problem with any of them.
What I usually do is trim them one at a time. I use very sharp embroidery scissors for it, but some people prefer baby nail clipper. I also usually work with dry needles, but some people prefer to use them softened in warm water. Try it both ways, and see what you prefer.
Trim the first one to the length you'd like it at, trimming off both the top and the bottom tapered parts. Match up your next quill to that, trying to keep the dark parts as even as possible, and trim that quill to match. Continue until you have all the quills you need trimmed. Because quills are natural, and not manmade, there are irregularities. When I mentioned problems above? Sometimes you can pierce the side of one while stringing it, sometimes they bend and crack, and sometimes cutting them can crack them. The reason I don't work with them wet is because I had a lot of problems with squishing them when they were wet, which is handy if you're doing quill work, but not so much when you want long bugle bead type quills on earrings!
If you look in the quill at one of the cut edges, you'll see it's filled with a white pith, the pith is very soft, and using just a long regular beading needle, you can string them on your beadwork like bugle beads and use them that way.
So for something like fringe, you'd string them on the same way you usually make fringe. Look at the graphs, the base rows are marked with arrows, the triangles over those are brick stitched, and the bottom is fringe done by going down through the beads, the quill, the end bead or beads, and back up through the beads, quills and beads. Weave through the base row to the next fringe and continue on in that manner.
You do have to be careful not to pull the strand too tight. They aren't rigid glass beads, they are soft quills, and if you pull too tight, you can either bend the quill, or you might just slice the quill with the thread, in either case, you'll have to undo that whole fringe and do a new one with a new quill.
Fortunately, quills aren't expensive at all, so even with the ones you can't use, or the ones you accidentally split, it's still a great deal for the effect they add to brick stitched earrings or bead embroidery.
The earrings above were done in size 11 Delicas, with 4 mm druks and size 8 black seed beads in the fringe. I used Silamide thread, and a size 12 long beading needle.
For more information on brick stitch, I wrote an article
here
about it.
You Should Also Read:
Basic Brick Stitch
Brick Stitch Variations
Onigiri and Sushi Brick Stitch Earrings


Related Articles
Editor's Picks Articles
Top Ten Articles
Previous Features
Site Map



Follow @shala%5Fbeads
Tweet





Content copyright © 2023 by Shala Kerrigan. All rights reserved.
This content was written by Shala Kerrigan. If you wish to use this content in any manner, you need written permission. Contact Shala Kerrigan for details.