Botanical Art-Cacti and Succulents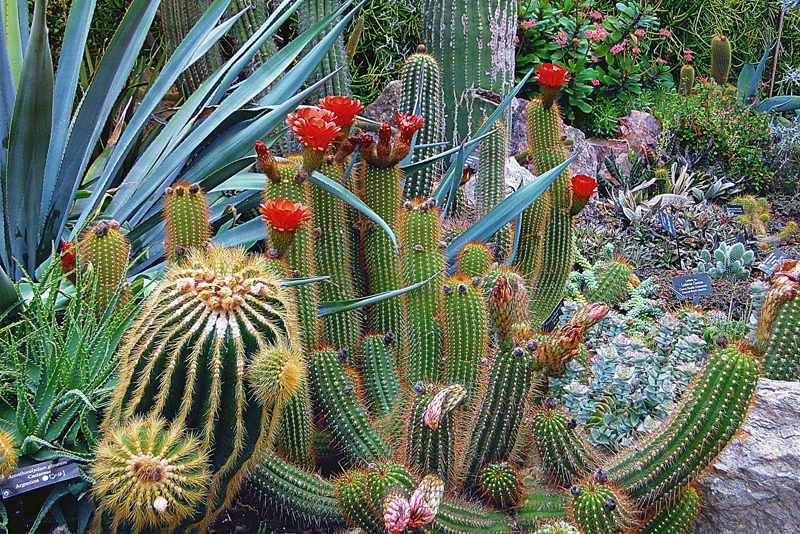 A number of botanical artists are known widely for their works that depict cacti and succulents. These include the following.

Francis Masson (1741-1805) published an entire book on stapelias called "Stapeliae Novae." He began as a gardener at Royal Gardens at Kew. He was the first plant collector the garden sent out into the field. During his collecting trips to the Cape of Good Hope, he brought back an extensive collection of stapelias. Then he took a year's leave to write the book in 1796-97. After his return to the garden he was sent to Canada where he later died.

His book included a number of paintings of the stapelias. These included one of Stapelia campanulata. This showed the entire plant in bloom with flower buds.

Nikolaus Joseph von Jacquin (1727-1817) was director of the royal gardens at Schonbrunn. He published a series of beautiful books, which appeared mostly in installments. He was also professor of botany at Vienna and director of the Vienna Botanical Garden. In 1806 he was appointed rector of the University of Vienna.

Between 1806-1820 he published a series on the stapelias. At the time he was 80 years old. The book was called "Stapeliarum in Hortis Vindobonensibus Cuttarum Descriptiones." The last installment of the book was published after his death at the age of 91.

The individual paintings in Jacquin's book on stapelias showed the entire plants in flower. In addition, there were separate sketches showing the flowers, seeds, and so on. The book included paintings of Stapelia clypeata and Stapelia deflexa as well as Stapelila glauca.

The painting of Stapelia pedunculata showed it in a pot. The flower hangs down from a very long runner sort of like a runner on an emerging put from a hen-and-chicks. This was a very sparse looking plant with very stems.

Jacquin's book also included paintings of Stapelia campanulata, Stapelia reticulata, Stapelia nudicata, Stapelia serrulata, Stapelia maculosa, Stapelia hircosa, Stapelia marmorata, and Stapelia variegata.

During the Victorian era a number of artists specialized in botanical subjects. Some of these were known for their paintings of cacti and succulents. Here are some highlights of their work.

The art of Clarissa W. Munger Badger was true to life. Born in 1806, she died in 1889. Badger specialized in flowers and plants. She published several books of botanical art, including "Wild Flowers of America" and "Floral Belles." One of her works shows an exquisite night blooming cereus in full bloom. This depicts both the stems and leaves.




This site needs an editor - click to learn more!


Related Articles
Editor's Picks Articles
Top Ten Articles
Previous Features
Site Map





Content copyright © 2022 by Connie Krochmal . All rights reserved.
This content was written by Connie Krochmal . If you wish to use this content in any manner, you need written permission. Contact BellaOnline Administration for details.