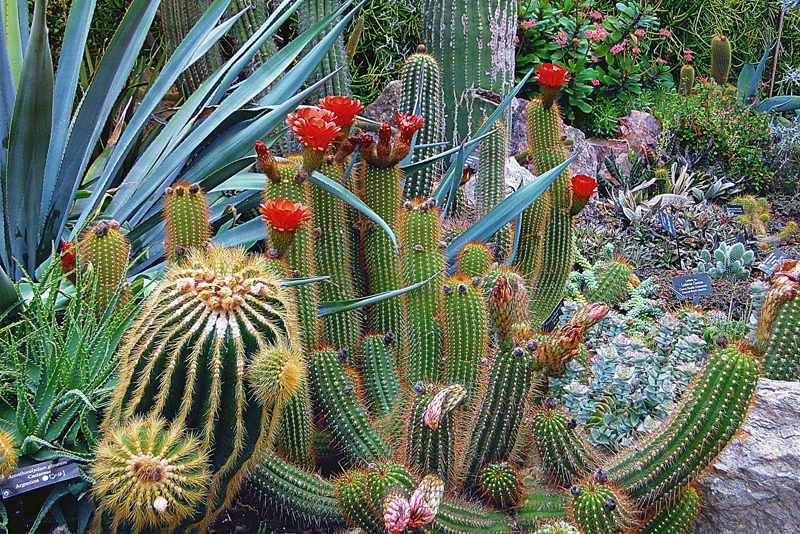 The saguaro is among the best known of the American cactus. It is the tallest of the columnar species within the U.S.

Saguaro is native to the Sonoran Desert. It occurs in southwestern Arizona, southern California, and northwest Mexico. This is found at elevations below 4000 feet.

This cactus has evenly spaced regular ribs. Mature stems can have two dozen or so ribs. The spines are yellow.

Up to five inches or so in diameter and length, saguaro blossoms arise from areoles at the terminal ends of the stems.

Saguaro cactus blossoms open during the spring. This occurs later at high elevations where spring weather arrives later. At lower elevations, the flowers can begin opening in mid to late April.

The plants won't begin blooming until they reach a decent size—about ten feet or so. By this time, the plants will also have developed branches.

When mature, the plants can reach 50 feet in height and have a spread of ten feet or so.

The large white scented blossoms are either bell or funnel-shaped. These remain open usually until the afternoon of the following day.

The blooms must be cross-pollinated in order for fruits to develop. Pollination is generally provided by bats as they migrate north. Any blooms that aren't pollinated within four days or so will drop off the plant.

Once pollination occurs, the fruits quickly begin to show up. These are scaly and spiny. These are oblong to egg shaped. They ripen within five to six weeks after the blooms open.

Initially green, the fruits ripen to red. These are about three inches long. The pulp is red, while the seeds are black. The seeds are contained within the fruit pulp. These must be extracted before planting.

Seeds that have been stored for long periods will have a lower germination rate, perhaps 50% or lower.

Scatter the seeds thinly on the surface of the potting soil. Don't cover them. Sow thinly so the seedlings won't touch each other.

These seeds need light in order to germinate. Keep the potting mix moist so the seeds won't dry out.

Germination is best when the seed trays or pots are kept at about 75-77 degrees Fahrenheit. When conditions are ideal, about 90 to 95% of the seeds will sprout. Germination usually takes about a week. However, some can take as long as two weeks.

Once the seedlings are large enough, they can be transplanted into pots. The young seedlings are sensitive to frost. So, protect them from severe temperatures for the first couple years or so. Saguaro seedlings benefit from shade during the hottest part of the day. Keep the pots in a shady area until the plants reach a decent size.

Initially, saguaro seedlings are slow growing. As they get old this will speed up until it is perhaps an inch a year.

By the time the plants are 25 to 30 years of age, they're about three feet or so in height.

This plant is sensitive to cold temperatures. They can withstand it at 20 degrees Fahrenheit for a short time. Needing a warm dry climate, this is winter hardy in zones 12 through 15.

Saguaro requires a very well drained soil. When grown outdoors, it can be grown in full sun. However, in greenhouses and conservatories, be careful. The glass can magnify the heat and glare of the sun's rays. Water the plants on a regular basis during the growing season and add fertilize about once a month. Use a formula that is low in nitrogen. Saguaro needs to be kept dry during the winter months.

The saguaro has a number of practical uses. The Native Americans have found it to be very useful. The fruits are eaten fresh and prepared in different ways, such as jellies, drinks, and liquors.

Once a saguaro plant has died, the wood can be used as a building material. It can also be burned as firewood.


This site needs an editor - click to learn more!


Related Articles
Editor's Picks Articles
Top Ten Articles
Previous Features
Site Map





Content copyright © 2022 by Connie Krochmal . All rights reserved.
This content was written by Connie Krochmal . If you wish to use this content in any manner, you need written permission. Contact BellaOnline Administration for details.