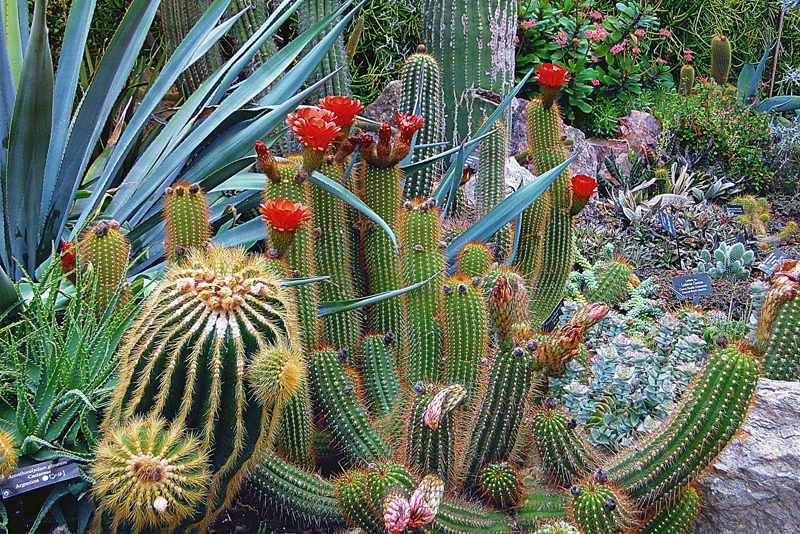 The staplelias are among the most remarkable succulents. Originally from South Africa and semi-arid tropical Africa, these are named for J.B. van Stapel, who was a Dutch physician in the 17th century.

These plants are best known for their ill smelling, bizarre blossoms. Due to the off putting odor, these are also called carrion flowers. The scent attracts blowflies, which pollinate the blooms. The blossoms open during the summer and fall. Lasting for about two days, these can reach five inches in diameter.

The stapelias began to get attention in Europe and Britain during the 1600's. At first it was thought that these were relatives of the guinea hen flowers and other fritillaries due to the spotted blooms. Later, stapelias were recognized as being a distinct group and a member of the milkweed family.

British garden writer Jane Wells Loudon wrote about them during the 1840's in her gardening books.

Stapelias were the subject of several books. Nikolaus Joseph Freiherr von Jacquin, who was Rector of the University of Vienna. He was the author of "Stapeliarum in hortis vindobonensibus cultarum descriptions." This appeared as a series between 1806 and 1819. The last installment appeared after his death.

Francis Masson, a gardener and the first plant collector for the Royal Gardens at Kew also did a book on stapelias. His was called "Stapeliae Novae" in 1796-97. During his first plant expedition for Kew, he collected stapelias from the Cape of Good Hope.

Being sensitive to cold, it was essential that the plants be maintained in properly heated facilities. Failure of greenhouse heating systems was reportedly responsible for the loss of plants in some individual collections.

In Europe, it became the fashionable thing to have a collection of stapelias in one's greenhouse. According to reports, the University of Vienna had one of the best collections around.

As novelty plants, stapelias became the rage. They became extremely popular among gardeners who were lucky enough to have greenhouses.

A number of stapelias are still in cultivation. The most popular is the variegated species.

Others that are commonly grown include the starfish flower, the hairy toad plant, and the giant flowered carrion flower.

Stapelias are propagated by seeds, cuttings, and offsets.

This site needs an editor - click to learn more!


Related Articles
Editor's Picks Articles
Top Ten Articles
Previous Features
Site Map





Content copyright © 2022 by Connie Krochmal . All rights reserved.
This content was written by Connie Krochmal . If you wish to use this content in any manner, you need written permission. Contact BellaOnline Administration for details.