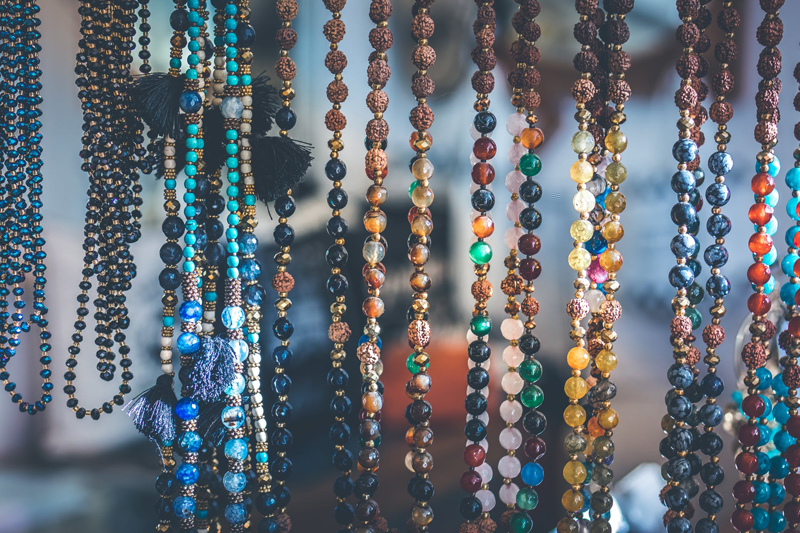 What all these earrings have in common, other than being food related, is that all the wires on them are handmade. I realized after placing my last order for findings and wire I forgot to order more sterling silver earring wires. I did however have quite a bit of 22 gauge half hard sterling wire.
You will need-
Practice wire to work out your design. Essential if you don't want to waste the more expensive silver
22 gauge half hard round sterling silver wire. I got mine from
Halstead Beads
Beads to match the project you're designing wires for
Wire cutters- I'm very fond of flush cutters
Needle file, nail file or a rotary tool with a cup burr
Ruler
Round nose pliers
Chain nose pliers
A permanent marker
Sterling crimp beads
Crimping pliers
Nylon jaw pliers
Round mandrel that's about 6-8 mm in diameter. I used knitting needles.
To start with, you'll want to work up your design in the practice wire. I use copper wire to practice with because I can buy it very inexpensively at the hardware store. Cut off 2.5 inches.
An inch and half down from the top, bend the wire at about a 65 degree angle.
Curve the top part of the wire around the mandrel to form the hook. Then use your chain nose pliers to bend the end of the hook slightly up.
String your beads on the bottom of the wire. I start with a crimp bead so I can lock my beads into place so they don't come off the top part of the wire while my earrings are in jewelry boxes, then I put on my decorative beads.
Bend the wire under your beads at a 90 degree angle.
Now take your round nose pliers, and bend the end of the wire into a circle. Mark where on your round nose pliers you bend your circle so you can make the same size ring every time.
Trim off excess wire and measure it. Subtract that number from 2.5 inches to figure out how much wire you need for the precious metal versions.
Cut off 2 pieces of sterling wire the length you figured out with the practice wire.Holding both pieces together so they match, make the 65 degree bend and bend it around the mandrel and turn up the end slightly. String beads on each one, and finish them off as above.
Now take your rotary tool or file and smooth the end of the wire that goes into your ear. You really don't want the sharp cut edge going into that delicate skin!
Use your nylon jaw pliers and just tap them closed around the top part of the wire and the ring a few times to work harden the metal a bit more so they don't pull out of shape while you are using them.
You can find the above earring patterns
here
. If they are sold, they will be relisted soon.
You Should Also Read:
Using Jump Rings With Seed Beads
Book Review : Findings and Finishings
An Elegant Bead and Chain Bracelet


Related Articles
Editor's Picks Articles
Top Ten Articles
Previous Features
Site Map



Follow @shala%5Fbeads
Tweet





Content copyright © 2023 by Shala Kerrigan. All rights reserved.
This content was written by Shala Kerrigan. If you wish to use this content in any manner, you need written permission. Contact Shala Kerrigan for details.