May I Introduce... Nifty Fifty Quilters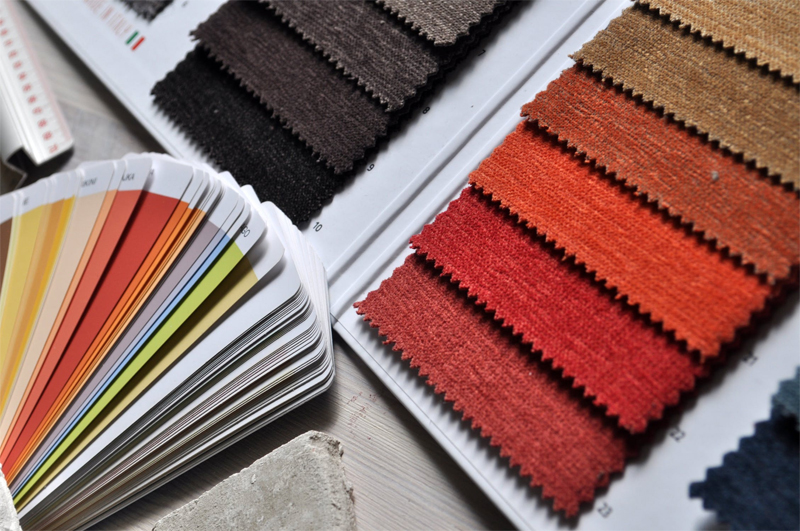 I recently received an email from Teresa Drummond about her group called the Nifty Fifty Quilters. They are a group of quilters who exchange 50 state quilt blocks and make charity quilts for breast cancer awareness. To date they've swapped over 70,000 blocks! I thought my Bellaonline readers might be interested to hear their story. So I recently interviewed Teresa and here's the interview.
Firstly, Teresa welcome to Bellaonline Quilting. Thank you for making the time to speak with us today. What was the inspiration to begin the group in the first place?
In 1995 I read an ad in a quilting magazine from a quilter who wanted to collect quilt blocks from each of the fifty states. This ad inspired me to organize a large centralized 50 state block exchange so everyone involved would end up with their own 50 state quilt.
What was the Breast Cancer Connection?
While making my 50 Virginia state quilt blocks for the first swap I thought how easy it would be to make a couple more quilt blocks for charity. So I requested our quilters to make two extra quilt blocks. We decided to use one quilt block for a charity quilt and one for a museum quilt. As a group of women we voted to make our charity quilt for Breast Cancer Research since this disease touches so many women's lives. The museum quilt would be used to collect signatures of breast cancer survivors and victims. I have now made both Nifty Fifty One charity quilts into Breast Cancer Survivor/Memorial Quilts. They can be borrowed by quilt guilds to be displayed at their quilt events and to collect signatures on the back. We encourage their being displayed in different locations for breast cancer awareness and you can find out more information on our charity web site.
How long has the group been going?
The first swap was started in 1995 and has been followed by 27 swaps. Each swap had its own hostess who followed our standard Nifty Fifty Guidelines. The color theme for our first two Nifty Fifty swaps was burgundy, forest green and cream. Then as the groups grew so did our themes. Some of our most memorable themes were Sunbonnet Sue, Batik, 1930 Repro, Civil War, State Flowers, Redwork, Native American, Patriotic in Remembrance of September 11, 2001, Carol Doak's paper pieced stars, Amish and Snowflakes. Our groups are still continuing with our Nifty Fifty 29 Butterfly swap www.niftyfiftyquilters.com/nf29.html and Nifty Fifty 30 Amish swap www.niftyfiftyquiltes.com/nf30.html which are accepting participants at this time. Our groups also swapped international quilt blocks under the name of Twenty Plenty. We followed the same Nifty Fifty Guidelines but only had 20 quilters in each swap instead of 50. You can see our international quilt blocks on our website at www.niftyfiftyquilters.com/twentyplentyblocks.html
How many quilts have been made for charity?
Thirty two quilts have been made for charity. They have been made by each hostess and are usually donated to local hospitals to raise money for Breast Cancer Research. Our Twenty Plenty International swaps have completed five charity quilts.
approximately, how many quilters have been involved to date?
There have been 1,400 quilters and around 100 more who have participated in our International Twenty Plenty Swap. Our groups have swapped over 70,000 quilt blocks.
Are you looking for participants from around the world?
We will accept any quilter into our swaps as long as they follow our guidelines. In our first swap the quilter had to be living in the state they were representing. But as more groups formed and they grew in popularity we decided that anyone can represent any state as long as they have some connection to the state. We welcome international quilters.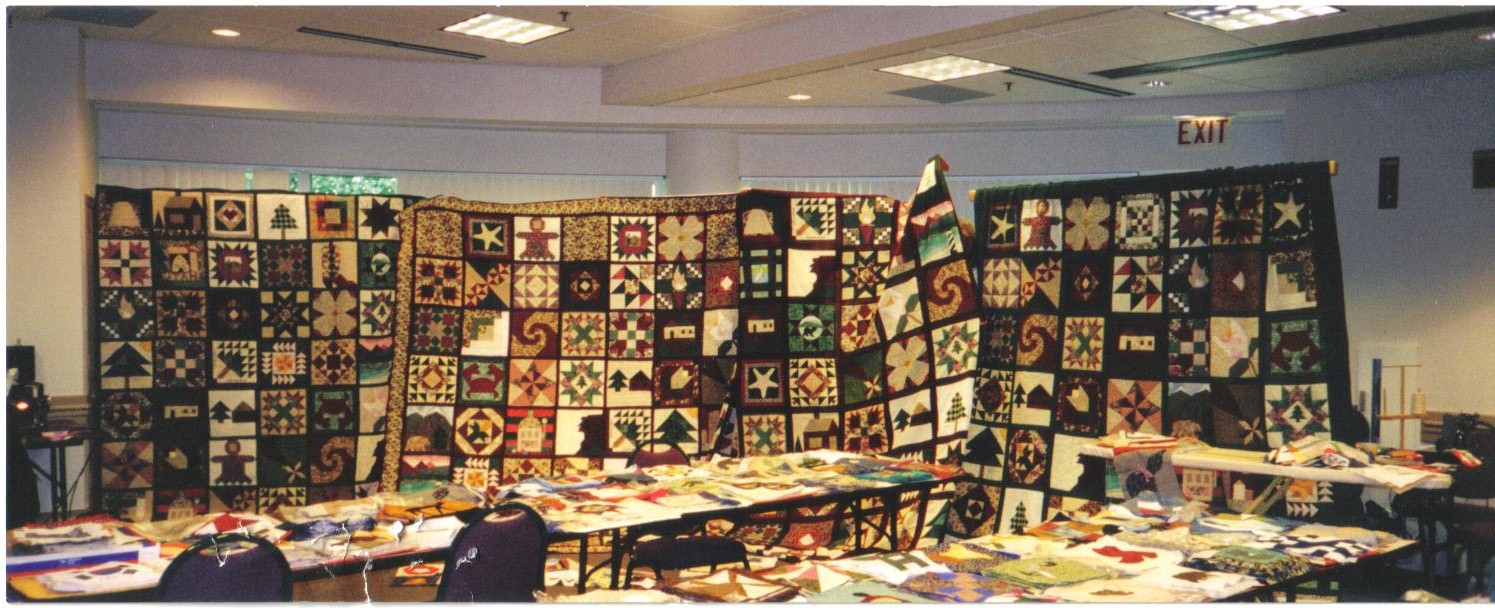 Quilts and Sorting Blocks


How do participants get involved?
Anyone who would like to participate in one of our swaps can contact me by email for more information. Participants can use the links on our pages to reach me by email or they can email me directly at trequilts@yahoo.com
What friendships have you made from being involved with the group?
I have made many friendships over the past ten years with my Nifty Fifty Swaps. The strongest friendships have been from the very first group. I am still in close touch with several of the quilters. Pam Crosby was the quilter who made our very first Nifty Fifty Website which she maintained for us for many years. She remains a very close friend of mine. Many quilters from our first group gathered in my hometown to help me sort the quilt blocks and sew the charity quilts together. It was a fun and productive weekend. We had a similar gathering when we sorted the international Twenty Plenty swap blocks. During our second gathering a Breast Cancer Survivor travelled from MA to help us work on the charity quilts. We formed a close friendship at the time and she decided to host our Nifty Fifty 4 and 6 swaps and our second international Twenty Plenty swap. During this time her cancer returned and she was unable to complete her job as hostess to our swaps. While she was sick and having treatments for her cancer she decided to plan a surprise quilt for me. She bought a beautiful bolt of Hoffman fabric and she planned on organizing past and present Nifty Fifty Quilters to make quilt blocks for me. She was going to send out a fat quarter of fabric to each of these quilters and they were to return their state quilt block to her. She planned to create a very special Nifty Fifty Quilt for me as a thank you for all the work I do for the Nifty Fifty swaps. Unfortunately she lost her fight before she could complete her goal. Marjorie who was in our first Nifty Fifty swap representing New York took over the project by sending out the fat quarters and making me the quilt. It is a gorgeous quilt and is featured on our web page.This is one example of the friendships amongst our quilters.

What blocks have you made in your association with the group?
I usually represented the state of Virginia where I live but I have also represented Massachusetts, Nevada, New Hampshire, USA, Vermont, North Carolina, Washington DC, Maryland, Wisconsin and Maine. My father grew up in Massachusetts and loves the snow so I did a Snowball block. I used to live in Reno Nevada as a child so I designed a quilt block with a skier skiing down the mountain with Lake Tahoe in the background. We vacationed in New Hampshire, North Carolina and Maine and we love to camp so I designed a quilt block with the mountains, a campfire and a tent by a stream for Maine. I designed The Old Man in the Mountain quilt block for New Hampshire and the Cape Hatteras Lighthouse in Redwork for North Carolina. I did the Friendship star for USA to represent all the friendships that have been made throughout the years with our swaps. I designed an American Beauty Rose for Washington DC, a Dogwood flower for both Virginia and North Carolina. My favorite Virginia state blocks that I have designed are my sailboat design for NF 12 to represent our boating time as a family and my Sunbonnet Sue block for NF 20 with the "Virginia is for Lovers" theme. I have represented England and India in the international swaps. My mother is English and I lived there as a child so I designed a couple of quilt blocks representing the Double Decker bus. My mother was born in Bombay India and we would play Parcheesi as children so I designed a quilt block which represents the Parcheesi game board for India. You can see my quilt blocks I designed for the Nifty Fifty and Twenty Plenty Swaps on my website at www.niftyfiftyquilters.com/teresa.html
Nifty Fifty Quilters Website


Related Articles
Editor's Picks Articles
Top Ten Articles
Previous Features
Site Map





Content copyright © 2022 by Judie Bellingham. All rights reserved.
This content was written by Judie Bellingham. If you wish to use this content in any manner, you need written permission. Contact Judie Bellingham for details.