Tasty Pumpkin Party Foods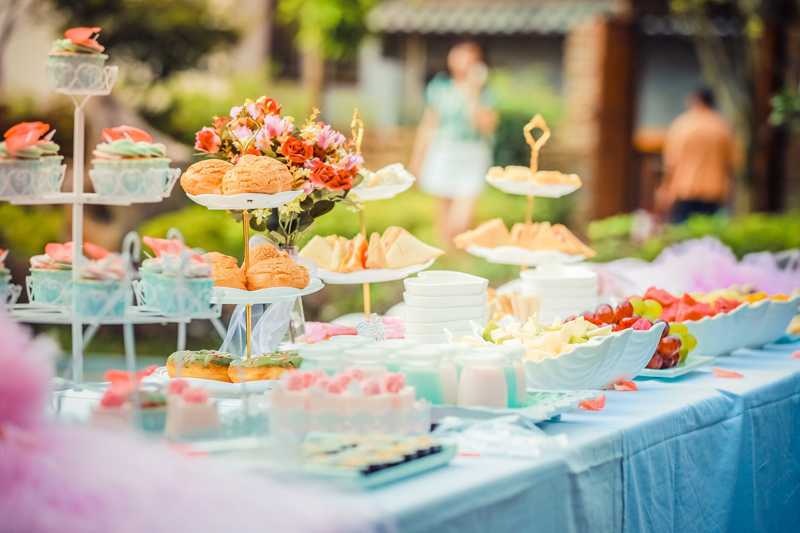 The brisk chill of Autumn is in the air. The leaves are falling and the farmers fields are dotted with bright orange pumpkins just waiting to be carved. But pumpkins can be more than just a jolly jack-o-lantern this harvest season. They are a versatile fruit that can be used in a variety of culinary dishes. From soups to salads and main dishes to desserts, pumpkins are a delicious addition to any Autumn dinner party.

All varieties of pumpkin and squash are members of the Cucurbita family, but there are some varieties that are better suited to cooking and baking. For instance, the field variety of pumpkin that is normally chosen for jack-o-lanterns and decorating, has very little flavor and is too watery for cooking. Opt for 'Cheese' or 'Small Sugar Pie' pumpkins for most recipes.

Roasting a pumpkin is the best way to bring out its natural sweetness and rich taste, but simmering small pieces will work as well. For savory dishes, pumpkin is complimented nicely by foods such as bacon and wild rice and the addition of maple syrup to any sweet pumpkin dessert is simply divine.

Here are a few easy pumpkin recipes to try at your next harvest party!

Pumpkin and Bacon Rigatoni

Serves 4-6
8 slices of bacon, cut into 1" pieces
1 tsp. salt
1/4 tsp. pepper
1 Onion, peeled and diced
1 2-lb 'Small Sugar Pie' pumpkin, peeled and cut into 1/4" cubes
1 ½ cups chicken stock
3 Tbsp heavy cream
1 lb. Rigatoni
1 cup Parmesan cheese, grated
1 Tbsp. Chopped fresh sage

1. Cook bacon in large skillet until almost crisp. Remove with a slotted spoon and drain on paper towel.

2. Add salt and pepper and onion and cook until onion is soft; about 5 minutes. Add cubed pumpkin and sage and cook for about 5 minutes. Stir frequently to ensure pumpkin is coated with bacon fat.

3. Add chicken stock and bring to a simmer. Reduce heat and gently stir in cream. Simmer approx. 20 minutes until pumpkin is tender and sauce is slightly thickened. .

4. While sauce is thickening, bring a large pot of water to a boil and cook rigatoni until tender. Drain.

5. Add cooked pasta and bacon to the skillet and stir gently until all ingredients are combined. Serve topped with freshly grated Parmesan cheese.

Delicious Pumpkin Maple Custard
Serves 6

This scrumptious custard can be baked right in the pumpkin shell or in individual custard cups.

1 tbsp. Vegetable oil
2 'Small Sugar Pie' pumpkins
1 cup pumpkin puree
½ cup pure maple syrup + extra for topping
1/4 cup sugar
4 large eggs, slightly beaten
1 cup heavy cream
½ tsp. Cinnamon
1 tsp. Ground ginger
pinch of salt
pinch of fresh nutmeg, grated

1. In a steamer, add pumpkins and cook until tender, about 10-20 minutes. Preheat oven to 325° and grease a 9"x13" metal baking pan. When pumpkins are cooked remove from steamer and allow to cool.

2. Cut off tops of pumpkins and remove all pulp and seeds. Put onto greased baking pan and set aside.

3. In a medium bowl, add pumpkin puree, maple syrup, sugar, eggs, heavy cream, slat and spices. Whisk until well combined.

4. Pour mixture into pumpkin shells and fill to lower edge of the top opening. Bake until the custard is puffy and a knife inserted in the middle comes out clean: approx. 50-90 minutes depending on the size and thickness of the pumpkins. If baking in custard cups, fill 6 cups and place the ramekins in a water bath and bake 25-30 minutes.

5. To serve cut pumpkin into wedges and serve topped with whipped cream and maple syrup.




Related Articles
Editor's Picks Articles
Top Ten Articles
Previous Features
Site Map





Content copyright © 2018 by Kelly Patey. All rights reserved.
This content was written by Kelly Patey. If you wish to use this content in any manner, you need written permission. Contact Shalia Hayes for details.