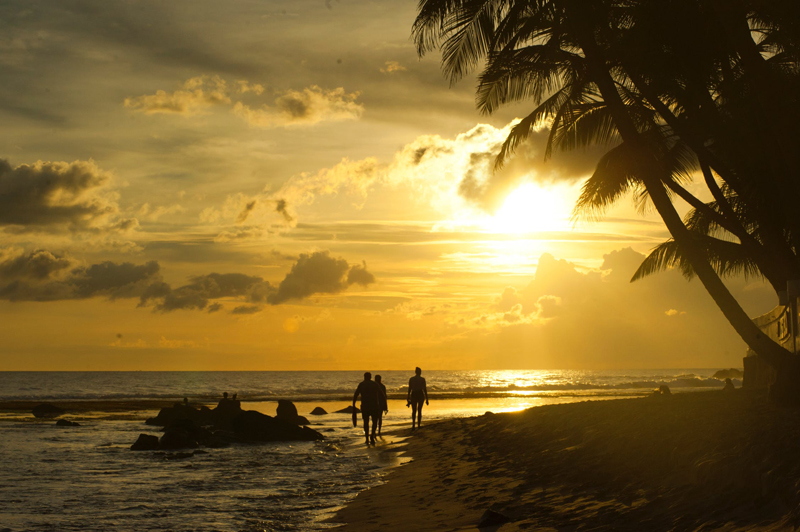 Chronicling life on St. Maarten in all its details – from stunning sunsets and bird activity to grander social issues such as the adoption of gay marriage – Barbara Cannegieter's
blog
has been sharing its hillside perspective on the "Friendly Island" since 2007. A long-time "SXM" resident and adopted St. Maartener, Barbara shares her story for our series on Caribbean bloggers.
What did you do before you came to SXM?
I was born in Pennsylvania, and after college I lived in NYC working as a social worker, doing family therapy.
As you describe on your blog, you first came to St. Maarten by accident. Can you recap how you came to settle there?
It was 1970 or 71. I was supposed to go to Trinidad for Carnival and they canceled Carnival. That always shocks people. Cancelled carnival in Trinidad? That is unheard of. I still do not know why. A friend I worked with suggested we go to St Maarten instead, an island I had never heard of. That was it! I fell in love with St Maarten and kept returning. Later I fell in love with a native St. Maarten man and moved here permanently in 1976.
You started the blog in 2007. What was your aim for the blog at the time?
A friend suggested I write a blog and I decided to try it. I thought writing a blog was a way to set down my experiences living in the Caribbean and sharing that with my friends. I had no thoughts about it being anything more than that.
Can you give an idea of how the blog has grown?
At one time I kept a counter on my blog site and I was getting between 200-300 hits a day. I do get emails frequently from people who have read my blog. They write to compliment me on the blog which I appreciate. They also write to ask me more questions about the island, because they are coming for a visit. Some are moving here and want to know a whole lot more about island life.
I even received an email from a niece of my husband. She had been born and raised in Holland and had lost contact with her father's family here on St. Maarten. She was thrilled to discover her paternal relatives through my blog.
You've been fully involved in local life since moving to SXM. Can you summarize the different activities you've been involved with over the years?
I married a local man from one of the oldest St Marten families (I rented a car from him when I first arrived on the island) so I describe myself as a local even though I was not born here. I guess I am an "adopted" local. My husband and I worked in his business together for many years.
I have been the Public Relations Officer for our St. Maarten Zoo for over 20 years and I am also on the Board of St. Maarten PRIDE, one of the leading environmental organizations on the island. Saving animals and the environment are my two biggest passions and concerns.
You've experienced major hurricanes and witnessed a lot of changes to the island. What memories stand out?
I have lived through several hurricanes, but I think anyone who lived through Hurricane Luis and its aftermath in 1995 will never forget it. I actually was not on the island during the Hurricane itself but arrived three days after. I lived through the aftermath, experiencing the terrible devastation on the island. We did not have electricity for three months. Many people lost everything. After that experience I understand better the horror of a natural disaster and I understand better the resiliency of people in rebuilding new lives for themselves.
As far as the changes on St. Maarten, I unfortunately have experienced too much development too quickly. While development has been good for us in many ways, it also has been overdone, sometimes at the expense of our quality of life. We have lost too much of our Caribbean culture and heritage.
On a lighter note, one thing the development and growth has brought us good supermarkets. When I first came here from NYC and I was in the one supermarket on the island looking for tomatoes. I met someone, turned around to talk, and when I turned back, all the tomatoes were gone. New shipment would come in next week.
How would you describe St. Maarten's appeal compared to other Caribbean islands that you are familiar with?
St. Maarten's appeal is its people and of course its beaches. We have rich cultures here; many Caribbean cultures, and different European and Asian cultures. I can walk down the streets and hear many different languages spoken. We have people from over 80 countries living on our little 37 square mile rock. I have met and socialized with more people here from different countries than I ever met while living in NYC.
St. Maarten is an island to be experienced on all levels. For instance, all inclusive hotel plans are not popular here because there is so much to do and see. St. Maarten is not an island where a visitor just stays in the hotel by the pool and goes nowhere. Our visitors are out on the roads, going to different beaches, enjoying our restaurants and night life.
What would be your "don't miss" places you would urge a visitor to check out on a trip here?
I would have to suggest a beach, wouldn't I? Our beaches are wonderful. Go to Mullet Bay beach for a day or go to Pinel Island, a five-minute boat ride away, and just relax and enjoy it all. Orient Beach also is a must see. The clothing optional beach is very popular and very famous.
Then take a trip to Grand Case and eat in one of the fabulous French restaurants there or have a simple grilled local meal at the "lo los." There is nothing like ribs done island style, with a local johnny cake on the side.
Watching the planes fly over your head on Maho Beach. And I mean stand on the beach, and the planes fly right over your head as they are landing, as low as can be. It's very exciting. You haven't lived until a 747 flies right over you.
What do you think will be the biggest factor in whether St. Maarten continues to flourish or see its appeal diminish in the future?
St. Maarten has several issues to deal with, as does much of the Caribbean. Although St. Maarten is generally safe, there is too much crime. St. Maarten also has to do more to preserve its natural environment and control the overbuilding. For instance, we have a beach policy in place and that must be adhered to so that there is no more building on the beaches.
Do you have any plans for a book spin-off from the blog or similar project?
I don't know how many times my friends and I have joked with each other about writing a book about our experiences living here. It's never boring and it certainly is different. But, no, I don't think it will be me to write that book. I'll just stay with my blog for now.


Related Articles
Editor's Picks Articles
Top Ten Articles
Previous Features
Site Map





Content copyright © 2022 by Nick Marshall. All rights reserved.
This content was written by Nick Marshall. If you wish to use this content in any manner, you need written permission. Contact Nick Marshall for details.