Succulents for the Garden Railroad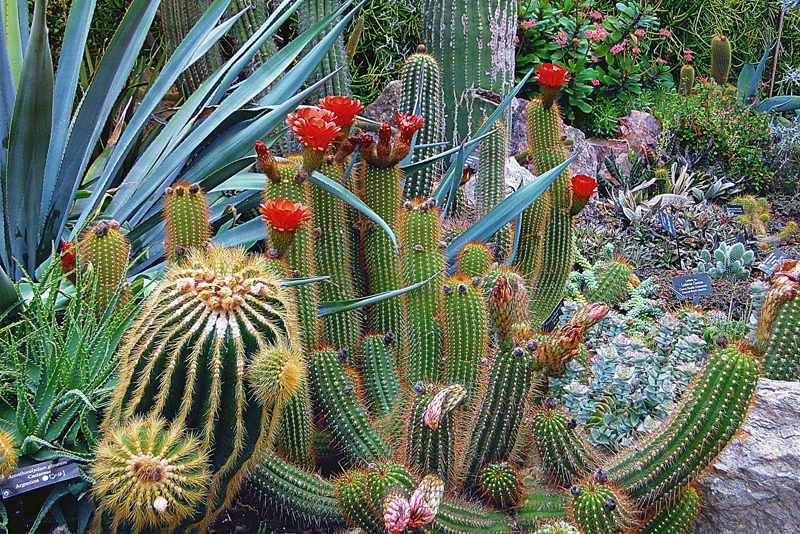 Low growing succulents are ideal plants for the garden railroad. With a few exceptions, most of these tend to be hardy perennials.

Moss Rose

The moss rose or portulaca is among the few annuals that are used for garden railroads. This is a favorite because it tends to bloom throughout the summer months.

Generally, most moss rose varieties are only four to six inches tall. This means they won't overwhelm the railroad. The small leaves also fit in perfectly with the scale of the railroad. With moss rose, you can select from a range of flower colors.

Hardy Ice-Plants (Delosperma spp.)

A number of these hardy perennials are used as groundcovers for garden railroads. Native to South Africa, they can be used for mini hedges along garden railroads. These plants grow to form mats. Several hardy species are suitable, including the following.

Delosperma rubigenum is a mat-like perennial that is largely evergreen in many areas. This is hardy to zone five. A plant can grow to be quite broad—a foot or more across. The plump, round leaves are rather small. They're bright green. This has yellow blossoms that open throughout the summer and fall. Numerous cultivars are available.

Purple Ice Plant (Delosperma cooperi)

Here in western North Carolina, this perennial tends to die back in the winter. Elsewhere it can remain evergreen or partially evergreen. This plant forms a rather large mat that can be several feet across. The foliage is relatively large for an ice-plant—about an inch long. The leaves are rounded, and cover the chubby succulent stems. During the winter the leaves turn purplish. Especially floriferous, it has neon-like pinkish-purple blooms throughout the summer and fall. Purple ice plant is hardy to zone five. Use it as a focal point for garden railroads.

Tufted Ice Plant (Delosperma sphalmanthoides)

This species is hardy to zone five. It is a very small plant that is less than six inches wide. It is noted for its chubby greenish-blue foliage. During the spring it is covered with magenta daisy-like blooms. Tufted ice plant is ideal for rock outcroppings and rock walls along garden railroads.

Succulents for Warm Climate Garden Railroads

For those living in warm climates, there are various other succulents that can be used for garden railroads. Choices include species that are grown as houseplants in cold climates, such as flower dust plant (Kalanchoe pumila) and pencil tree (Euphorbia tirucalli).

Hen-and-chicks (Sempervivum spp.)

Also called houseleeks, hen-and-chicks are native to the Old World. They feature neat, attractive foliage that forms striking rosettes. As the plants mature and spread they can form a huge mat. Some species have intriguing spiderweb-like hairs on the edges of the foliage. The color of the leaves can vary greatly, depending on the species and the cultivars selected. When mature, each rosette will eventually produce its own pups.

Though these plants do bloom, they're grown primarily for their striking forms and foliage. The blossoms can be red, yellow, or green. These evergreen species are used as a groundcover for garden railroads. They're less than three inches tall.

Myrtle spurge

Also called blue spurge this is one of the euphorbias (Euphorbia myrsinites). This evergreen, trailing plant can be used as a ground cover or as a mini-shrub for the garden railroad. It has thick stems that are covered with blue-green foliage. Blooming in the spring, this reliable perennial sports colorful yellow bracts. The true flowers are inconspicuous. This species is hardy in zones five through eight.


This site needs an editor - click to learn more!


Related Articles
Editor's Picks Articles
Top Ten Articles
Previous Features
Site Map





Content copyright © 2022 by Connie Krochmal . All rights reserved.
This content was written by Connie Krochmal . If you wish to use this content in any manner, you need written permission. Contact BellaOnline Administration for details.