Some Stonecrops for Garden Railroads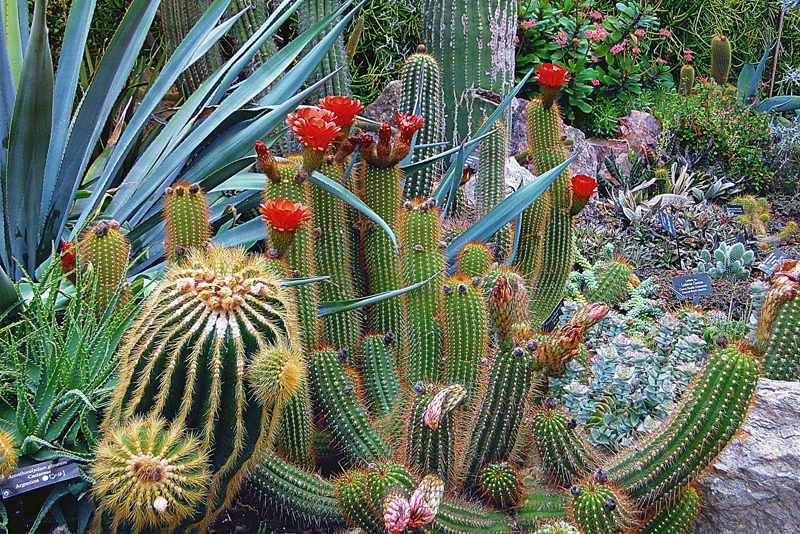 Of all the hardy succulents that are typically used for garden railroads, the stonecrops or sedums are among the real workhorses. There are a wide number of suitable stonecrops. Depending on the species, these can be used as either ground covers or perennials in the railroad landscape. For the most part, low growing species are preferred. The compact, upright ones can be used as mini shrubs. All ground cover types are suitable.

Kamschatca stonecrop (Sedum kamtschaticum)

Very hardy, this species is native to Manchuria and is hardy to zone three. Around one to four inches in height, this is less than a foot across. It forms a neat mound with trailing stems. The deep green, lance-like foliage is very tiny. It is arranged alternately. This becomes bronze during the fall and winter months. The blossoms open sporadically throughout the summer, and are a little over a half-inch across. These are vivid yellow.

When winter arrives, the oldest stems tend to die back, while the younger ones are evergreen. There are various varieties including vividly colored ones with variegated foliage. The varieties include Rosy Glow with red-tinged foliage. This cultivar has striking pink blossoms throughout the late summer and fall. This is an excellent plant for stone and rock walls along garden railroad and in garden railroad rock gardens.

Leafy stonecrop (Sedum dasyphyllum)

Around two to four inches tall, this plant can be a foot or so wide. It is named for the beautiful, tiny, greenish-gray foliage, which is evergreen and opposite. During late spring and early summer, the showy blossoms open. These are generally white with tinges of pink. They appear in round clusters. This plant forms a neat mound. The branching stems, which are grayish-pink, can be either upright or horizontal. Leafy stonecrop is hardy to zone three, and is used as a ground cover for garden railroads. This plant was originally native to the Mediterranean as well as northern Africa.

Lydian stonecrop (Sedum lydium)

Around two to six inches tall, this species is native to Asia Minor. It is hardy to zone five. This is less than a foot across and is perfect for stone walls and rock gardens along garden railroads. This evergreen has attractive foliage that can have hints of red along the tips. The tiny, club-shaped leaves are arranged in rosettes. This plant has abundant, star-like white blossoms that open in early summer. These appear in flat flower heads that are an inch across.

Two-row Stonecrop (Sedum spurium)

Reaching about two to six inches in height, this creeping evergreen is noted for its long lasting blossoms that open during the late summer. These can range from reddish to white. They appear in clusters at the end of the shoots. The individual blossoms are less than an inch across, while the flower clusters are two inches wide.

This plant can be 1½ feet across. It has vivid green, opposite, flat foliage. Along the margins are hints of red. During the autumn, the leaves can become vivid red. In warmer climates these are evergreen. The red stems provide much-needed color during the colder months of the year. The stems are branched.

Various cultivars of two-row stonecrop are available. These include ones with very vivid foliage, such as Dragons' Blood and Bronze Carpet. Depending on the cultivar, this can be purple, bronze, or red.

Tricolor is one of the preferred cultivars for garden railroads. This is only two inches tall. It has showy pink blossoms. This cultivar is named for the three colored foliage, which is a mixture of pink, white, and green.

Two-row stonecrop is often used as a rock garden plant along garden railroads. Native to the Caucasus region, it is hardy to zone three. It is quite suitable as a ground cover. It can also be planted in between rocks and stones along the garden railroad. .


This site needs an editor - click to learn more!


Related Articles
Editor's Picks Articles
Top Ten Articles
Previous Features
Site Map





Content copyright © 2022 by Connie Krochmal . All rights reserved.
This content was written by Connie Krochmal . If you wish to use this content in any manner, you need written permission. Contact BellaOnline Administration for details.