Heirloom Cacti and Succulents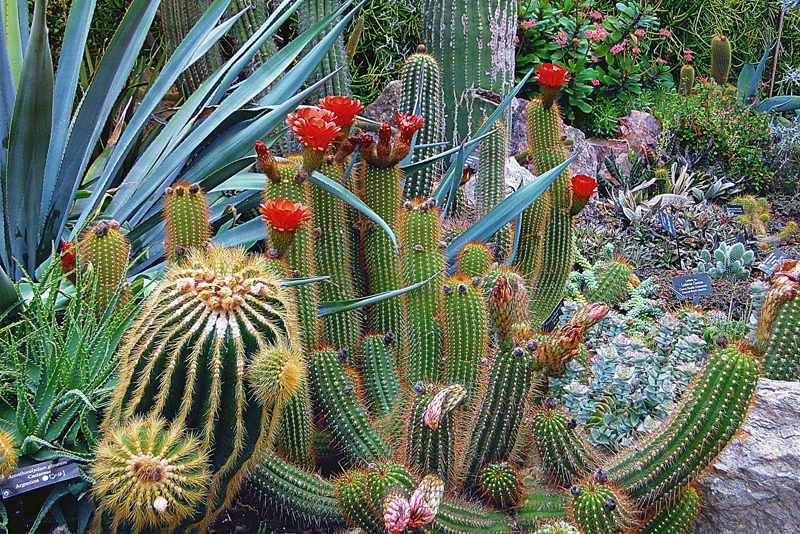 Interest in cacti and succulents is nothing new. In many respects, these deserve to be called heirloom plants for they've been in cultivation for centuries. Let's take a look back in history to see which ones American gardeners were growing during the early to mid-1940's. I had access to several old seed catalogs.

The 1943 edition of the Robert Buist Company offered a number of cacti and succulents. They sold seed of the golden moss stonecrop (Sedum acre), which is still widely grown as a ground cover.

Buist also sold seeds of two types of moss rose or portulaca. One was a single flowering mix. The other was a double flowering mix, which featured varieties with very large flowers. The double flowered mix cost one-third more than the single mix. According to the catalog, the double seeds were collected from double flowering plants.

Buist also offered seeds of the ice plant (Mesembryanthemum crystallinum). This is still grown as an annual and a house plant.

The Buist catalog also listed several of the spurges, but they were mostly ones that are grown as annuals. The ones listed included the variegated snow on the mountain and the annual summer poinsettia (Euphorbia heterophylla).

The 1928 edition of the H.W. Buckbee Seed and Plant Guide featured a number of cacti and succulents seeds and/or plants. Founded in 1871, this company marketed seeds grown by the Rockford Seed Farms and plants from the Forest City Greenhouses. The catalog offered several kinds of cacti. One of them was Christmas cactus plants. No variety name was given, but the catalog described the flowers as being 'crimson scarlet.' The plants were 30 cents or 3 for 85 cents postpaid.

Buckbee also sold a cactus seed mix. The drawing showed a mixture of various species. No mention was made of hardiness. So these were likely grown as houseplants or in greenhouses rather than outdoors. This catalog included instructions for starting the cactus seeds.

The Buckbee catalog also offered seeds of the hen-and-chicks, which they referred to as hen and chickens. This was a seed mix of different varieties and species.

Like the Buist catalog, Buckbee also had ice plant seeds. According to Buckbee, these were dwarf annuals with trailing stems.

The moss rose was also listed in the Buckbee catalog. There was both a single flowered mix as well as a double. The double flowered included a mix of flower colors with carmine, white, salmon, and yellow.

This catalog also had seeds of several spurges. One was the familiar snow on the mountain. The other was called Mexican fire plant. The description didn't specify whether this was an annual or perennial. But, it sounded much like the annual summer poinsettia.

In addition to seeds, Buckbee sold various kinds of plants. One of them was a stonecrop or sedum though the species name wasn't given. Though I can't say for sure, this might have been an assortment of different species based on the flower descriptions. The fact that these were recommended as rock garden plants leads me to believe they were dwarf or ground cover types. These plants were 25 cents each or three for 70 cents.

Considering the two catalogs, I preferred the Buist catalog mainly because it listed the Latin names. In addition, it gave a brief plant description and details on the cultural needs of each plant.

As with many old seed companies of yesteryear, Buist is no longer in business. They were founded in 1828. In addition to seeds, they also sold bulbs, rose plants, and small fruit plants as well as vegetable and farm seeds.

This site needs an editor - click to learn more!


Related Articles
Editor's Picks Articles
Top Ten Articles
Previous Features
Site Map





Content copyright © 2022 by Connie Krochmal . All rights reserved.
This content was written by Connie Krochmal . If you wish to use this content in any manner, you need written permission. Contact BellaOnline Administration for details.