Benefits of Indoor Cacti/Succulents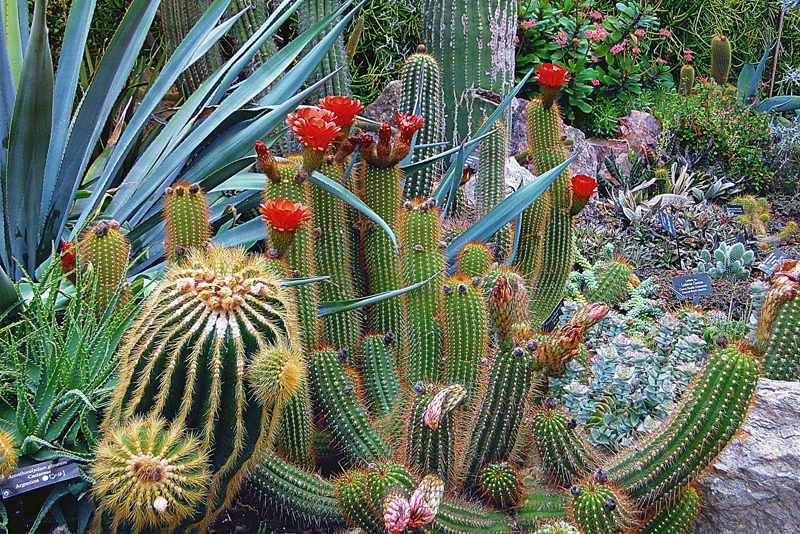 Houseplants have much to offer. These provide many kinds of benefits to indoor gardeners. Many species of cacti and succulents make suitable houseplants.

In recognition of the role that houseplants can play in our lives, there is now a National Indoor Plant Week each year. This has been designated as the third week in September.

Any time is a good time to enjoy the beauty and joy that indoor cacti and succulents have to offer. But this week gives us special opportunity to recognize their contributions.

In recent decades, research has shown that indoor air pollution is a serious problem. This has become a pressing issue as we insulate our homes and weatherize them to make them tighter in order to control heating/cooling costs. Experts refer to such structures as 'sick buildings' due to the air quality problems. We're left to breathe polluted and tainted indoor air that is laced with formaldehyde and other poisonous gases. These noxious fumes come from various sources within the building, such as building materials, indoor furnishings, furniture, cabinets, paint, and cleaners.

It is hard to eliminate the sources of these fumes and chemicals. On the other hand, we can generally add more houseplants. These plants remove and deactivate the substances that can result in health problems. At the same time, the plants release clean, life-affirming, fresh oxygen into the home.

Scientists have methodically measured the amount of formaldehyde and other chemicals that various kinds of plants can remove from the air. During tests, several plants did well. These included the Christmas cactus. It removed about twice as much as the common flowering kalanchoe, the common aloe, and the snake plant.

Dracaenas are members of the agave family. Some of these are considered succulents. The dragon tree, which is among the most popular of the indoor dracaenas, is twice as effective as the Christmas cactus in removing formaldehyde from indoor air. It is four times better than the aloe, kalanchoe, and the snake plant.

Experts recommend growing the aloe and the snake plant as well as the Christmas cactus in bedrooms. These species are able to remove carbon dioxide from the air and release oxygen while we're sleeping.

In addition to removing formaldehyde, plants are also removing other harmful airborne indoor pollutants, such as ammonia, toluene, and xylem. Both the dragon tree and corn plants did a good job removing toluene and xylene from the air.

Much of the positive effect is from having plants very close by. So, put them where you spend the most time. Examples include near the bed, computer, and television.


This site needs an editor - click to learn more!


Related Articles
Editor's Picks Articles
Top Ten Articles
Previous Features
Site Map





Content copyright © 2022 by Connie Krochmal . All rights reserved.
This content was written by Connie Krochmal . If you wish to use this content in any manner, you need written permission. Contact BellaOnline Administration for details.