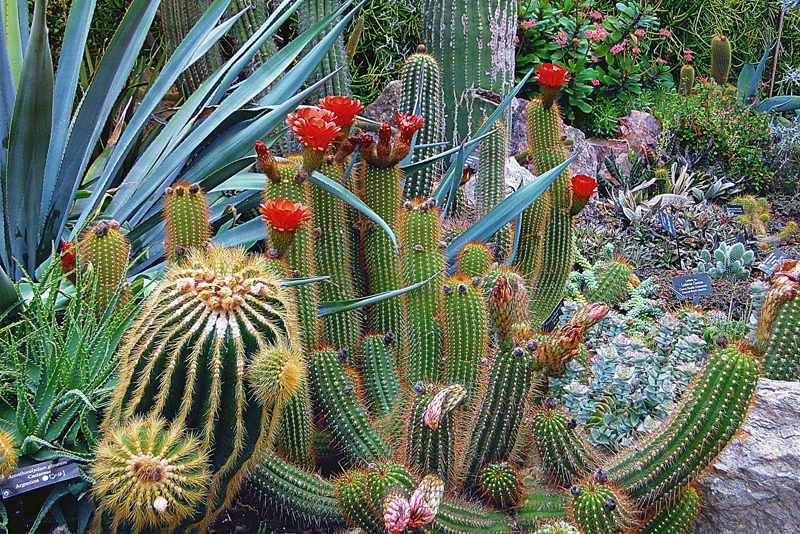 The anchor plants or urn plants are a very unusual group of spiny succulent shrubs. Native to the New World, these are also called colletia. They're named for Philibert Collet, a French botanist who lived from 1643-1718 from which Colletia, the Latin name, is derived.

The anchor plants belong to the Buckthorn family, which might help to explain the spines. These are arranged alternately in pairs at right angles on the stems.

Fairly slow growing, the anchor plants are tender species. These can only be grown outdoors in warm climates, such as California. Elsewhere, they're pretty much used as houseplants or grown in greenhouses.

One of the most outstanding features of these plants is the small urn-like blossoms, which appear in clusters at the base of the spines, and in the leaf axils. In some species, the blossoms are sweetly fragrant.

The anchor plants are freely branching shrubs that can reach ten feet or more in height. The thick, sturdy branches emerge in opposite pairs, and are rather flat.

These species have very sparse foliage, which is oppositely arranged. In some species, the leaves are pretty much absent. While some species are deciduous, others are pretty much evergreen.

The anchor plant or urn plants need full sun. They're adapted to most garden soils provided it is very well drained.

These plants can be grown from cuttings. They are notoriously slow in developing roots.

There are several species of the anchor plants in cultivation. These include the following.

Colletia cruciata can reach ten feet in height and be 15 feet across. This is noted for the fragrant white blooms that open during the fall. This is native to Uruguay and Brazil. Sparsely leaved, this has a spreading growth habit.

Colletia hystrix can reach ten feet in height. Native to Chile, it has fierce, dagger-like spines. These are greenish-gray. This plant has very few leaves. Blooming during the late summer and fall, the white flowers are wonderfully fragrant. There is a variety with pink flower buds, which open to reveal white flowers.


Colletia infausta can easily reach ten feet in height. The small white blossoms open during the spring. These appear in very small clusters from the base of the spines. With knife-like spines, this species is native to South America .

This site needs an editor - click to learn more!


Related Articles
Editor's Picks Articles
Top Ten Articles
Previous Features
Site Map





Content copyright © 2023 by Connie Krochmal . All rights reserved.
This content was written by Connie Krochmal . If you wish to use this content in any manner, you need written permission. Contact BellaOnline Administration for details.