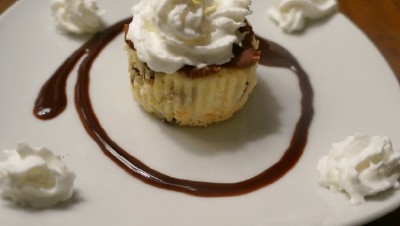 Itís great to have an easy, basic dessert recipe that you can customize with different flavors. This is one of those types of recipes. These individual cheesecakes alone are scrumptious. This recipe contains chocolate chips baked in the batter and are then topped with chocolate ganache. You can add almost anything to the batter before baking as well as experimenting with different toppings. One combination is chocolate chips in the batter and topped with a cherry topping. Peanut butter is a nice surprise to add to the chocolate ganache. Another delicious option is adding chocolate and toffee to the batter, finishing with chocolate ganache and garnishing with additional toffee. These individual cheesecakes equal perfect proportions. It makes it easier to not over indulge.
Individual Chocolate Chip Cheesecake Recipe
Makes 12
Ingredients:
2 (8 oz.) containers of cream cheese, softened
1/2 cup sugar
2 eggs
1/4 cup heavy whipping cream
1 tablespoon vanilla
1/2 cup chocolate chips
Chocolate Ganache Recipe
Ingredients:
3/4 cup chocolate chips
1/3 cup heavy cream
Optional: Whipped Cream Recipe
Ingredients:
1 cup heavy whipping cream
1/4 cup confectionerís sugar
1 tablespoon vanilla
Directions:
1. Preheat the oven to 350 degrees.
2. Line a 12 cupcake tin with cupcake papers.
3. In a large mixing bowl combine the cream cheese and sugar and beat until smooth with a hand mixer.
4. Add the eggs, heavy cream, and vanilla and continue beating until combined.
5. Stir in the chocolate chips.
6. Divide the cream cheese mixture between all 12; you will fill to the top of each one.
7. Bake for 20 minutes.
8. Allow them to cool before refrigerating.
9. Prepare the ganache by heating the cream and chocolate chips in a small sauce pan over low heat.
10. Continue stirring until smooth.
11. Spread ganache on each cheesecake.
12. Refrigerate for at least 3 hours before serving.
13. Optional: To prepare the whipped cream add the heavy whipping cream, vanilla, and sugar to a large mixing bowl. Beat with an electric mixer until stiff peaks form.
14. Serve with whipped cream.
Enjoy and sweeten the soul with chocolate!