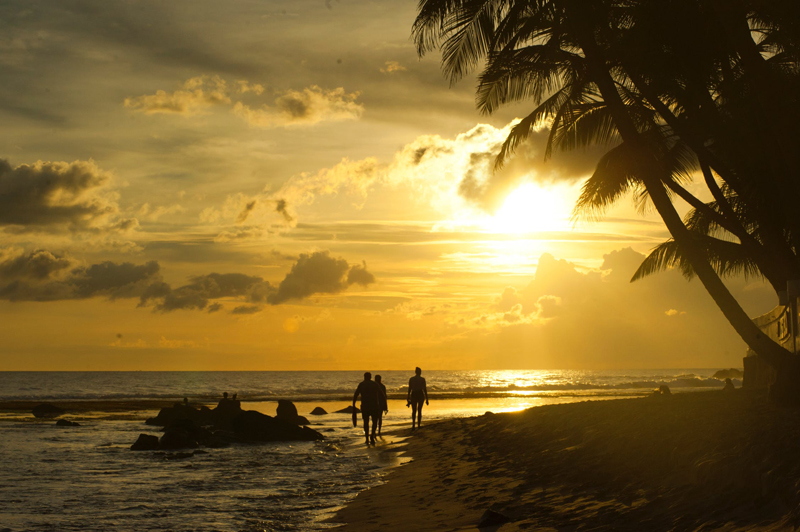 One of the strengths of Caribbean cooking is the abundance of simple comfort food. Throughout the islands, dishes are served as standard with steaming provisions, Mac 'n cheese, scalloped potatoes and rice, along with fresh salad. A dish that can stand on its own, however, is the Spanish 'locrio', a recession-busting delight that delivers a luxurious dose of flavor.

The best known rice in the region might be rice 'n peas, steeped in coconut milk and textured with pulses, but it is a side dish. Locrio, on the other hand, can fly solo. Essentially, locrio is a Caribbean spin on Spanish paella, without the hard-to-obtain and expensive mussels and chorizo, but lacking none of the flavor intensity.

The base of a good locrio, quite literally, is a heavy pot or 'caldero'. This is because one of the most treasured remains of a properly cooked locrio is the brittle layer of crusted rice at the bottom of the pan, called concon in the Dominican Republic, or pegao in Puerto Rico. Far from being scrubbed out and discarded, concon is served as an essential flourish to the platter. The texture is both chewy and crispy, perfectly complementing whatever sauce or soft rice it accompanies.

Inside the pot, locrio starts with a simple combination of oil, garlic, onion, bell pepper and tomato paste. Once these are combined, a cup of water creates a sauce into which the rice can be added. Boost the flavor with some oregano, bouillon and cilantro, or Worcester Sauce and/or hot pepper sauce and add more water to allow the rice to steam under a heavy cover.

Since locrio has a reputation as a poor man's dish, or one which is consumed 'at month end' before the pay check arrives, it is customary to see it combined with affordable ingredients, although the end result is by no means meager. As a result, once the rice puffs out, options are to stir in some tinned sardines, chopped salami (the Spanish version that comes in plastic-wrapped rolls) or 'arenque' (dried herring). If herring is not available, any smoked fish will do – salt cod, for example.

The payoff is an immediate infusion of saltiness to cut the sweetness of the tomato paste, balanced against the heat of the bell pepper. Otherwise, another common variety of locrio is with chicken. In this case, the chicken needs to be marinated first in lime juice, cilantro and garlic, then browned in the caldero before the other ingredients are added. Chicken breast is fine, but thigh or wing (again easy on the pocket) deliver a greater depth of flavor once the juices are bubbling.

Locrio is hard to get wrong, cheap and delicious. Give it a try…








Related Articles
Editor's Picks Articles
Top Ten Articles
Previous Features
Site Map





Content copyright © 2023 by Nick Marshall. All rights reserved.
This content was written by Nick Marshall. If you wish to use this content in any manner, you need written permission. Contact Nick Marshall for details.