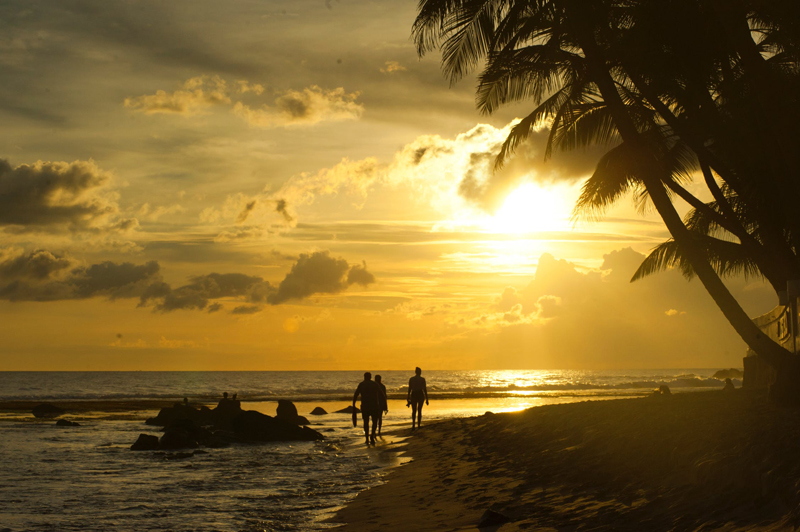 Easter in the Caribbean signals not only the culmination of Carnival season (the 40 Lent days of fasting following Mardi Gras) but also the shift in season from cool to hot, dry temperatures. As a result, certain culinary traditions mark this significant moment in the calendar.

Since Lent is a period of abstinence, meat dishes disappear from the official menu around Good Friday. Luckily, the abundance of fish creates a delicious substitute. Typically, most West Indians take advantage from the Easter holidays to throw some supplies in a pick-up and decamp to the beach, often for the whole four-day period (although it is still considered unlucky to swim on Good Friday). While the barbecue comes into its own under the Sea Grape Tree, it is common to find seafood feature prominently, from grilled snapper or salt cod with vegetables right down to céviche with papaya or mango salsa.

In the French islands, namely Guadeloupe, Martinique and to a lesser extent St. Martin, the tradition is to indulge in the delicious 'Matété de crabes', a pilaf of land crab with ham and rice that is ubiquitous around the French beaches during the Easter break. It is almost impossible to get through Easter in the French islands without sampling crab at some point.

Just as Hot Cross Buns are the tradition in Europe and North America, the Caribbean draws on its rich heritage to either duplicate or reinterpret this overseas standard. Since many of the Caribbean islands are Catholic, buns are found easily. Again, the French islands add a spicy twist to the 'Pain d'Epices', capitalizing on the local cinnamon, nutmeg and dark rum flavors. In Jamaica, the heavy Easter Bun, laden with fruit and steeped in stout, is eaten with a slice of cheddar cheese in between the two moist slabs.

Finally, the Spanish-speaking island of Santo Domingo has the most unexpected, but most delicious, Easter treat that pays respect to the meat fast at the same time as delivering an indulgent carbohydrate boost. 'Habichuelas con dulces' are cooked in every Dominican home with access to a pressure cooker in the days leading up to Easter, and are offered spontaneously to guests like New Orleans beads.

On paper, Habichuelas does not sound like a crowd-pleaser. The base ingredient is red beans, after all. However, once these are simmered in condensed milk, evaporated milk, coconut milk, and bolstered with sweet potatoes, raisins, cinnamon, cloves and decorated with cookies, this delicacy is as far from its savory roots as rice or bread pudding.

Since Carnival is a significant event in the Caribbean, Easter marks the end of a period of fasting and a return to (over) indulgence. The above recipes are proof enough of that intent.





Related Articles
Editor's Picks Articles
Top Ten Articles
Previous Features
Site Map





Content copyright © 2023 by Nick Marshall. All rights reserved.
This content was written by Nick Marshall. If you wish to use this content in any manner, you need written permission. Contact Nick Marshall for details.