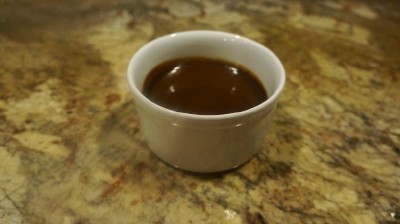 It is so easy to purchase store bought barbecue sauce (also known as barbeque
sauce or bbq sauce). If you take the time to read the ingredients you may be
surprised by the amount of items listed you have never heard of or cannot even
pronounce. Making homemade barbeque sauce is such a simple process you will
wonder why you ever bought barbecue sauce. When making it at home you know
exactly what you are consuming. This simple recipe infuses cocoa in the sauce,
creating a rich flavor. The barbecue sauce featured below is a mixture of
Kansas City and Memphis style sauces. It is tomato based with vinegar.
Sweetness is added from the honey and molasses. There are so many ways to
adjust the flavors to fit your tastes. A smoky taste can be accomplished by
adding liquid smoke. This recipe does have a bit of heat, however, you can
always increase the heat by adding more cayenne pepper or red pepper. Another
option is to add more honey for a sweeter effect. Add barbecue sauce to ribs,
pulled pork, chicken, and much more. Barbecue sauce can be packaged in glass
bottles. Add a label and a bow and it will make a great gift for the barbecue
lover in your life.
Cocoa Barbecue Sauce Recipe
Ingredients:
1 can tomato sauce
1/3 cup tomato paste
1/3 cup honey
1/2 cup red wine vinegar
1/3 cup unsulfured molasses
1/2 teaspoon cayenne pepper
1/2 teaspoon salt
1/2 teaspoon black pepper
1/4 cup baking cocoa
1/4 teaspoon red pepper flakes
1/2 teaspoon garlic powder
1 teaspoon chili powder
Directions:
1. Add all the ingredients to a large saucepan.
2. Heat the sauce over medium heat and bring to a boil.
3. Once its starts to boil, lower the heat and simmer for 20 minutes while
occasionally stirring.
4. Store in an airtight container. This will keep in the refrigerator for up to
1 month. You can also store in the freezer if you need to keep it longer.
Enjoy and sweeten the soul with chocolate!