Higher Grounds Trading Company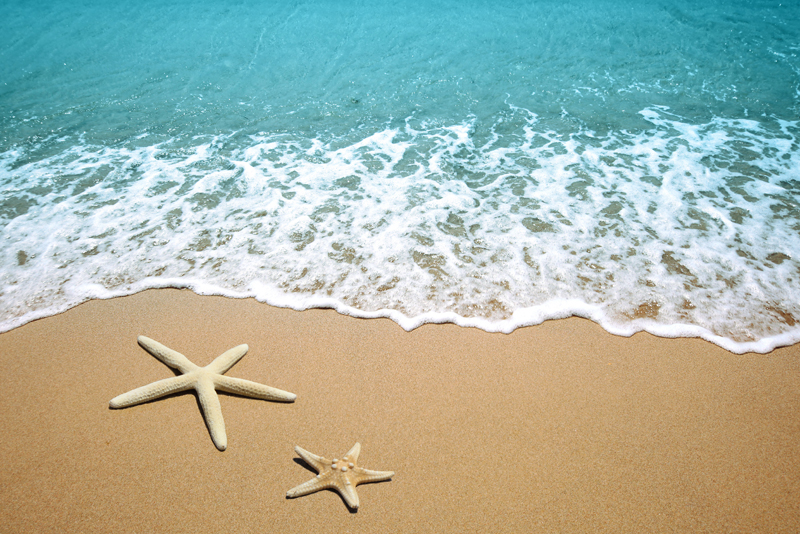 If, like me, you're always in search of a good cup of coffee while on your travels you can find that and a whole lot more at the Higher Grounds Trading Company in Traverse City, Michigan. The Higher Grounds not only serves up an excellent brew but does so while supporting fair trade wages for coffee farmers, encouraging environmental responsibility, and giving back to the local community.
Located in building #53 of The Village at Grand Traverse Commons, (the former Northern Michigan Asylum for the Insane complex), Higher Grounds boasts a taste-bud-tantalizing array of on-site, delicately roasted, small-batch coffee beans, to satisfy even the most persnickety coffee connoisseur (which I am not). Along with that great cup of Joe you know you're supporting the livelihoods of small-scale, family owned, coffee growing operations from places like: Columbia, Ethiopia, Mexico, Peru, Sumatra, and Nicaragua.
When you order a cup-to-go from the Higher Grounds you won't carry away a contribution to the local landfill either, you get a re-useable ceramic mug that has been donated. Regular customers bring their own mugs to be filled with a steamy, robust Organic Peruvian Pangoa Dark Roast, or an Organic Mexican Maya Vinic Medium Roast. Higher Grounds also donates a portion of the proceeds from their Coffees For Change Signature Blends, to several worthy initiatives that promote sustainable, organic agriculture, wildlife habitat preservation, clean water, and indigenous rights.
For making that perfect cup of coffee the Higher Grounds suggests the following:
1. Use freshly roasted beans.
2. Use purified water.
3. Use the proper grind
*French press or percolator: coarse grind
*Drip: a little coarser than sugar granules
*Stovetop espresso: a little finer than sugar granules
4. Drink immediately. Transfer extra coffee into a thermal container. Never leave coffee exposed to heat and never microwave coffee (oops, I'm guilty of both of these).
5. Keep beans or ground coffee in an airtight container in a pantry, not in the freezer or fridge.
6. Use 1.5 to 2 tablespoons per 8 oz cup.
7. They recommend a French press, but if using a drip coffee maker use a gold mesh filter (best) or unbleached filters.
8. And last but not least, clean your drip coffee maker regularly. Run vinegar solution (3 parts water: 1 part vinegar) through the machine. Then flush with pure water five times to eliminate vinegar residue.
Here's one of several recipes the Higher Grounds recommends for creating a decadent cup of flavored coffee.
Cinnamon Delight
· 4 cups water
· 1 cinnamon stick
· 1/3 cup dark brown sugar
· 4 Tbs ground coffee
· 2 cloves
Boil water with cinnamon and cloves. Reduce heat to simmer and dissolve sugar in water. Add ground, organic fair trade or Rainforest Alliance coffee and simmer an additional 5 minutes, then strain all through a fine sieve before serving.
If hot chocolate is more to your liking they make the real deal using fresh milk from the Shetler Family Dairy. Shetler's fresh, hormone and antibiotic free milk still comes in old fashion glass bottles to preserve the milk at peak flavor and freshness. Higher Grounds uses some of the finest chocolate available from the Grocer's Daughter Chocolate.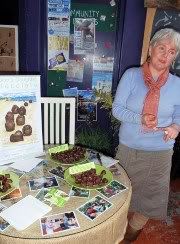 Mimi Wheeler, owner of Grocer's Daughter, uses Rainforest Alliance certified, premium high-cocoa content chocolate. It's so rich and creamy you'll have a hard time drinking that old, watery dry powered stuff again. Mimi has a chocolate shop in Empire MI, where she whips up all sorts of delectable chocolate goodies.
While visiting the Higher Grounds make sure you also pop in to visit their next-door neighbor, Left Foot Charley Winery. Here you can indulge in the fine art of wine appreciation while you sniff, swirl, and sample fine regional wines with winemaker Bryan Ulbrich. This location offers you a chance to taste the region's best grape varieties from the best vineyard sites without leaving town.
These wonderful little shops, along with The Underground Cheesecake Company (buildings 67 &69), and the Pleasanton Brick Oven Bakery (building 66), are housed in buildings that once served as the laundry, or fire station, for the old Traverse City State Hospital, and the Northern Michigan Asylum.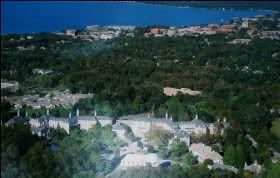 The Village at Grand Traverse Commons is one of the largest, historic preservation and adaptive reuse redevelopments in the country. The Minervini Group has undertaken this massive repurposing project that includes 63 beautiful acres with dozens of century-old Victorian-Italianate structures.
You have to visit here to really grasp the scope of this project but it's turning out simply amazing. The beautifully renovated old buildings are once again vibrant and full of thriving small shops, businesses, eateries, and residential suites. This eclectic mix of commerce, community, and social gathering spots, surrounded by nature really gives the feeling of strolling through a friendly neighborhood.
For more info visit: www.highergroundstrading.com, www.grocersdaughter.com, www.leftfootcharley.com, www.thevillagetc.com. For Traverse City info: www.mytraversecity.com, and for info on visiting Michigan go to: www.michigan.org.


Related Articles
Editor's Picks Articles
Top Ten Articles
Previous Features
Site Map





Content copyright © 2022 by Hazel M. Freeman. All rights reserved.
This content was written by Hazel M. Freeman. If you wish to use this content in any manner, you need written permission. Contact Hazel M. Freeman for details.