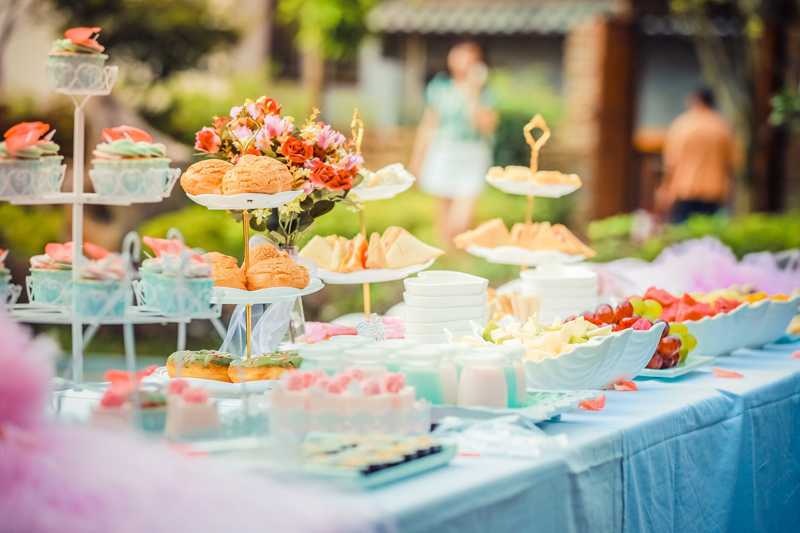 The leaves are beginning to shift, and there is a crisp feel to the air. Yep, fall is on it way. Fall brings with it a slower pace than the rush of summertime activities. We all tend to stay in a little more in the latter part of the year, to do a little more cooking, and a little relaxing by the fire. It's a time of friends, family, and comfort food. Try out these recipes at your next fall gathering.

Fall Salad:

· 1 bag sliced almonds
· 3 tablespoons red wine vinegar
· 1/3 cup olive oil
· 1/4 cup fresh cranberries
· 1 tablespoon Dijon mustard
· 1/2 teaspoon minced garlic
· 1/2 teaspoon salt
· 1/2 teaspoon ground black pepper
· 2 tablespoons water
· 1/2 red onion, thinly sliced
· 4 ounces crumbled blue cheese
· 1 (11 ounce) bag mixed salad greens

In a blender or food processor, combine vinegar, oil, cranberries, mustard, garlic, salt, pepper, and water. Process until smooth.
In a salad bowl, toss the almonds, onion, blue cheese, and greens. Pour salad dressing over and toss until well combined.

Pear Pie

· 1 (9 inch) double crust pie crusts
· 3/4 cup sugar
· 3 tablespoons quick-cooking tapioca
· 1/2 teaspoon nutmeg
· 1/2 teaspoon cinnamon
· 1/4 teaspoon salt
· 1 teaspoon lemon peel, grated
· 6 large ripe pears, peeled and sliced
· 2 tablespoons lemon juice
· 2 tablespoons butter, cubed
· 1 tablespoon milk
· additional sugar
In a small bowl, combine sugar, tapioca, nutmeg, cinnamon, salt, and lemon peel; set aside.
In a large bowl, combine pears and lemon juice; toss to coat.
Sprinkle dry ingredients over pears and toss or stir gently to coat evenly.
Line pie plate with bottom crust.
Pour pear filling in crust.
Top evenly with cubed butter and top with top crust.
Seal pie, flute edges, and cut slits in top of crust to allow steam to escape.
Brush with milk and sprinkle sugar over top if desired.
Bake at 400 degrees Fahrenheit for 50 minutes or until crust is golden brown and filling is bubbly.
Cool on wire rack.

Fall-Apart Pork

· 1 tablespoon garlic salt
· 1 tablespoon onion salt
· 1 tablespoon paprika
· 4 thick boneless pork chops (3 inches)
· 2 cups V8 vegetable juice
· 1 tablespoon vegetable oil
Heat vegatable oil in dutch oven

Combine garlic salt, onion salt and paprika.

Rub spices into both sides of pork chops.

Brown both sides of the chops in the oil.

Pour in the V-8 juice until it covers 2/3 of the meat.

Place a sheet of aluminum foil under the lid to slow evaporation.

Bake at 250 Degrees for 8 hours.

Peek at the pork every few hours to make sure the juice isn't cooking away. Add more juice if needed.

Dark Russian

· 1 cup ice
· 1/2 cup chocolate ice cream
· 1/4 cup milk
· 1 ounce dark Crème de Cacao
· 1 ounce cinnamon schnapps
· 1 ounce vodka

Add all the ingredients to the container of an electric blender. Blend on high until smooth; may have to pulse on and off until mixture starts to swirl.

Autumn Glory
· 1 3/4 kg whole pumpkin (4lb)
· 1 medium onion, sliced
· 2 tablespoons finely minced garlic
· 3 tablespoons extra virgin olive oil
· 1 medium courgette, sliced (zucchini)
· 115 g mushrooms, sliced (4oz)
· 400 g canned chopped tomatoes (14oz)
· 75 g pasta shells (3oz)
· 450 ml vegetable stock (1 3/4 cups)
· 4 tablespoons fromage frais (or cream cheese if unavailable)
· 2 tablespoons fresh basil, chopped
· salt & fresh ground pepper, to taste
Preheat the oven to 350°F.

Cut the top off the pumpkin with a large sharp knife and scoop out and discard the seeds.

Using a small sharp knife and a tablespoon, cut and scrape out as much of the flesh from the shell as possible, then chop the flesh into rough chunks.

Bake the pumpkin with its lid on for 45 minutes to 1 hour until inside begins to soften.

Meanwhile, make the filling. Gently fry onion, garlic and pumpkin flesh in olive oil for about 10 minutes, stirring occasionally.

Add the sliced courgette and the mushrooms and cook for a further 3 minutes, then stir in the tomatoes, pasta shells and stock. Season well, bring to the boil, then cover the pasta and simmer gently for about 10 minutes.

Stir the fromage frais and basil into the pasta and spoon the mixture into the pumpkin. (It may not be possible to fit all the filling into the pumpkin shell so serve the rest separately if necessary).




Related Articles
Editor's Picks Articles
Top Ten Articles
Previous Features
Site Map





Content copyright © 2018 by Amelia Johnson. All rights reserved.
This content was written by Amelia Johnson. If you wish to use this content in any manner, you need written permission. Contact Shalia Hayes for details.