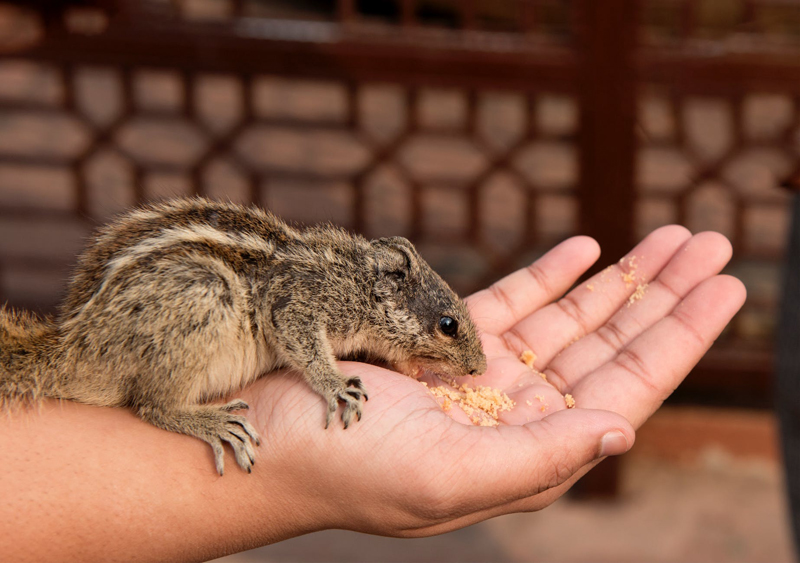 Rabbit Supplies
How to care for the pet rabbit
The pet rabbit requires special food and equipment, not just for optimal health; but also to keep your rabbit alive. Rabbits are prone to urinary tract problems. They cannot be too hot or too cold. The single most expensive piece of equipment will be the cage. Get the best you can. They need the room.
Rabbits should have freedom to run in at least a small area of your house. Leave his or her cage open so he can come and go as he pleases.
A cage should be the rabbit's special place. A rabbit will mark their cage with a few pellets to mark their territory. This is not a breakdown in rabbit litter training. Respect his territory. Clean his cage while he is out of the cage. Allow him to enter and exit on his own free will. Gently guide him into the cage. Do not grab him to take him out of his cage.
Cages with only wire floors are not good for rabbits. Rabbits do not have pads on their feet and the wire floor will injure their feet. If you do have a cage with a wire floor provide a board for him to sit on. I remember the old, homemade rabbit hutch with the wire floors that worn nasty sores in the rabbit's feet. Keep the cage floor clean and dry. Keep the board clean and dry. Rabbits love the rabbit condominiums. These cages have two levels; the floors are connected with a ramp.
One thing that turns people off on exotic mammals as pets is the odor of their waste. This is a safe and a solution that works.
Great odor control for small mammals Marshall Bi-Odor Internal Waste & Urine Deodorizer (8 fl. oz.) Bi-Odor Waste & Urine Deodorizer for Rabbits, Guinea Pigs, and Small Animals.100% natural supplement deodorizes your pet's stool, urine, and body odors. Just add to your pet's food or water daily.Recommended by top breeders and veterinarians.
Cages
Super Pet Habitat Defined Home for Rabbits
41.25" L X 18" W X 31.5" H



Ware Premium and Bunny Barn Yard (31.5" LX26" X 18.5" H) this is the perfect way to provide your pet with space for exercise and playtime fun. Constructed with top quality materials and workmanship, the yard utilizes a solid wood frame with heavy-duty, powder coated wire panels to ensure your pet's safety and security. The versatile Bunny Yard easily attaches to the Premium + Bunny Barn sold separately, or can be use as a free standing pen.




WARE Premium + Bunny Barn (37.5" L X 31.5" W X 47" H)

Rabbit Nutrition


The primary diet of the rabbit usually is commercial rabbit pellets. I would recommend limiting these pellets, or completely eliminating this rabbit food. Pellets were developed for the rabbit industry, basically with fast growth and weight gain in mind. The pet rabbit, which should be spayed or neutered, will gain too much weight on pellets. Provide the rabbit with fresh water daily.

8 in 1 Ecotrition Organic Rabbit Food FoodBalanced-By-Nature Certified OrganicUnlike regular or natural foods, which can contain additives, organic blends are grown without the use of conventional pesticides, artificial fertilizers or food additives, ensuring a safe and healthy product for pets. In addition, all aspects of our organic foods, including growing, mixing, and packaging, are certified to meet USDA organic standards. Ecotrition Organic Blend offers a nutritionally complete, fortified mix of fresh ingredients, grown free of additives, to help your pet flourish.




LM Animal Farms Bonanza Bounti-Buffet for Rabbits (4 lbs.)

Rabbits require a rich, varied diet of quality seeds, grains, vitamin-enriched pellets, fruits, nuts, and veggies. L/M Animal Farms has responded to the dietary needs of your small animal by creating Bonanza. This gourmet diet is highly palatable. Bonanza Bounti-Buffet is a blend of carefully selected seeds, grains, fruits, and vegetables. It is fortified with vitamins. Packaged in L/M Barrier Loc resealable package that protects freshness and flavor.





The rabbit must have roughage/fiber for good health. Offer the rabbit Timothy Hay. Hay will eliminate hairballs and other blockages and aids the natural digestive process of rabbits. Timothy Hay reduces the likelihood of urinary tract problems. Small amount of alfalfa hay can be offered. Unlimited amounts of timothy hay, oat hay and grass hay should be available throughout the day. Rabbits need access to food 24/7. Remove the soiled hay daily. Rabbits do not need any animal protein nor is it good for them.

Kaytee Natural Timothy Hay for Rabbits and Small Animals (48 oz.)

High quality hay aids the natural digestive process of rabbits and small animals by providing required long strand fiber. Kaytee Timothy Hay is a natural product with no additives or preservatives. Lower in calcium, Timothy Hay may reduce the likelihood urinary tract problems. The high fiber from Timothy Hay in conjunction with good feeding habits may help prevent obesity.


Treats, chews, and toys, are important


Chew surprise honey bars are the only seed stick treats that have a chew within a treat. The great tasting vegetable flavored chew promotes the guinea pigs and rabbit's natural gnawing activity. This is important to wear down their front teeth that continuously grow throughout their life. We then surround the wood chew with select seeds, crunchy nuts, garden veggies, and golden honey for the ultimate interactive treat surprise. Fortified with vitamins and minerals this treat and chew is sure to become your pet's favorite nutritious treat. Wood chew helps promote natural gnawing activity.




Super Pet Rollin' The Hay Spinning Hay & Salad Dispenser (5.5" Diameter) Fun and Healthy!

Rollin' The Hay. The Spectacular Spinning Hay Holder. It's nutrition and fun rolled in one! The spinning hay & salad dispenser is for rabbits, guinea pigs, and chinchillas. Keeps hay off the floor and clean.




PETCO A-Maze Ball with Bell for Rabbits (5" Diameter; Orange; Yellow; Green)

PETCO A-Maze Ball with Bell for Rabbits: encourage your rabbit to get up and get moving with our A-Maze Ball. This plastic toy features a ball within a ball that jingles and jangles as your rabbit races it around his cage. Provides excellent mental stimulation and prevents boredom.


Litter box training


You will find rabbit litter training is pretty easy. Simply place the box in the corner that the rabbit has chosen. It takes time and patience. In the early stages of training place several boxes around the area the rabbit occupies. As the rabbit catches on remove the boxes one by one, so only a few remain. Rabbits learn much easier as they get older. Be patient with the youngun; he will get it when he is ready!

Be careful what type of litter you use. Rabbits are different from cats in that they tend to ingest some of the litter. Clay litter is dusty and can cause pneumonia. Clumping litter is ingested and clumps in the digestive track. Corncob litter can also be ingested and can cause a lethal blockage. Paper pulp litters work good. Litters made from aspen bark works well. Citrus-based litters work great but are hard to find and can be expensive. Straw can be a safe, inexpensive litter but needs to be changed often.

Rabbit manure is an excellent fertilizer so choose a litter than can be composted. Since rabbit pellets can be used straight on the garden without worries of burning the plants, the litter can be mulched right into the garden.
Green Pet Aspen Supreme Pellets Pet and Bird all Natural Litter/bedding (10lbs.) Super Absorbency and Odor Control. Aspen Supreme Pellets use s a special blend of fresh aspen wood particles, a natural by-product of a renewable resource. Contains NO cedar or pine. Superior ODOR CONTOL!




SageKing Corner Combo Litter Box with Track Mat (19.5" L X 24" W X 17" H; Brown) This is perfect for the animals that like to scat in a corner. Since rabbits always like to fling the litter all over the place, a covered litter box is perfect. This also works pretty great for my ferrets. Many features not normally found in a litter box.

Our SageKing Corner Combo Litter Box is perfect for those who either have limited space in their home, or a corner where they want to place their litter box. We've included a bonus door flap to hold in odors and a soft touch track mat for keeping litter in its place. And, the stylish chic, bronze color will match any home.



Scroll down a litter further and sign up for the exotic pet's newsletter. Your email is 100% safe, I never even see it. You will receive a newsletter twice a week. Once in a great while an emergency newsletter may go out, but this would be only for a big illness outbreak or other emergency. Subscribe so you will know when new content comes out!

Be one of the first to follow Exotic Pets BellaOnline on Facebook and Twitter.

Exotic Pets on Twitter

Diana Geiger on Facebook

If you have a comment about this article, if you have a question, or just want to say hello, stop by the Exotic Pet Forum! Comment Here

Feel FREE to Contact me anytime. You can reach me via my bio page. Click on my name.
Contact Diana


This site needs an editor - click to learn more!

You Should Also Read:
Exotic Pet Site Map
Children's Pet House (For Kids)
Exotic Pet Shopping (the safest for your pets)




Related Articles
Editor's Picks Articles
Top Ten Articles
Previous Features
Site Map





Content copyright © 2023 by Diana Geiger. All rights reserved.
This content was written by Diana Geiger. If you wish to use this content in any manner, you need written permission. Contact BellaOnline Administration for details.