Tips On Buying Bullion Coins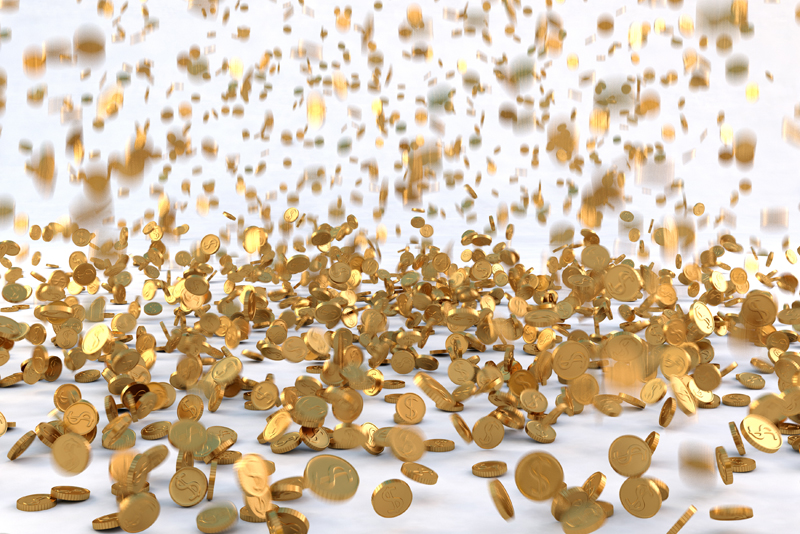 Are you concerned about the economy? If you aren't, then you are a rare person indeed! While rampant inflation isn't a problem right now, many people fear it is just around the corner. Currently the Federal Government is paying for everything by continuously printing unbacked paper currency. It is only a matter of time before the chicken's come home to roost.

If rampant inflation returns, are you prepared for it? Knowledgeable coin collectors are aware of ways to deal with inflation; bullion coins! As the dollar continues to decline in value, precious metals such as silver, gold, and platinum tend to increase in value as people seek hedges against inflation and a devaluing currency.

Bullion coins were introduced in the U.S. in 1986 in gold and silver forms. A couple of other series have been added over the years, but the primary U.S. bullion coins are the American Eagle series. From a design perspective this series is probably the least interesting of bullion coins to collect.

The obverse side of these coins displays a design from the past, Adolph Weinman's Walking Liberty design on the silver Eagles and the Saint-Gaudins gold $20 design on the gold Eagles. On the reverse side of the silver coins, John Mercanti's facing eagle with spread wings and a shield on its chest is displayed.

On the reverse of the gold Eagles is displayed a family of eagles which is comprised of an eagle with spread wings coming in for a landing to its nest containing two eagle chicks and the other parent eagle.

The platinum American Eagle circulation-strike bullion coins feature a John Mercanti design of the Statue of Liberty on the obverse side of the coin. The obverse side displays a flying eagle. The flying eagle was designed by Thomas D. Rogers Sr.

The prices for the American Eagle bullion coins is based upon the precious metal content of the bullion coin. As such the $1 silver Eagles are the cheapest of this series to collect. With some exceptions silver Eagles should be available to collect for a small premium over the bullion value of the coin. Most mintages of the silver Eagles are high and there should be enough of them available to satisfy the collector interest in silver bullion coins.

In 2006, a special type of uncirculated bullion coin has been made available directly to consumers from the U.S. Mint. These uncirculated special silver Eagles are called "uncirculated-burnished," which is a term that describes the specialized process used to mint these bullion coins.

Although the uncirculated-burnished bullion coins appear to be similar to the regular silver Eagles, they can be distinguished by the addition of a mintmark [W for West Point] and by the use of burnished coin blanks used to mint the uncirculated-burnished silver Eagles.

Grading shouldn't be a concern in collecting any of the Eagle series of bullion coins. Unless the coin has been improperly stored and sustained damage it should grade at least an MS-68. Don't pay a premium to collect so called investment-grade bullion coins.

The American Eagle gold bullion coins come in uncirculated or proof forms and they are minted in four different sizes and denominations. The denominations are essentially meaningless, as bullion coins are not intended to be spent as are normal coins. The Mint has to establish some denomination value for any coin they issue whether the coin is intended as "legal tender" or a collectible coin such as bullion coins.

The four sizes are tenth ounce, quarter ounce, half ounce, and one ounce, which are also repeated with the platinum bullion coins. For the gold coins the denominations are $5, $10, $25, and $50, respectively. The corresponding platinum denominations are $10, $25, $50, and $100.

Another U.S. bullion collectible coin series is the First Spouse series. This is a series that began in 2007 and consists of bullion coins featuring the wives of the Presidents of the U.S. Of course some presidents were not married and for those Presidents, the obverse side features the version of Liberty on coins of that period. Each First Spouse coin features a face denomination value of $10 and each bullion coin contains a half ounce of 24-karat gold.

Buying bullion coins is a way to build a supply of precious metals as a hedge against inflation. Of course this isn't the only reason to collect bullion coins. Many of these coins are attractive in their own right. You could treat these coins much as you would other series in circulated form.







Related Articles
Editor's Picks Articles
Top Ten Articles
Previous Features
Site Map





Content copyright © 2022 by Gary Eggleston. All rights reserved.
This content was written by Gary Eggleston. If you wish to use this content in any manner, you need written permission. Contact Gary Eggleston for details.