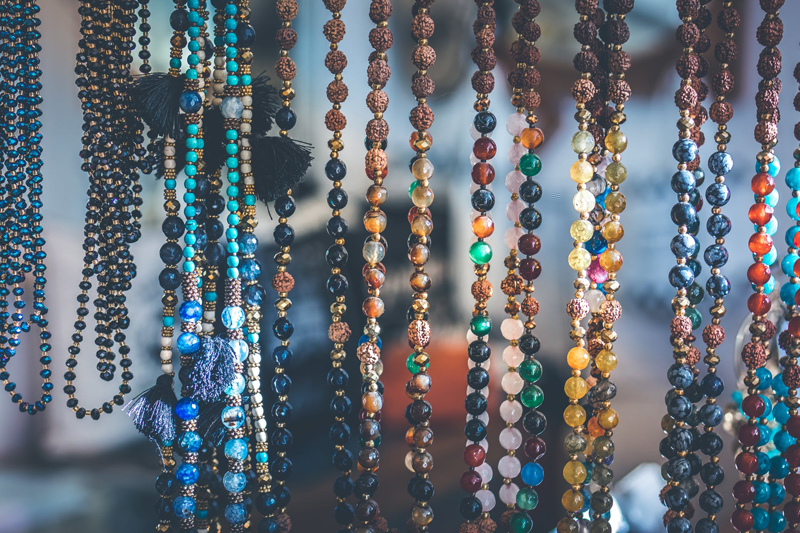 Ann Benson's
Beadwork Basics was one of the first beadwork books I bought when I decided I wanted to learn more about beading.
She's been an inspiration for beaders for years. Her bright colorful books are easy to find, and well written and illustrated, teaching many techniques, and many styles of beadwork.
Her website,
www.annbenson.com
, has information about beading including instructions, kits for some of the projects from her books, including the famous Marilyn pin, project pamphlets, many free instructions for various stitches, information about her fiction writing, and information about her books.
If you sign her guestbook, you get a nice email once a month, with a link to a free project. Gorgeous and varied techniques and styles are covered in these projects which are available from an archive once you sign her guestbook.
I had the chance to interview her, she seems like, as well as being incredibly talented and sharing, to be a very nice lady.
Question:How/When did you start beading?
Has beading inspired any other types of crafts for you?
Ann Benson:"I began beading as a child; I bought my first beads in tubes at Woolworth's when I was quite young---used my chore money. I made wire bracelets and rings, occasionally key rings. I enjoyed it thoroughly. I've been a craft designer for many years, doing mostly needlepoint, counted cross stitch and other needlearts, so it's hard to say if beading inspired me to do any other crafts. I would say that needlepoint inspired me to do beadpoint, truth be told. "
Questions:What's your favorite stitch?
What inspires you as a beader?
Who inspires you?
Ann Benson:"I don't really have a favorite beading stitch because I do them all, but I especially enjoy beadpoint (my next book is devoted entirely to that technique) and loom weaving, though I haven't designed as much for loom weaving as I have for the hand weaving techniques. I am inspired most by seed bead artists, though I wouldn't single out any one in particular---there are so many wonderful seed bead artists doing fabulous work these days, and I love to see it! My goal as a bead artist is a bit different---I want to create things that other people can do. I truly enjoy making it possible for other beaders to enjoy the art, even if they don't have the time or inclination to design for themselves. Pretty much everything I design is done with the end beader in mind. If I can't write directions for it, I probably won't do it."
Question:If you were going to recommend one of your books, which one is your personal favorite?
Ann Benson:"Of all my beading books, the first, "Beadweaving", is my favorite. However, when "Beadpoint" comes out, it may rival "Beadweaving" in my heart."
Question:Copyright is a huge issue on the internet. How do you feel about people stitching up your designs for pin money?
Ann Benson:"I don't have a problem with people stitching up my designs for pin money. I put the free patterns out there for people to use. I don't have a problem with someone buying a kit from me and then selling the finished piece for money. In both of those cases, I've either given permission or I've been paid for my work. I do have a tremendous problem with other people using my designs to make up kits for sale---that is a clear copyright violation, but it's so expensive to litigate that kind of theft that I feel very powerless. But that's a risk I take in putting materials out there for other people."
Question:Do you bead while watching tv, or while listening to music? What shows or type of music?
Ann Benson:"I often bead while listening to music (classical choral music is my favorite genre) or to an all-news television station like CNN or MS-NBC."
Question:What cultural influences do you think have the strongest influence on your designs?
Ann Benson:"There are two strong cultural influences on my design work---woven rug and carpet patterns (oriental, mostly) and European floral motifs of the Victorian or romantic period."
Question:Do you have a strong aversion to any colors? Colors that are hard for you to design with?
A strong preference?
Ann Benson:I prefer to design with opaque, matte and ceylon colors because they lend themselves to pictorial images and designs. I seldom use transparent beads. As far as I'm concerned, there are no bad colors, only colors that are badly used!
Question:Do you wear your own beadwork?
Ann Benson:I do wear my own beadwork, but not often because I am not a big wearer of jewelry. More often I wear belts and carry purses that I've made.
Question:What do you do when a design doesn't work out the way you expected?
Ann Benson:When a design doesn't work out the way I expected it to, I often remove beads or "rip it back" (that's more of a needlework term). I also write novels, so I am used to revising things until they are what I want them to be.
Question:How do you deal with being "bead blocked"?
Ann Benson:I have never been bead-blocked. I am frequently "time-blocked" in that I don't have enough hours in the day to create all the things I'd like to create.
I would seriously recommend her books, I have 2 Hour Beaded Projects and Beadwork Basics, and they are both books I love to go through for ideas and inspiration.
You can find infomation about them on her
site
.


Editor's Picks Articles
Top Ten Articles
Previous Features
Site Map



Follow @shala%5Fbeads
Tweet





Content copyright © 2018 by Shala Kerrigan. All rights reserved.
This content was written by Shala Kerrigan. If you wish to use this content in any manner, you need written permission. Contact Shala Kerrigan for details.