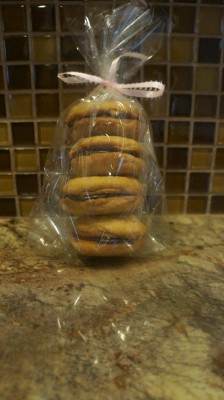 Chocolate and peanut butter are the ultimate combination. These peanut butter cookies are baked with both chocolate chips and peanut butter chips. Then two cookies are filled with a chocolate gananche after baking.
Chocolate Filled Peanut Butter Cookie Recipe
Makes about 40 cookies (20 filled cookies)
Ingredients:
2 1/2 cups flour
1 1/2 teaspoons baking soda
1 cup butter, softened
1 cup peanut butter
1 cup brown sugar
2 eggs
1 tablespoon vanilla
1/2 cup peanut butter chips
1/2 cup semi-sweet chocolate chips
Chocolate Ganache filling:
1 cup semi-sweet chocolate chips
1/4 cup heavy whipping cream
Directions:
1. Combine the flour and baking soda in a small mixing bowl and set aside.
2. Combine the butter, peanut butter, and sugar in a large mixing bowl and beat with an electric mixer.
3. Add the eggs, one at a time and continue mixing.
4. Add the vanilla and beat until full combined.
5. Stir in both the peanut butter and chocolate chips.
6. Refrigerate the dough for about at least an hour. You may refrigerate the dough as is, in the bowl. Or another option is to roll the dough into a log and wrap with plastic wrap. Then when you are ready to bake your cookies you can slice the dough.
7. Preheat the oven to 350 degrees.
8. Grease a cookie sheet.
9. If you did not roll the dough and wrap with plastic wrap, roll the dough into balls (I rolled into 1 ½ inch balls, which made medium sized cookies). Press down on the dough with your hands.
10. Press a fork down on each cookie and sprinkle with sugar.
11. Bake for about 12 minutes or until browned on the bottom.
12. Allow the cookies to sit on the cookie sheet for 2 minutes before moving them to a cooling rack.
13. Allow the cookies to cool completely before preparing the chocolate ganache.
14. In a small sauce pan add the chocolate chips and cream. Heat over low heat and stir periodically until smooth.
15. Spoon chocolate on one cookie. Top with an additional cookie.
16. Store in an airtight container in the refrigerator.
Enjoy and sweeten the soul with chocolate!