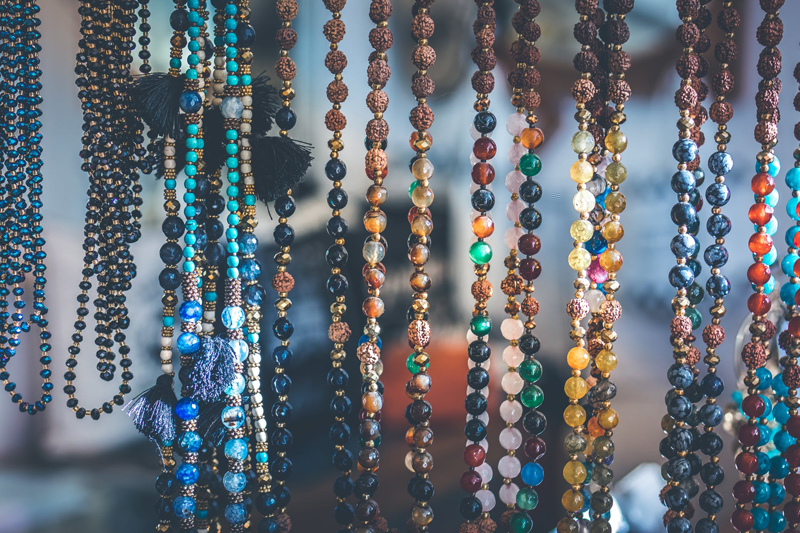 This is a very adaptable project. You can use all sorts of fringing techniques and bead styles with them and really make them your own. Because the weight of the fringe is held by the ear, you can get very excessive and lush with the fringe.
Instruction assume familiarity with brick stitch. If you need a primer, check out these instructions
here
.
First, you'll need to make the earwraps. I recommend a wire that can be worked easily, but also one that will work harden well, something sturdy enough to hold it's form. Silver or copper in 16-18 gauge is my first choice. My example is done in 18 gauge wire.
You will need:
16-18 gauge wire
wire cutters
hammer or mallet*
bench block or other hard surface
round nose pliers
1.5 inch mandrel, I used a pill bottle
file or nail file or sandpaper
*In a pinch, I've covered a regular hammer with a scrap of leather held on with a rubber band to work harden my wire. It works well without leaving hammer marks on the piece.
Cut 2 5 inch lengths of the wire and file or sand the ends smooth. Working with both pieces held side by side so they will match, curve the top part of the wire around the mandrel, and gently shape the bottom part into a soft slope. With the needle nose pliers, make a small loop on both ends of both pieces of wire.
Hammer them each on both sides for a few minutes. You don't need to slam the hammer down. Just lightly tap them all along the length, flip them over, repeat, and do that a few times. The wire will get springier and harder that way and be less likely to lose it's shape.
Beading-
The beading is done with 2 foundation rows in brick stitch, then the fringe coming off of that. I recommend that even if you are going to use charlottes or seed beads for the fringe, use Delicas for the foundation rows. They won't show behind the ear and have nice large holes for multiple passes.
The pair as shown has two rows of brick. The first one, off the wire itself is 16 beads wide, the second one, which is the one the fringe comes off of, is 15 beads wide. More beads means wider fringe, less beads means a narrow fall of fringe.
To start the foundation rows, tie your thread securely around the wire by the bottom loop leaving a tail to weave in. Then add 2 beads, pass the needle and thread around the wire and back through the second bead. Basically, you're working a row of brick using the wire as the foundation instead of using a bead ladder as a foundation. Add the next bead, wrap the thread around the wire, pass through the bead. Repeat until you have one bead more than you want for the number of fringe you are adding.
Add the second row of brick stitch.
Then you'll start fringing. If you make each fringe the same length, they will hang at an angle as pictured. You can make that angle more dramatic by reducing the number of beads for each fringe. For the fringe as shown, I used Delicas, 6 mm bugle beads, 3 mm fire polish crystal, 4 mm pearls in the following counts.
3 Delicas, 1 bugle, 3 Delicas, 1 bugle, 3 Delicas,1 bugle, 3 Delicas,1 bugle, 3 Delicas,1 bugle, 3 Delicas,1 bugle, 3 Delicas, 1 gold Delica, 1 fire polish crystal, 1 gold Delica, 1 pearl, 1 gold Delica, 1 fire polish, 1 gold Delica, 3 Delicas, then passed my needle and thread back up through the first gold Delica and the rest of the beads. Back up to the brick stitch foundation, and down through the next bead in the foundation row to start the next fringe.
These ear wraps would look lovely on a bride or very nice for a prom and other dressy occasions. They can be worn with people who don't have pierced ears like my daughter, or they can be a background for a special pair of earrings. If you need to resize them, resize them from the top, cutting off a bit of wire if you need to, changing the curve slightly, and making a new loop. Styling hair to cover that top loop really adds to the illusion that you just have fringe floating behind your ear.
If you have a Kindle, I also have
brick stitch instructions
available in that format available on Amazon.com.
You Should Also Read:
Basic Beading- Brick Stitch
Netted Earrings
Book Review- Wire Style


Related Articles
Editor's Picks Articles
Top Ten Articles
Previous Features
Site Map



Follow @shala%5Fbeads
Tweet





Content copyright © 2023 by Shala Kerrigan. All rights reserved.
This content was written by Shala Kerrigan. If you wish to use this content in any manner, you need written permission. Contact Shala Kerrigan for details.