Finishing Techniques- Spacers and bead caps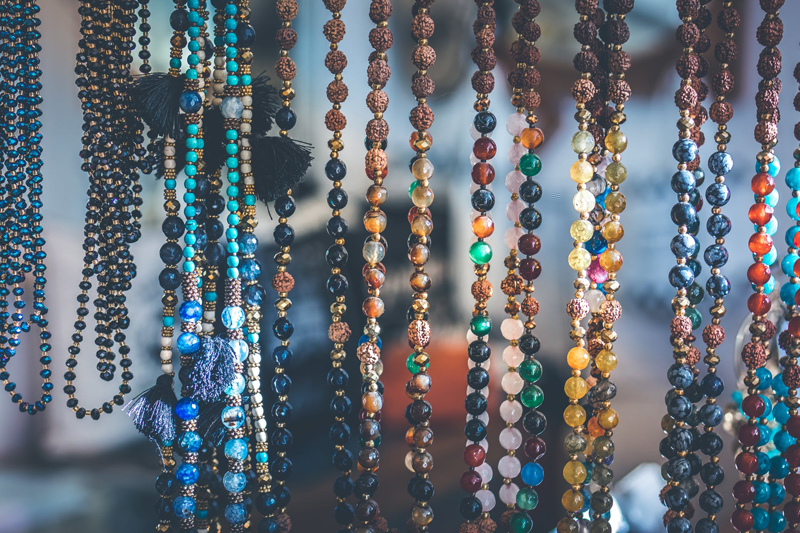 The peace symbol earrings were made by Theresa Packel, the rest were made by me.
A friend of mine, who primarily works with seed beads was showing me a pair of earrings she really liked recently. The color of them was a simple monochromatic color scheme and they were an easy, uncomplicated style. What made them stand to her was the quality of the workmanship and materials, and the finishing techniques.
A lot of people practice with craft wire. That's fine. But when you start getting into making jewelry to sell, you'll want to start working with better metals. If you are charging fairly for your time, you are more likely to sell pieces made with copper, silver, or gold filled wire. Copper is very inexpensive for your first forays into selling finished jewelry if you are uncomfortable with the upfront costs of working in silver. A prospective customer can inquire if a design is available in silver, and you can work with them from that point.
The other finishing technique frequently overlooked is the use of spacers and bead caps. They are a small touch. In something like the earrings above, you're only using a few per pair. The finished effect is worth the time and investment. They can make pieces look a lot more polished.
If you look at the pairs above, you'll see they are are simple shapes, basically just head pin earrings. The pair made by Theresa is just a pair of head pin earrings! But she used a monochromatic color scheme, took her time to turn the top of the pins uniformly and round and used little daisy spacers. The end result is a much more professional looking pair of earrings. They are sweet and classy.
I make a lot of my head pin earrings in 2 parts because it provides a lot more swing. The green donut earrings are done with donut shaped mother of pearl beads with a dangle hanging in the middle, on that dangle, I've used bead caps on the tops and bottoms of the pink crystals to finish the look. The dark pair has daisy spacers like the ones Theresa so effectively used on the peace symbol earrings. The pink pair uses small bead caps, decorative head pins and 2 mm round sterling silver beads.
Yes, it does add a bit of cost to each pair of earrings, but the finished effect is worth it. For the pink pair, the cost of the bead caps and the sterling rounds only added about 50 cents to my cost to make them. The earrings easily sell for $20-$30 dollars a pair when people know they are handmade with sterling silver.
I get my spacers, bead caps and other silver accents in bulk buys a couple times a year. Sometimes I get them from local bead shows in strands, but I can recommend the following online sellers.
Halstead Bead Inc.
are wholesalers, and that's where I got the tiny flower bead caps and the 2mm sterling rounds. They also carry the tiny daisy spacers, look under heishe spacers for a large selection.
Rings and Things
carries daisy style spacers and bead caps in a copper plate that will look great with copper designs.
Fire Mountain Gems
carries copper 3mm rounds, and a good selection of spacer and finishing beads.
If you have problems making a minimum order any of these places, see if you have a friend who will go in with you on an order. I keep lists as I run low on certain supplies until I have enough to justify ordering, and put part of the cost of everything that I sell aside to save the money for another big order.
You Should Also Read:
An Elegant Bead and Chain Bracelet
Cell Phone Charms- with instructions for a wrapped loop


Related Articles
Editor's Picks Articles
Top Ten Articles
Previous Features
Site Map



Follow @shala%5Fbeads
Tweet





Content copyright © 2018 by Shala Kerrigan. All rights reserved.
This content was written by Shala Kerrigan. If you wish to use this content in any manner, you need written permission. Contact Shala Kerrigan for details.