Self Defense and Coping Strategies of Plants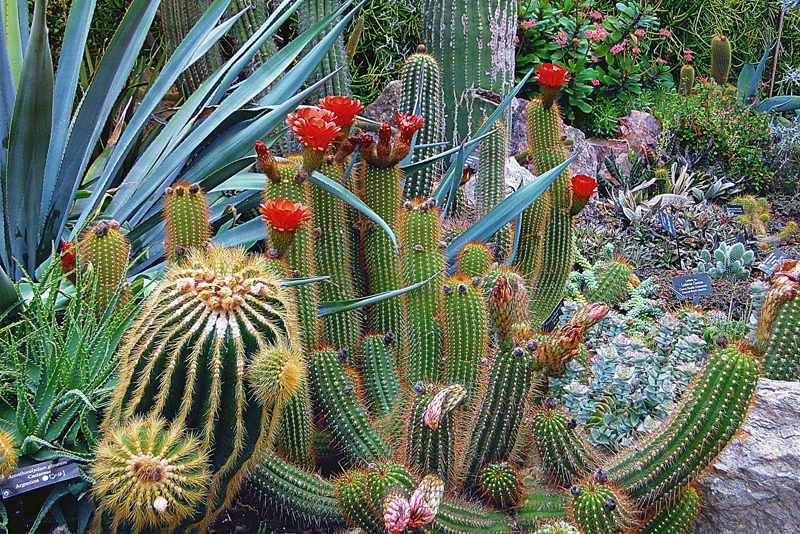 Scientists once considered plants to be very passive. However, that view has changed, particularly within the last couple decades. Instead of being passive, we now recognize that plants respond to their surroundings and alter their behavior and activities as situations change. Over millions of years, they've devised a number of self defense strategies to cope with specific challenges in their habitats.

These plants have learned to employ both physical and chemical means of self protection. Spines serve many purposes. First and foremost, they deter most casual herbivores from preying on the plants. In sunny dry climates, the spines can also help the plants to survive.

In many species, these serve the same role as leaves on other plants and carry out photosynthesis. In addition, spines provide some shade to the plants as well. Bristles and sharp teeth on cacti and succulents serve the same purpose as spines by arming the plants against attack.

Like many other kinds of plants, some of the cacti and succulents also contain poisons or noxious chemicals. This is another defense mechanism to discourage or injure predators that would otherwise consume the plants. In the case of the euphorbias, caustic, burning latex is released whenever the plant suffers a cut or other physical injury.

In a few cases, the targeted animals have somehow found ways to neutralize the plant poison. However, this isn't a common occurrence.

Though plants don't talk, most species have ways to communicate chemically with surrounding plants. When some plant species are under attack, for example by caterpillars or other insect, the plant releases chemicals into the air. This is a signal that lets other neighboring plants know that the insects are in the area. This allows the plants to respond chemically in preparation for such an attack.

As with other plants, cacti and succulents often employ methods of camouflage or mimicry. This strategy tends to protect them from pests by allowing them to fade into the background. The living stones resemble rocks, which is a form of mimicry.

In the case of the ice plants, the whitish spots are reminiscent of sand grains, which helps them blend into their surroundings.

Some succulents have very specialized coping strategies. For example, some species can withdraw into the soil and almost disappear from view when growing conditions become challenging.



This site needs an editor - click to learn more!


Related Articles
Editor's Picks Articles
Top Ten Articles
Previous Features
Site Map





Content copyright © 2022 by Connie Krochmal . All rights reserved.
This content was written by Connie Krochmal . If you wish to use this content in any manner, you need written permission. Contact BellaOnline Administration for details.