Gift Idea- How to Make Stitch Markers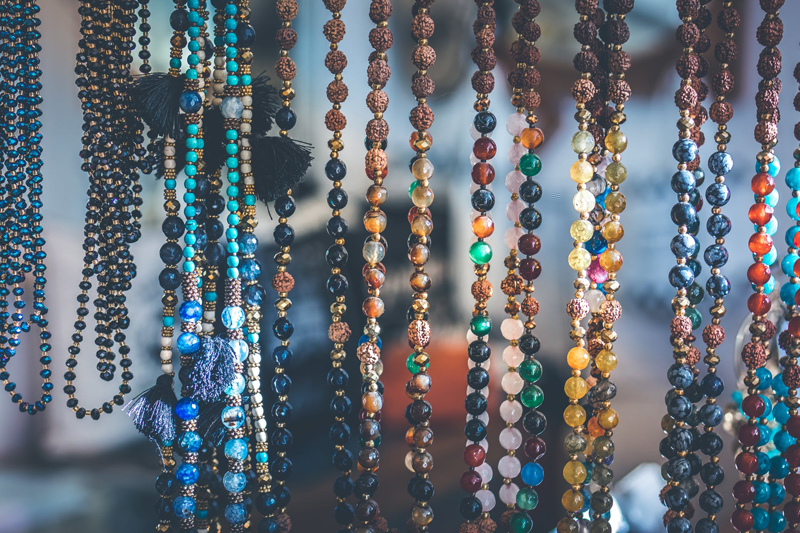 A lot of knitters will tell you "You can't have too many stitch markers." They make a nice thoughtful gift for the knitters in your life and are very easy to make.
Stitch markers for knitters are closed loops that are slid on the needle between stitches at regular intervals to help them keep their counts for patterns that will have decreases or increases. Generally speaking, they like markers that will slide easily from one needle to the next, but not be too big.
The best way to make the right size stitch markers is to use a needle a size or two bigger than the needles that the knitter generally uses. This can pose some problems for gift giving though. If you don't knit, you probably don't have a whole bunch of knitting needles on hand to use for mandrels and knitting. Also you may not know what size to make the stitch markers.
To find out the right size for the stitch markers, ask your favorite knitter what they are working on. Most knitters, like most beaders, love to show you a work in progress. Which you gives you a chance to see the needles. If they are slender, like sock needles, you can use a stick pen or round pencil as a mandrel. For thicker needles like the size 8s and 10s a lot of hats are worked on, the handle of a wooden spoon may do. Be creative!
You will need:
wire- I used 22 gauge sterling silver. 20 or 22 gauge are my favorite for this project
wire cutters
needle nose pliers
round nose pliers
file
hammer- jewelers hammer is best, but a regular hammer will work, just use it lightly
bench block or something hard you can hammer wire on
headpins- I used 21 gauge sterling headpins
beads
For this set, which are shown on a size 8 knitting needle, I used 3 inches of 22 gauge wire for each one. For bigger markers, use 20 gauge and 4-5 inches of wire. Start by making a small 90 degree angle in one end the wire using your needle nose pliers. Mark your pliers with a piece of tape or a permanent marker so you can make the bends in each piece of wire in the same place. Make a small loop around the tips of your round nose pliers, then bend at 90 degree angle again. The diagram below shows the 2 parallel wires off the top of the smaller loop. Make another 90 degree bend where the wire meets the starting tip. Wrap the wire around the mandrel.
Cross the tail end of the wire across your parallel wires, and wrap it around the parallel wires tightly.
Now you'll want to put it on your bench block, and hammer it lightly until the top part of the big loop flares just a bit. That makes it a bit hard so it won't bend out of shape. File wire ends smooth.
Thread beads on the headpin, and make a wrapped loop attached to the stitch marker. Don't wrap the loop until you have it on the stitch marker!
I make matched sets of 5, with one just a bit different to use at the start of rounds. These are very easy to personalize. Choose favorite colors or even favorite semi-precious stone beads. If you're making them for a sports enthusiast you could make them in team colors. Add charms instead of headpins, or if you're making them for a man who knits, make them with 20 gauge copper accented with washers or nuts.
Tie them together with a pretty ribbon and put them in a jewelry box for gifting!
You Should Also Read:
Bead Netted Knitting Needles
Cell Phone Charms- with instructions for a wrapped loop
Bead Knitted Pendant Bag


Related Articles
Editor's Picks Articles
Top Ten Articles
Previous Features
Site Map



Follow @shala%5Fbeads
Tweet





Content copyright © 2022 by Shala Kerrigan. All rights reserved.
This content was written by Shala Kerrigan. If you wish to use this content in any manner, you need written permission. Contact Shala Kerrigan for details.