How To Buy Gold And Silver Bullion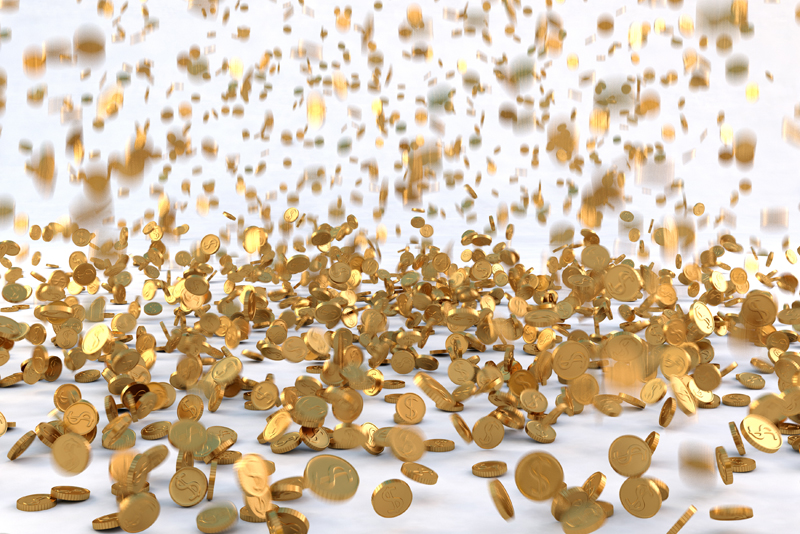 With the current high prices for gold and silver many people would like to own bullion but do not know how to buy it on their own with confidence. And there is no shortage of con artists and scammers eagerly waiting to take advantage of these inexperienced investors.

The standard measure of weight used for precious metals is the troy ounce, which is not to be confused with the normal ounce you use in your daily life. A troy ounce equals 31.1 grams while the standard ounce equals 28.4 grams.

Bullion is generally sold in one troy ounce weights, and also five and ten troy ounce weights. You will find some bullion sold in fractions of ounces or grams. This is especially true for small gold and silver coins and bars.

The price of precious metals fluctuates on a daily basis on the spot market. As buyers, we are interested I what is known as the "spot price." This is the current price for precious metals. In the past you had to either watch the news on television or check out the newspaper for this information. With the Internet it is possible to find the spot prices for precious metals almost to the exact second.

There are several websites that track the price of precious metals Kitco.com is one of the best to check out. Besides the listing of the spot prices, there are many commentaries and news about the precious metals markets.

Precious metals dealers will charge you a premium over the current spot price. You should find a dealer that charges the lowest premium over the spot price. This dealer could be local or you could find them online.

Coins are issued by various governments and usually have a monetary value stamped on them. Old Morgan and Peace dollars and 90% silver coins were issued by the U.S. Government to be spent as money. Bullion coins are stamped with a weight and usually have no monetary value stamped on them. Many governments have minted and sold bullion coins.
American bullion coins are an exception to this rule. As an example the Silver American Eagle has a value of one dollar stamped on it. By law all American coins have to have a monetary value stamped on them. The Silver American Eagle has an ounce of silver in it. As you can see, the marketplace offers coins, bullion and bullion coins.

Silver bullion is usually sold by the ounce. Silver bullion can be found in rectangular shapes or as silver rounds. Many of the silver rounds feature a picture of some sort. This could be an old prospector, cars, Christmas trees, etc. Even some of the rectangular silver bullion could display similar types of images.

Silver coins are readily available in the marketplace. Silver coins are not made of pure silver. They are made of an alloy of 90% silver and 10% copper. As such they are known as 90% silver coins. These sliver coins are also referred to as "junk silver." Old U.S. silver coins are not sold by the ounce; rather they are sold by "face value."

Many people who buy bullion also favor junk silver. These individuals believe that owning a small amount of junk silver might be useful in bartering in a failed economic scenario.

Old silver dollars usually are not a good buy if you only intend to use them for barter situations. However, many coin collectors do collect silver dollars with a passion. Old dollars generally have a collecting premium on them that surpasses any other junk silver coins.

Much like silver bullion, gold bullion is sold by the troy ounce. Like the American Eagle Silver bullion coins, there are Gold American Eagle coins. Unlike the silver bullion, gold bullion is sold in fractions of an ounce and by grams.

Gold American Eagle coins are sold in 1/10, ¼, ½, and 1-ounce weights. Foreign bullion coins can be a great addition to your bullion portfolio. These coins, bars and rounds are available in many different sizes.

As previously mentioned, a dealer will charge you a premium over the spot price. This is the dealer's mark-up and what he has to charge to stay in business. Your job is to find the dealer that charges the lowest premium over the spot price. The first thing you need to do is to decide what type of bullion you want to buy. Maybe you want to start with silver rounds. Call the shops in your locale and ask the dealers what they are charging per ounce. They may ask you how many ounces you want to buy. This is a legitimate question as some dealers offer a discount for large orders.

Record the price quotes you get and go visit the dealers offering the lowest premiums. You need to visit the dealer's shop to do some comparison shopping. Since precious metals spot prices fluctuate daily, you need to go to the dealer's shop right away to take advantage of the price quote.

When you get to the dealer's shop, let him know you just called and that you are interested in buying some bullion. Do not judge the dealer's shop based upon his décor. Some dealer's shops are very modern looking while others may be rather shabby looking. Better décor usually translates into higher premiums on the spot price.

If the dealer seems to be a good person to do business with, buy from him and establish a relationship if you intend to be buying a lot of bullion. Coin dealers are like many other small business people. Some dealer's value their customers, while others don't. Choose a dealer that gives you the best combination of service and price.

Now that you know what bullion is and how it is priced, you can easily buy whatever amount you can afford to. You decide what type of bullion you want, you find a reputable dealer, and you buy what you can afford based upon your budget. This also applies to buying bullion online. Here you will have to consider shipping and insurance costs in the price quoted to you.

The best advice is to start slow. Stick to one type of bullion at first. Once you are experienced buying this type of bullion from a trusted dealer, you can look at other types of bullion. A reputable dealer will do his best to take care of his repeat customers. Don't be surprised if your dealer recommends buying some other type of bullion.

He may do this because he is out of what you normally buy, he knows your interests now, or he might be able to offer a bargain in another type of bullion, or he could have some ulterior motives in mind. This can be a touchy issue for you. You should stop and consider why the dealer is trying to steer you towards another type of bullion purchase.

Never buy any type of bullion from a telemarketing call! There are no bargains being offered to you from an unsolicited sales call. The caller may claim there is a great potential growth in collectible coins or that if the government confiscates your coins, your collectible coins will be exempt from such a confiscation. Do not believe their claims. All they will be selling you is some over-priced, over-graded coins of dubious value.

These telemarketing scam artists are working on commission and are trying to make a killing off of you. Don't fall for their con! If any dealer tries to steer you away from buying bullion into buying rare or collectible coins, leave their shop or hang up the phone. Collecting or investing in rare coins is not for beginners.

Always take physical possession of your bullion. Never let the dealer "store" your bullion. Granted some dealers do have legitimate storage facilities, most don't. You always want to have the bullion in your own possession. Legitimate dealers that do have the proper storage facilities will charge some kind of "storage" or "custodial" fee to store your bullion. This only cuts into your investment returns.



Related Articles
Editor's Picks Articles
Top Ten Articles
Previous Features
Site Map





Content copyright © 2022 by Gary Eggleston. All rights reserved.
This content was written by Gary Eggleston. If you wish to use this content in any manner, you need written permission. Contact Gary Eggleston for details.