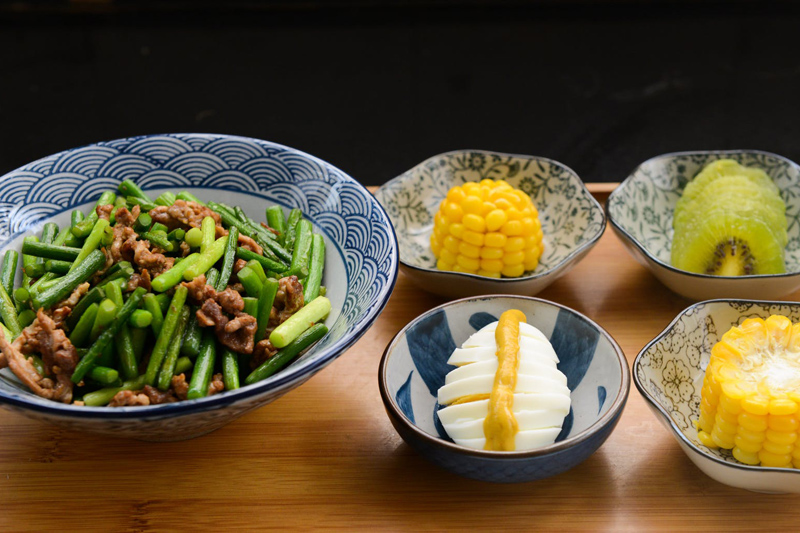 Szechuan pork is a popular dish that can be found in most Chinese restaurants today. Szechuan or Sichuan is a province in China famous for its delicious spicy dishes. This Szechuan pork recipe uses crushed red pepper to give it its spicy flavor. Some recipes use Szechuan peppercorns, or a combination of the two. This recipe also uses oil in which to cook the pork. My other Szechuan pork recipe found
here
uses water in which the pork is boiled. Both give the meat a velvety texture in the final dish, but there is a bit of a difference in the flavor. Try this delicious Szechuan pork recipe and let me know what you think in the Chinese food forum found
here
. Enjoy!
To watch a video for these instructions click
here
2 lbs lean pork (4 to5 pork chops)
2 tsp cornstarch
Peanut oil for frying
2 tbsp stir fry oil
5oz bagged pre shredded carrots
Marinade:
½ tsp salt
1 ½ tbsp sherry
1 ½ tbsp cornstarch
1 tbsp oil
Sauce Ingredients:
½ cup chicken broth
3 tbsp soy sauce
1 tsp sugar
½ tsp ground ginger
1 tsp crushed red pepper
Remove all of the fat from the pork and then cut it into thin slices. Place these slices in a container that has a tight fitting lid.


To the pork, add the marinade in the following order. First add the salt and using your hand, mix it in thoroughly. Then add the sherry and stir until it is completely incorporated. Next, add the cornstarch and again use your hand to mix it in, making sure to coat each piece of meat. Then stir in the oil, cover, and let it marinate for 30 minutes at room temperature.


While the pork marinates, prepare the other ingredients. In a large cup mix together all of the ingredients for the sauce. I often like to use a mix of crushed red pepper and Szechuan peppercorns, however they are sometimes difficult to find.


Once the sauce is mixed, set it aside. Then prepare the thickener. Mix the 2 teaspoons of cornstarch with a little water just until it dissolves.


To a wok add a one inch layer of peanut oil and heat it on high.


When the oil is hot, add the pork and let it cook for 30 seconds to a minute, or until cooked through. While cooking, stir to break up the pieces that may stick together from the marinade.


Once the pork is cooked remove it from the wok and place it on a plate lined with paper towels.


Next, remove all of the peanut oil from the wok. Then add the 2 tablespoons of stir fry oil and heat it on high. Stir fry oil already has the flavors of ginger, garlic and onion infused in it.


When the oil is hot, add the carrots and stir fry them for 2 minutes.


Then return the pork to the wok and stir fry for 1 minute.


Next, add the sauce and stir until it is thoroughly mixed in and begins to come to a boil.


Once it starts to come to a boil, add the cornstarch mixture. Stir until the sauce thickens.


Then remove it from the heat and serve. Makes 3 to 4 servings.


Related Articles
Editor's Picks Articles
Top Ten Articles
Previous Features
Site Map





Content copyright © 2019 by Lila Voo. All rights reserved.
This content was written by Lila Voo. If you wish to use this content in any manner, you need written permission. Contact Lila Voo for details.