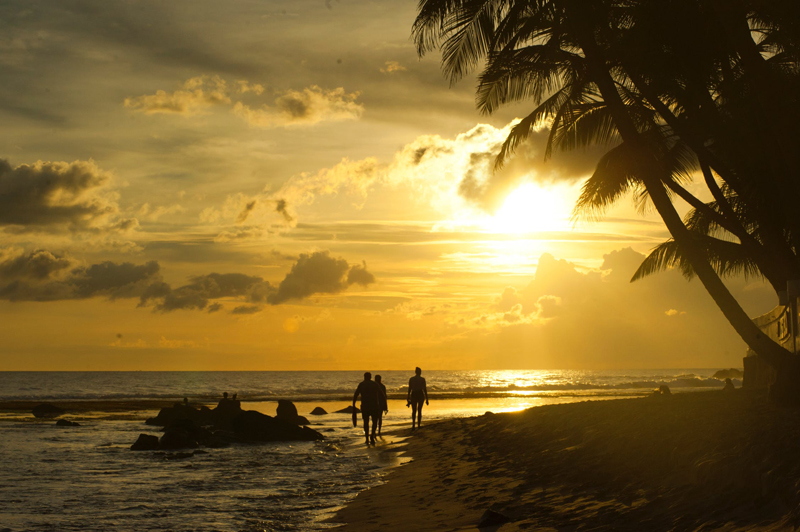 Caribbean Curry Goat seems to have quite a following. It may sound like a complicated meal to make, but I promise you it's extremely easy and quite tasty. Some folk prefer it with Roti (Indian Flat Bread), while others prefer it with Peas and Rice or even plain white rice. Serving it with a traditional Cucumber Side Salad, and an exotic beverage such as Sorrel, Mauby or Soursop Drink completes a round table of flavors. I enjoy having this meal with a chilled Coconut Water and a Tropical Fruit Salad consisting of Mango, Monkey Apple, Pineapple, and Star Apple. If you visit the Caribbean soon and you have Curry Goat with Peas and Rice, be sure to ask your server if you can special order a Tropical Salad with those specific fruits. And you palate will thank me for a blissful experience.


Caribbean Goat Curry

3 lbs of Goat Meat with bones
3 Medium sized Tomatoes finely chopped
4 Garlic Cloves minced
1/4 cup of finely chopped Coriander
1 medium Onion finely minced
1 Scotch Bonnet Pepper minced
2 Blades of Scallion minced
1 Lime juiced
2 tblspns Madras Curry Powder
1 tspn ground Cumin
1/4 tspn ground Cloves
½ tspn ground Allspice
1 Cinnamon Stick
½ tspn Salt
1 Beef Bouillon
1 tblspn Vegetable Oil
3 cups of Boiling Water


Method:

Wash Goat Meat pieces well, and drain.
Pour Lime juice and skins on meat
Rinse meat well and discard Lime Skins
Drain well place in a bowl
Add Curry Powder, Ground Cumin, Onion, Allspice, Cloves, Coriander
Scotch Bonnet Pepper, Salt, and 1 tblspn of Madras Curry Powder to meat
Mix well and cover tightly
Refrigerate for an hour or overnight
Before cooking, remove from refrigerator and let it sit for 30 minutes
Heat oil in a pot
Place marinated Goat Meat and saute
Cook until all liquid is absorbed and slightly browned
Add Tomatoes and cook for two minutes
Add Curry Powder, Bouillon, and continue to saute on medium heat
Add Water, and bring to rapid boil
Reduce and simmer for 2 hours until gravy is thick and meat is tender
Transfer to a serving platter and sprinkle with Scallions
Serve with Peas and Rice

For more recipes, click on the related link below.



Related Articles
Editor's Picks Articles
Top Ten Articles
Previous Features
Site Map





Content copyright © 2019 by Deborah Barocas. All rights reserved.
This content was written by Deborah Barocas. If you wish to use this content in any manner, you need written permission. Contact Nick Marshall for details.