Cages for Primates and Large Cats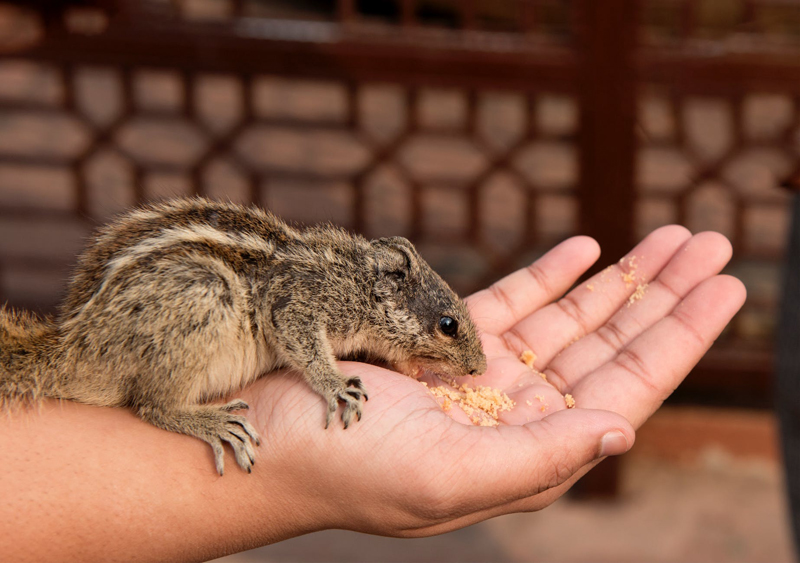 Our pet's curious fingers and nimble toes are something that demonstrates to exotic pet owners the importance of sturdy, safe enclosures and cages. We have to be so careful to make sure the materials and paints aren't toxic or those small pieces can't be swallowed and choked on. The animal will spend his life in this enclosure so provide a large and safe environment for your pet. Each animal has specific and individual requirements.
Non-Domestic Cats
Cages for the non-domestic cat the bigger the better. The cage needs to be strong and sturdy. The cage should be at least 500 by 1000 sq. feet and even bigger for the large variety of cats. The cage must be a minimum eight feet tall. Cats are much more comfortable in taller cages. It should be constructed out of 9-gauge cyclone fencing. He must have a den box inside of the cage. A den box is needed for several purposes. He needs a place to sleep and hide. He will enjoy lying on top of it. Most importantly, you will need a place to keep the cat while cleaning his cage. The den box should be made with the minimum of 3/4-inch plywood. The size should be no smaller than 4'x8'x4' tall. The box will need a slider type door or a guillotine styled door that works from the outside of the cage. On the back of the box, you need a hole. This hole will be from where you feed your cat. Place food in the back of the box, when the cat enters, the door can be closed with the cat inside. The main entrance to the cage should have a double gate. This way when someone is entering, the first door is closed and locked before the next door is unlocked and opened. It also acts as a double safety feature in case the cat should get out the inside door. Cats love water and must have a pool that can be cleaned and flushed. A good litter box for a cougar is a child's sized plastic pool. Make sure the cage is built so that it has proper drainage. Place scratching logs inside the cage. They love high sleeping ledges.
Primates
The cage needs to be big, the bigger the better. The height should be no less than 6 feet. Monkeys feel much more secure in a high cage. Hundreds of dollars is needed to build a secure and safe primate cage. Do not use anything less than a 12-gauge wire. Never use chicken wire. A safety entrance must be included to prevent the escape of your monkey. A safety entrance is an entrance with a double door. After the first door is opened, the door is secured before opening the second door. If the enclosure is going to be built outdoors, make sure a large portion of it is in the shade. A heated sleeping area must to be included. If the primate becomes cold, they have a place to stay warm. If the cage is build inside, make sure it is in a well-ventilated area. Monkeys need light to survive, so provide them with a Vita-Lites (replicates natural sunlight) Primates need this light for their skeletal development.
The floor of the cage should be wire, high enough off the ground so that the monkey cannot reached the food that has dropped to the ground. Another reason it needs to be high, so it can be raked and cleaned easily. The floor can also be cement or linoleum for easy disinfecting and cleaning.
The cage "dressings" branches, and plants should be changed occasionally to provide variety. Monkeys are intelligent and need a lot of variety. Please avoid use of toxic plants and branches.
Monkeys love to bathe, splash and play. If you can incorporate a pond into the outside cage, your monkey would love you for it.
Diana Geiger Exotic Pets Editor
on
Excellent books on monkeys "book provides a completely comprehensive guide to good husbandry and management of primates".
Handbook of Primate Husbandry and Welfare

Big Cats

Big Cats (Wildlife)



Scroll down a litter further and sign up for the exotic pet's newsletter. Your email is 100% safe, I never even see it. You will receive a newsletter twice a week. Once in a great while an emergency newsletter may go out, but this would be only for a big illness outbreak or other emergency. Subscribe so you will know when new content comes out!











This site needs an editor - click to learn more!

You Should Also Read:
Complete Exotic Pet Index
Ferrets - A Complete Guide Paperback and Kindle
Exotic Pet Shopping (the safest for your pets)




Related Articles
Editor's Picks Articles
Top Ten Articles
Previous Features
Site Map





Content copyright © 2022 by Diana Geiger. All rights reserved.
This content was written by Diana Geiger. If you wish to use this content in any manner, you need written permission. Contact BellaOnline Administration for details.