Guest Author - Elizabeth Darrach
Hello, and welcome back! Hope you´ve found time amid all the school shopping to get in a little reading. Or a lot of reading, depending on how fast you go through books.

My own youngest starts kindergarten this year, which means I´m going to have a half a day completely to myself. While I´m going to miss having him here (and try to ignore the evidence that my baby is fast growing up), I have to admit that having a couple hours a day all to myself is going to be a new joy for me, once I get used to the idea. And for those of you in the same boat, here are three new romances to get you started.


First up is Laura Renken´s

Night Shadow, the latest in Jove´s Seduction line. This time out you get Talon´s brother Marcus, who was presumed dead in her last book. Talon goes from prisoner to captain in a few short minutes when Liandra strikes a deal with him. While I liked Marcus just fine, Liandra wasn´t my favorite heroine. Her behavior, especially in the second half of the book, didn´t strike me as particularly strong, which is generally how I like my heroines. This one wasn´t a keeper for me, but it was a pleasant enough way to while away an afternoon, so I´m giving it three of Cupid´s five arrows.


Next is Bertrice Small´s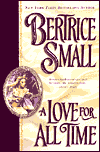 Love for All Time (NAL), a favorite from her Skye O´Malley series and a re-release. Aidan St. Michael and Conn O´Malley are paired up this time out. You´ll get to see Skye and some of the other well-loved family members, and you get to watch Aidan struggle through her trials after being abducted, and Conn´s fight to bring his wife home. As usual for Ms. Small, this one is very sexy, so keep a fan and a cool drink handy while you´re reading this one. If you are new to Ms. Small´s books, you should start this series at the beginning, with "Skye O´Malley." If you check in my archives in the next few days, I´ll have a complete list of all Ms. Small´s books there, and you can find all of the books in this series. This one gets four arrows.


Finally, we come to J. D. Robb´s latest,

Seduction in Death (Berkley). As a reader, I absolutely adore Ms. Roberts´ books, because they just get better and better. As a writer, I want to hate her because she´s so prolific and her books just get better and better, but I just can´t. Eve is after another killer, one this time whose m.o. is very troubling--he killed his date after meeting her in cyberspace. And things just get worse from there, tangling up the case in ever more confusing knots. Of course Eve will unravel them all and get her man. There were parts of this one that made me laugh out loud, and the attraction between Eve and Roarke just gets hotter. I´m giving this one four and a half arrows. Can´t wait for the next one!


Until next week, happy reading!