Guest Author - Elizabeth Darrach
Hello, and welcome back. I hope you´re getting plenty of reading done between all your summer activities, or while you´re on vacation.
Related stories. There are tons of them out these days, from historical to contemporary, it seems everyone is writing a series of some sort. How do you feel about them? Do you love seeing characters from past stories, or do you just not care? Two of the three books I have for you this week are related to other books by their authors, but can be enjoyed without reading the other books previously.

First up is

Heart Queen by Patricia Potter (Jove Historical). Neil Forbes loved Janet Leslie long ago, still does, but he has a secret he cannot share that forced him to leave her. Now she´s in trouble and only Neil can help her protect her little family. This couple has some serious trust issues to overcome before love can win the day, but you know they will. I love the setting, but got a bit frustrated with the length of time it took these two to work out their problems. I´m giving it three of Cupid´s five arrows.


Next up is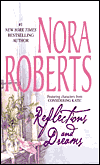 Reflections and Dreams by Nora Roberts (Silhouette). This volume contains two previously published novels, "Reflections" and "Dance of Dreams" with characters you´ll know from her more recent release "Considering Kate." "Reflections" has Lindsay Dunne falling hard for Seth Bannion, the uncle of one of her ballet students, while "Dance of Dreams" features the grown up student, Ruth Bannion learning lessons of love from her dance mentor, Nickolai Davidov. Though the style is definitely older romance--ie, strong, alpha male heroes--the characters are still wonderful, and if you´re working on adding Ms. Roberts out of print titles to your collection, this is a good way to gather a couple more. It´s earned three arrows also.


Finally, Warner has released the anthology

My Scottish Summer with novellas from Connie Brockway, Patti Berg, Debra Dier and Kathleen Givens--sure to delight all Scottish romance fans. Connie Brockway starts us off with "Lassie, Go Home." Toni Olson is on a trip to Scotland to collect a dog she´s bought sight unseen. Too bad the animal in question belongs to Devlin Montgomery, who isn´t of a mind to sell. And when his manager takes off with the dog, the couple must hare off after him, falling madly in love along the way. Patti Berg´s "Sinfully Scottish" has Emily Sinclair hoping to convince Colin Dunbar to allow her to photograph her decadent desserts in his castle while she searches for the secret room supposedly there. Debra Dier´s "Maddening Highlander" features Iain Matheson determined to keep Ann Fitpatrick from hurting his grandmother. He doesn´t expect to feel as if he´s known and loved Ann in another time. And Kathleen Givens gives us "Castle in the Skye" with Maddie Breen on a trip to visit old friends in Scotland and Iain MacDonald determined not to let her return to her old life. I´m giving this one four arrows.


Until next week, happy reading!