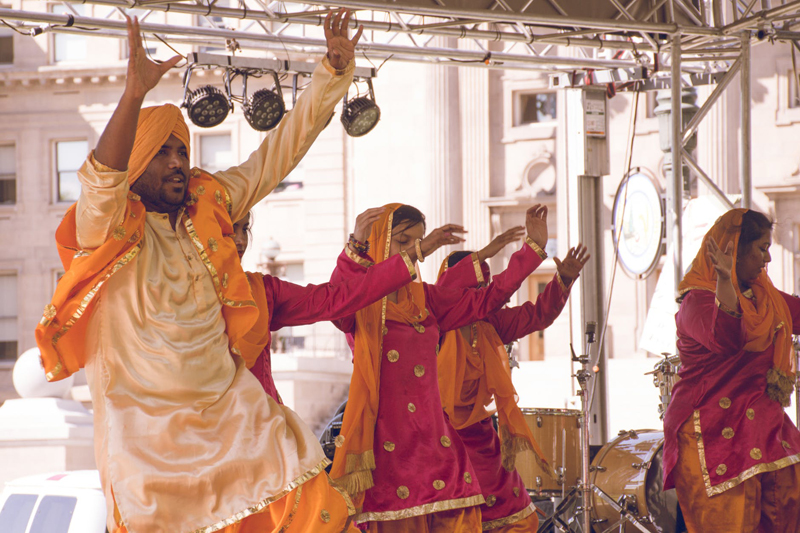 When a belly dancer decides to make a costume of her own, there are several things that need to be taken into consideration. It is important to have plenty of time to make the costume, so that you can take your time in making the right choices of fabric and accessories.

The first thing is to actually know the names of fabrics. There are so many fabrics to pick from and not all fabrics are made for dancing. Walking into a fabric store and seeing shiny material is tempting. Do some research or ask the store clerk if the fabric is suitable for dancing. There is a certain fabric that I can not wear, because when I sweat, the shiny stuff comes off.

There are certain types of fabric that other dancers can wear that may not be for you. I see dancers in velvet costumes and I know that type does not work well with my body. Know your body and how it moves with a particular fabric.

If you are going to use a prop, make sure that the fabric that goes into your costume will not catch on to the prop. For example, if you are dancing with a cane that has beads on it, make sure the fabric of your costume will not catch on to the cane. If you are dancing with a veil that is silk, then your costume should not have sharp objects that will catch on to the veil.

Know the type of style for the costume. There are so many styles to pick from, so the style of the costume should reflect the dance. You may not want to wear a Beladi dress when you perform to a hip hop/belly dance fusion song. Also, if you are dancing to a Flamenco, belly dance fusion number, don't create a Gypsy costume. A dancer can wear a Flamenco style dress when dancing to a Flamenco fusion song.

It is important to always be creative. You don't necessarily have to buy a belly dance pattern to make a skirt. There are regular skirt patterns that you can adjust to make a skirt. I say this because some belly dance patterns can be a little expensive. Be creative!

Look at your closet to see if some old skirt, blouse or lingerie piece has fabric that can go into your costume. Also, with all these sales going on, you can take advantage of purchasing items here and there to make the costume come to life.

Our own Bellaonline Costuming Editor Julie Anne Easton has great tips on how to make dance costumes. Look under Hobbies and Crafts/Costuming where she has great information. I am so fortunate to have met Julie at the MECDA Professional Conference. If you have costuming questions, she is your go to person, and in the belly dance forum, she has posted tips for belly dance costumes.


Editor's Picks Articles
Top Ten Articles
Previous Features
Site Map





Content copyright © 2022 by Ronnette Ramirez. All rights reserved.
This content was written by Ronnette Ramirez. If you wish to use this content in any manner, you need written permission. Contact Ronnette Ramirez for details.