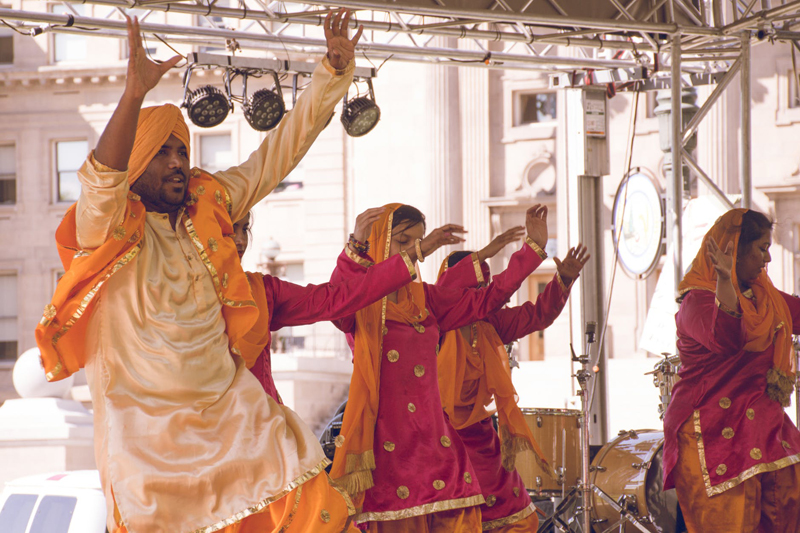 Believe it or not, musicians and belly dancers can coexist. Recently, I had the honor of meeting Sands Ethereal, a vibrant movement of music and dance.

A majority of the time, dancers come with pre-recorded music for a performance. The performance is wonderful, don't get me wrong, but it is nice to see and hear live music. After meeting Sands Ethereal, I have a sense of how the group dynamic can work. This group works together to make art, at the same time, musician and dancer have the opportunity to shine. When I saw Sands Ethereal, my immediate feeling was they looked like one, and I felt as if their efforts into their creation were similar to breathing; it just happens.

The dancers and musicians know each other so well that it is just fascinating. I had to ask, "how do you make this work?"

Every member from Sands Ethereal Byron Dickens (guitar, doumbek); Russell Solomon (upright bass, electric bass); Mateo Rhodes (steel guitar); Jeff Dunehew (percussion, doumbek); Jay Herrera (percussion); Sage Rose (belly dancer); Lisa Braddick Kenton (belly dancer) and Jennifer Skeete (belly dancer) gave me insight into the magic of it all.

Belly dancer Sage Rose said, "the group dynamic is wonderful for addressing the practical concerns of creating an integrated dance and music performance. The musicians are always interested in hearing how a song is working from a dance perspective, and I appreciate that greatly".

Each dancer in this group has their specialty. Sage Rose performs Gothic Caberet, floor work, and skirt. Lisa performs Eastern and Caberet, and Jennifer brings Tribaret, sword, veil and cane to the group.

When you hear the music, you know it is a mix of faraway lands and electric instruments. Musician Russell Solomon said, "I started upright bass in a classical setting in the 7th grade in public orchestras". However with this group Russell recalls that, "we initially were going to use the Greek bouzouki (origin in the lute family) and acoustic upright bass, but we were plagued with amplification issues. Electric instruments are more portable, durable and have far less feedback issues than hollow body acoustics".

Influenced by Balkan Beat Box and Alan Holdworth, all members agree that it is a collaborative effort when creating music for Sands Ethereal. "We come to practice with different ideas or 'riffs' and work together with the dancers to create Middle Eastern Fusion Rock", says Russell Solomon, "having a live band makes the experience unique as well as educational".

Founded in 2011, the group is gaining popularity all over Houston, Texas, and they are an inspiration to the dance community. They want their audiences to, "know us for bringing something unique and entertaining", says Mateo Rhodes.

Sands Ethereal references the mysterious, yet alluring Mediterranean region, including the desert lands of the Middle East.

Byron Dickens had many memorable moments with the group. He recalls a performance at the Avant Garden in Houston, Texas with other known talents such as Grass Skirts, Monsoon Drummers with the Desert Orchid Troupe. "It was such a rare show with all the live music; something that doesn't happen very often", said Byron.

You can check them out on their Facebook page at facebook.com/pages/Sands-Ethereal/153067194799000 and on YouTube.


Editor's Picks Articles
Top Ten Articles
Previous Features
Site Map





Content copyright © 2022 by Ronnette Ramirez. All rights reserved.
This content was written by Ronnette Ramirez. If you wish to use this content in any manner, you need written permission. Contact Ronnette Ramirez for details.