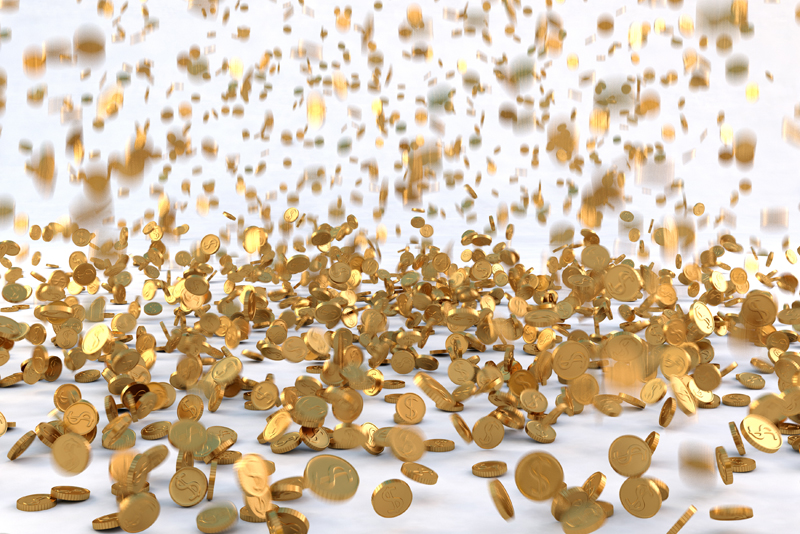 While Sweden is not renowned for any major concentrations of precious metals, it was renowned for its early 17th century holdings of copper of which it had plenty. As we are all aware copper has less intrinsic value per ounce than gold, silver, or platinum. A copper coin that is intended to store a high value would have to be much larger than one of its precious metal counterparts. Plus its very size would hinder it from being actively used in circulation.
Due to its large size and heavy weight, copper plate money was generally deposited in a bank of the time. In return, the depositor received a paper note much like the early goldsmiths did with the gold that they held in reserve for their customers. The Swedes were the first Europeans to use transferable paper money in Europe.
Legal copper coins were first struck in Sweden in 1624. These coins were of the minor quarter-, half-, 1-, and 2-ore denominations which brought very little profits to the national treasury. Copper coins in Sweden were struck prior to 1624. They had a very thin coat of silver plating and issued as silver coins. One theory of why these coins were silver plated was that Sweden lacked a sufficient supply of silver to satisfy the country's war debt to Denmark.
The treaty of Knared which was signed on Jan. 21, 1613, ended the Kalmar War of 1611 to 1613 between Sweden and Denmark. Under the terms of the treaty, Sweden was duty bound to compensate Denmark in the amount of a "million riksdalers specie" within six years. Once the repayment of the debt was completed, Sweden's silver reserves were depleted, while its copper supplies were starting to grow.
Between 1624 and 1642, the copper mines of Sweden supplied its mints at Sater, Nykoping, and Arboga with the metal for coinage. After that timeframe, coinage production switched to the copper mint established at Avesta. This mint became the main operation for coin striking in 1644. In fact it was the main site for almost all of Sweden's copper minting up until 1831.
The Swedish Mint at Avesta was designated by Sweden's King Gustav II Adolf to be the sole government facility to refine, mint and sell the copper plate money. To make the copper plate money more useful, Swedish government officials created a plan to issue large copper plates stamped with a designated legal tender value corresponding to its value in silver. Each copper plate was stamped with dies at minimum five times.
The identical stamp at each of the four stamps bore a crown, the separate elements of the monogram of the ruling monarch, the date and a Mint mark. At the center of the plate was a separate mint stamp bearing the denomination in dalers, along with "SILF:MYNT" referencing "silver coin" or "silver money."



Related Articles
Editor's Picks Articles
Top Ten Articles
Previous Features
Site Map





Content copyright © 2022 by Gary Eggleston. All rights reserved.
This content was written by Gary Eggleston. If you wish to use this content in any manner, you need written permission. Contact Gary Eggleston for details.