Fashionable Happy Glamper Scarves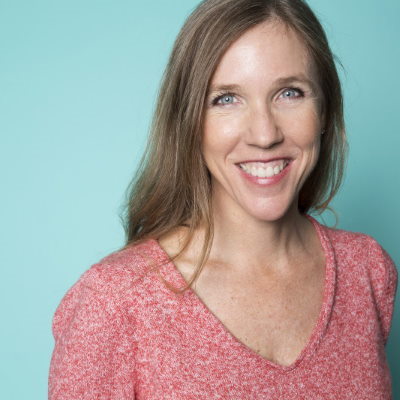 Scarves. They're the most fashionable piece of material a woman can own. They can take an outfit from drab to fab in one swift swirling action around your head. And if you live in a climate that makes you want to cover up that neck more often than not, why not wear scarves that make a statement? Why not try wearable art? And I'm talking fabulous wearable art featuring pink flamingos and airstream travel trailers. Rhonda Coleman's Airstream-inspired scarves will definitely make you the most fashionably dressed RVer at next Sunday's potluck—guaranteed.Coleman, a Bend, Oregon, based RV enthusiast and Airstream owner, shares more about her amazing product line.
ELF: Tell me more about your wearable RV art product line on your Etsy site.
RC:
I created my line of felted wool, hand-stitched scarves to be the perfect glamping accessory (and perfect gift) for Airstreamers and fans of all types of vintage travel trailers.
There are eleven styles to choose from right now in the "Airstreaming" Etsy store, each named for an aspect of the RVing, trailering lifestyle, like "Vintage Rally", "Trailerific", and "Happy Glamper".
All my shabby chic scarves are as cute and cuddly as the trailers that are hand stitched into them, and each is handmade from soft, felted Merino wool—hand dyed here in Bend, Oregon, in striking custom colorways. All of my RV and camping-themed scarves are handmade and one of a kind, so the designs will vary, but each incorporates fun found vintage-look fabric accents: retro travel trailers, RVs, pink flamingos and flowers, with mohair locks, unique trimmings, and a found patterned silks.
They look great worn at your campsite, with jeans and a solid sweater or parka! They're a fun conversation piece, too.
ELF: What inspired you to create this product line?
RC:
My best friend and neighbor, Patty, is always on the lookout for art projects we can make together—preferably while drinking wine and listening to Broadway show tunes. We taught ourselves to felt by learning from other crafters and from Pam, the lovely woman in Bend who raises the sheep where we first bought our wool.
I fell in love with the first felted wool scarf I made. As an Airstream owner, I immediately got the idea to create more, with a trailer and camping theme.
I named the bright jade-colored one in the Etsy store the "Oregon Rally", because it's the first one I made with the little retro trailer "patches" and I first wore it to a rally with some fellow Oregon Airstreamers. My campmates loved it too, and that inspired me to make more.
It makes sense to design scarves with a RV theme! Nights are chilly in Oregon where I camp with my Airstream trailer, and scarves are worn in three seasons where I live in the High Desert. Patty and I continue to felt one-of-a-kind wearable art scarves in our manufacturing facility (my garage, her sunroom), but mine are always inspired by the carefree Airstreaming, glamping, trailering lifestyle.
ELF: Where do you get the material?
RC:
The wool comes from happy local sheep raised in Bend on a family farm with a small fiber shop on the premises. When I drop by for more wool in the spring, I get to meet the new lambs! The owner is a teacher and resource for artists to learn techniques and share projects and ideas.
I find the retro-look fabrics right there on Etsy in other shops, and I comb thrift stores and garage sales for the silks.
ELF: What other products do you sell besides the scarves? Any other items we can look forward to in the future?
RC:
Yes! Other items include
Airstream cookies
and soon, Airstream air fresheners for the car or RV, in two styles. Other scarf designs, as well—one for lovers of tent camping, and another for teardrop trailer owners. I'm also making arrangements to feature other trailer-craft artists in the
"Airstreaming" Etsy shop
.
ELF: Can you share a little more about you?
RC:
I'm definitely a happy "glamper." As an Airstream enthusiast and travel writer for the RV industry, I'm engaged with the RV community and love exploring the Pacific Northwest and beyond from my home base in Bend with my little 16-foot trailer (sometimes with my two dachshunds and tall husband along for the ride. It can get crowded!) My adventures lead me to exciting new locales and gatherings where I meet new friends around every bend in the road. My scarves—and soon, other Airstream-inspired items—are for sale to others trailering enthusiasts along the way.
My blog,
'Streaming—www.airstreaming.net
—shares my favorite (and not so favorite) places to camp, pop history, wacky roadside attractions, and lots of tips for tiny trailering.
More juicy tidbits
Coleman will ship her products anywhere in the world. If somebody is interested in other colors, she'll design a custom scarf just for them. The scarves are extra-long, so they can be worn in a variety of ways—even as a table runner!
She'd love to hear from you! Contact her through her blog at
www.airstreaming.net
and her
"Airstreaming" Etsy shop
.


Related Articles
Editor's Picks Articles
Top Ten Articles
Previous Features
Site Map





Content copyright © 2023 by Erin Lehn Floresca. All rights reserved.
This content was written by Erin Lehn Floresca. If you wish to use this content in any manner, you need written permission. Contact Erin Lehn for details.