St. Madness - Carnimetal review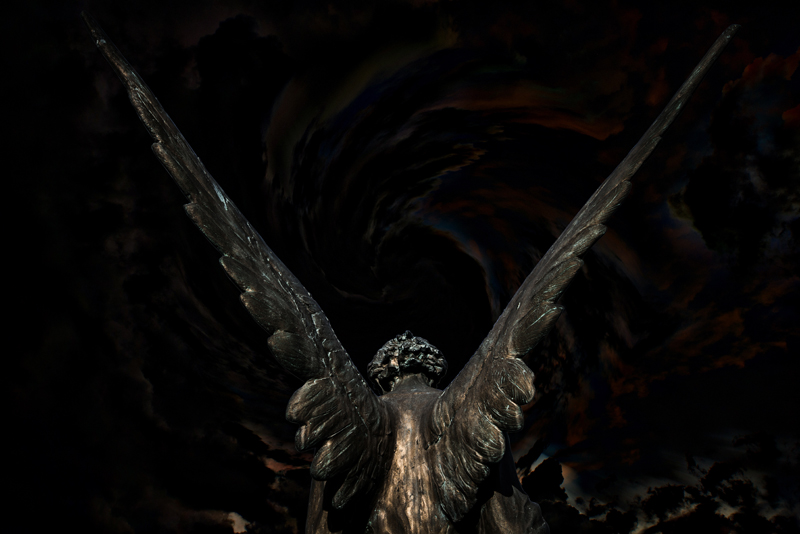 I'm not a religious person by any means but have to admit I have an affinity for one particular saint. Not the usual names that are clutched tightly by lost souls, travelers and what not. No, my personal saintly beacon is that of the protector of all things metal ---
St. Madness
.
St. Madness could almost be considered the poster boys (and girl) for a regional or provincial success story that has trouble breaking outside its stomping grounds. In Arizona and the surrounding areas, the band headlines shows, has racked up an impressive array of awards and has appeared with such names as King Diamond, Van Halen, Monster Magnet and many more. They're one of just several bands that was chosen to be honored in a new music exhibit from Tempe History Museum this fall. Yet out of state, the band has only pockets of fans around the globe and that's a real crime. Who the heck knows why cuz it's not for a lack of attributes.
St. Madness has all the elements most headbangers treasure in their metal heroes. First of all, the band has the chops. Despite a long list of guitar players, they've all managed to combine crunchy, crispy licks with some memorable riffs. The rhythm section (again too many to mention) retains the necessary foundation from which all magic flows.
Prophet
, the band's co-founder (and sole original member) and vocalist has a voice that is captivating ---- commanding yet slightly spooky. In fact, years ago, he was considered as a possible replacement for Ozzy in Sabbath. These days, the band also includes guitarist
Sid Ripster
, drummer
Sullen Graves
and bassist
Scarlet Rivers
.
Style-wise, the band veers from classic hard rock to down and dirty thrash, generating enough torque to put your neck out of alignment. Seasoned professionals all, live shows are where the band is really in its element. St Madness call their brand of rock, carnimetal, with a live presentation that sometimes takes on sideshow properties starring a cast of occasional additional characters with theatrical contributions. Material-wise, their stuff combines great story-like lyrics with some memorable riffs, all thrown into a meaty broth that provides a satisfying ear-supper for those who like it crunchy yet melodic enough to get stuck in your head.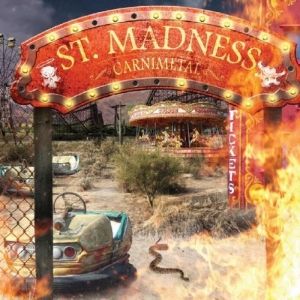 They've released eight previous CDs on their own label (Nasty Pr*ck Records) and songs? They got 'em in spades. In fact, their latest CD, (also called
Carnimetal
) is both a double disc celebration of their 21-year career and a best-of from their last three studio records --- clunker-free, I might add, a rarity in a double-disc. Fans will no doubt have most of these 19 tracks already but the band has thrown in some nice surprises that are must-haves, namely four songs from when they were known as
Crown of Thorns
. In addition, there is a live set from the aforementioned configuration from 1996, rare stuff indeed.
I discovered this band in the MySpace days when they had just released the excellent
Vampires in the Church
CD so my favorite songs come from this one and they're all here on
Carnimetal
. The title track starts off solemnly before a hooky riff gets your attention right off the bat. Prophet's gravelly voice fits this one perfectly and before you know it, you're throwing one air guitar chord after another.
It's followed up by possibly my favorite St Madness song, "Ever After". Written to his young son by Prophet as an assurance that he will always be with him, even after death, this is an absolutely beautiful song. It's got a great melody strewn over some "Children of the Grave"-type chords and the vocal is perfect. Ironically several months after recording this, Prophet was diagnosed with cancer, something he thankfully triumphed over.
Equal to the challenge is "Arizona", an homage to their home state. The acoustic guitar intro hides the fury that unfolds shortly after with some chords made of pure titanium absolutely kicking your rear from one side of the speaker to the other. And Prophet goes from camp-fire crooning to almost busting a vein by song's end. These three songs are in my opinion, St. Madness at their best.
Dark humor is a trademark of St. Madness and it's brought to the fore in songs like "Carl the Clown", "She Used to Be My Girl", "Death Drives a Buick" and "Head". But lest one thinks it's all play and no business with these guys, the band demonstrates they are never ones to shy away from social commentary, with points being made with "Vampires in the Church", "The Anti SuperHero" and "The Art of Terror" to name a few. The result is a real well-rounded approach to records making for a balanced result whereby you want to play the records over and over.
One impression that comes through the music is a real sense that they are sincere about everything they do. Wearing their commitment to metal on their sleeves, they pledge allegiance to the music in "Metal to the Death and Beyond", one of their best songs. Keeping family as close as the music, Prophet wrote the impressive "Drowning on Air" about his mother's fight with ALS, as sobering as is the aforementioned "Ever After".
St. Madness has a tradition of including a cover on each record. On
Carnimetal
, there are two. First is a terrific rendition of the Pink Floyd song "Comfortably Numb" and the boys fare very well. The second and even better cover is the Black Sabbath classic "Sweet Leaf" and these guys play it like they wrote it. Awesome job on this one with a down and dirty intro that leads into the original.
The early tracks, both live, unreleased and a special remastered song that was the first one written by Crown of Thorns, shows a band that is not far evolutionary-wise from the band that is St. Madness today. They were perhaps a little more raw and thrashy but the material is not like those embarrassing photos of a bad haircut you might have had in school. They can (and evidently are) be proud of these early renderings.
Carnimetal
is an excellent milestone for the band and hopefully just the midway marker for a career that deserves to bust out and take on world-wide proportions. Hey, maybe the other more established saints could help.....on second thought...nah! MDB.


Related Articles
Editor's Picks Articles
Top Ten Articles
Previous Features
Site Map





Content copyright © 2023 by Morley Seaver. All rights reserved.
This content was written by Morley Seaver. If you wish to use this content in any manner, you need written permission. Contact Morley Seaver for details.