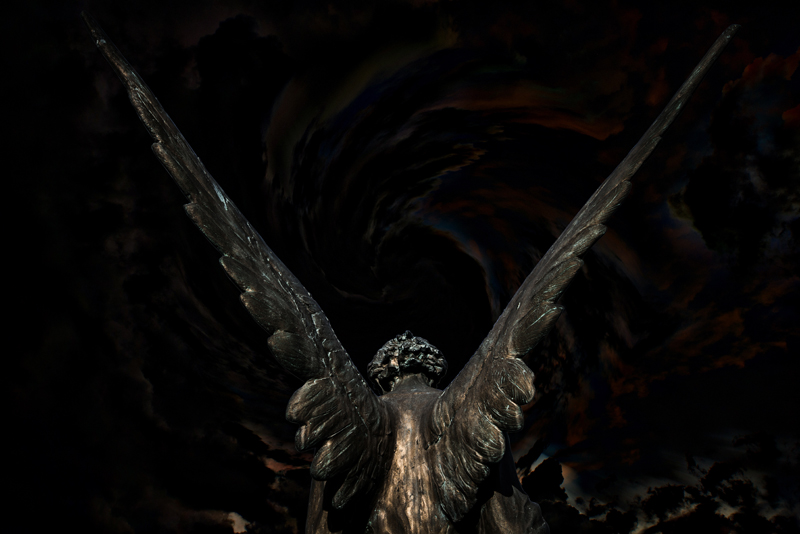 2014 was a pretty sucky year for music but St. Nick tried to rectify things as December came to a close by presenting one of the year's best records to these eagerly awaiting ears.
High Fighter
is a new band that has risen like the proverbial phoenix from the ashes of the now defunct A Million Miles, one of my favorite bands of the last few years. Their debut EP,
The Goat Ritual
, is short on girth in terms of songs but Friar Tuck-fat
(editor's note: if you're looking for PC politeness in this review, you're in the wrong place, buddy)
in terms of quality.
Bursting with a brand new bouncing baby-like (editor's note: do babies really bounce?) freshness or all of the enthusiasm of an adolescent male discovering the virtues of the fairer sex,
The Goat Ritual
is both something to blow away the doldrums and also to take up residency in your head for months to come.
A potent witches brew, this is indeed. The chefs (vocalist
Mona Miluski
and guitarist
Christian "Shi" Pappas
from A Million Miles and lead guitarist
Ingwer Boysen
, bassist
Constantin Wüst
and drummer
Thomas Wildeleau
) have crafted some meaty songs that are not sprinters...they're marathon runners. Built for endurance, these songs are best served up piping hot on headphones with you paying close attention, not relegating them to background noise (editor's note: although that works well also).
First off, the name High Fighter, at least for me, conjures up images of a power metal outfit with soaring vocals and glistening guitars. I couldn't be further from the mark with that idea since this band, despite the name, plunges the depths of sludgy, dirty stoner-rock. Not merely a one-trick pony, however, High Fighter mixes it up with slivers of southern rock, bluesy overtones and bits of Clutch and a heavier QOTSA cozying up with some classic Iommi-style riffs.
Mona's vocals go from Cookie Monster to emotionally-stirring in a blink of an eye, adding to the magnetic pull of the record, like being caught in the deadly gaze of a cobra. At times she sounds like a more snarly Sass Jordan
(editor's note: for our Canadian audience)
and she also possesses the ability to hook your ears up with some engaging vocal lines.
The Goat Ritual begins with "2Steps Blueskill" and any song that starts off with some riffs that remind one of "Children of the Grave" is alright by me. And in a weird hybrid of sounds, the chords almost seem like you were listening to a vinyl version of "Achilles Last Stand" with your finger on the record to slow it down. Maybe it's just me.
(editor's note: It's just you.)
This is the perfect way to kick off this EP since it goes through a metamorphosis of sorts (several actually) through the course of the song. The crunchy, stone-solid wall of sound lumbers through the verses before breaking down into a bluesy sort of chorus. Then all hell breaks loose with Mona becoming the possessed Regan from the Exorcist movie in the awesome middle section. Excellent!
"Breaking Goat Mountains" starts off like it was shot out of a cannon. Lock and load everyone! It's straight-ahead for the verses and by the time you get to the chorus, Mona pulls some duck and weave before hitting you with an uppercut of melody and the guys shift through a couple of unexpected chord changes. Like one of your favorite rides at the amusement park, the adventure is over too soon, however and you're at the end going "What the heck just happened?"
The EP's heaviest moments come next courtesy of "Black Waters" and a barbed-wire riff that slices and dices all in its path. As with all of the songs, this one is a multi-headed creature that twists and turns into places you weren't expecting, particularly the tranquil ending. Maybe the band ran out of energy by then. It's understandable.
I love this whole record but the last two songs are what really ramped up my feelings upon the first listening. "Fire in the Sun" has a combo that is both crunchy and buoyant sort of like Sharknado. I imagine ducking flying Great Whites when this one is playing.
(editor's note: Might I suggest no more Jagr-bombs on an empty stomach?)
Verses and chorus converge in a tremendous blend of melody and fury that make for some of the best moments of the record.
My favorite track of this EP is the last one, "In Veins". It's strange how some of the most simple riffs can be the most deadly. The drums count it off before the six and four-strings bash into an exuberant war dance that is like the robots from the Transformer movies swigging down some Red Bull and stomping their way into euphoria. This is just a bloody good bashing. Play this three times in a row and I defy you not to be flailing like a mad-man/woman.
(Editor's note: Yeah, can you not play this when we go out any more? It's kind of embarrassing.)
Mona's controlled hysteria on the choruses offsets the gorgeous clean vocals on the verses. Absolutely love this one!!
And there you have it. Only five songs....but what an impact. I truly hope this is only the start for this amazing band. They say these were the only songs written prior to recording so the ratio on the hit/miss scale is pretty impressive. I can't wait to hear more! Do yourself a favor and scoop
The Goat Ritual
up immediately.
(editor's note: I agree!)
Rating: 5 out of 5


Related Articles
Editor's Picks Articles
Top Ten Articles
Previous Features
Site Map





Content copyright © 2023 by Morley Seaver. All rights reserved.
This content was written by Morley Seaver. If you wish to use this content in any manner, you need written permission. Contact Morley Seaver for details.