Roasted Seasoned Butternut Squash Recipe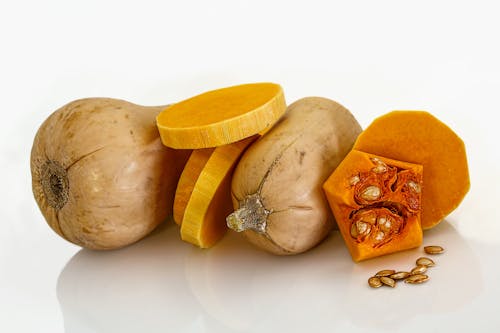 Too often, I opt not to use butternut squash. It just looks like such a pain to peel. Recently, I got a ceramic veggie peeler as part of my spiral cutter purchase. That veggie peeler is a wonder! It makes peeling butternut squash much easier. Now, I can peel my butternut squash and make delicious dishes with the results. It's a great way to get my daily serving of Vitamins A and C.
Sweet Potato Seasoning

Mix together:
3 tablespoons garlic salt
2 tablespoons Lawry's Seasoned Salt
1 tablespoon sea salt
1 ½ teaspoons Penzeys Berbere seasoning (Please do not substitute another spice.)
¼ teaspoon ground black pepper
This blend is especially good on vegetables that are colored a deep orange. Sweet potatoes, butternut squash, and carrots are delicious when you season with this. Store it in a closed container. I always have some in a salt shaker on my counter.
Roasted Seasoned Butternut Squash Recipe

Preheat the oven to 425 degrees F

Ingredients:
6 cups peeled and cubed butternut squash
1 cup cored and cubed apple
1 onion, peeled, quartered, and sliced into quarter rings
1/3 cup combined olive oil, coconut oil and a tablespoon of real butter
Sweet potato seasoning, to taste (see recipe above)
Equal parts Newman's Own Lite Balsamic and Vermont Maple Balsamic (optional)
Method:
On a heavy aluminum half sheet baker's pan,( I use Nordic Ware Natural Aluminum Commercial Baker's Half Sheet) drizzle the oil over the fruits and vegetables, then use your freshly washed hands to toss the oil and food together. Spread the food out into a single layer, then season with the sweet potato seasoning. Toss the food again, and then pat it into a single layer. Place the baking sheet into the preheated oven on a rack in the top one-third of the oven. After 15-20 minutes, use a pancake turner to stir turn the pieces over. I shovel the pieces toward the middle of the sheet as I am turning them, then I spread the pile back out.
Roast for another 10-20 minutes, if you are using the balsamic glaze on them. Drizzle the balsamic glaze over the veggies and fruits, then toss using pancake turners. Roast for a final 10 minutes.
If you want to skip the balsamic, then roast them for a final 20-30 minutes, instead. If you want a firmer squash, use the lower of the cooking times. Fork test a large piece of squash for doneness. You should be able to easily push a fork through the squash cube.
The cooking time on this dish varies from about 35 minutes to 50 minutes. I like soft squash, so I use the higher amount of time.
This recipe makes a lot of food. You can use this as a side dish for a sandwich meal. It goes perfectly with ham, sausage, and chicken sandwiches. Meatloaf sandwiches are dandy with Roast Seasoned Butternut Squash, also. Slide some Roasted Seasoned Butternut Squash into a pita or flour tortilla with shredded pepperjack cheese, slivered onions, and shredded lettuce. It's a wonderful vegetarian delight with tzatziki sauce.
Serve this dish with an Amylu Chicken Sausage in a bun. You can throw the sausage right onto the roasting veggies for 10-15 minutes. Make life easier and save washing a pan! Salad is also tasty with this healthy dish.
This pan is perfect for roasting vegetables, making cookies, or toasting sandwiches.
Nordic Ware Natural Aluminum Commercial Baker's Half Sheet
When I mention stores or products by brand name, these are the ones that I use. I have not received free products from the manufacturers, nor have I been paid to mention the products or stores by name.
NEWSLETTER:
I invite you to subscribe to our free weekly newsletter. This gives you all of the updates for the Sandwiches site. Sometimes, this newsletter has information and variations on sandwiches that are not in the articles. Fill in the blank below the article with your email address -
which is never passed on beyond this site. We never sell or trade your personal information.
Related links:
The Related Links below this article may be of interest to you.
There are times when I recommend an item related to my article and add an Amazon link, so that you can check it out. I am an Amazon Associate, and when you purchase an item after clicking on my link, I do make a commission for purchases made through that link.
You Should Also Read:
Ham Salad Sandwich Recipe
Classic Chicken Salad Recipe
Spicy Curry Chicken Salad Recipe


Related Articles
Editor's Picks Articles
Top Ten Articles
Previous Features
Site Map





Content copyright © 2022 by Connie Mistler Davidson. All rights reserved.
This content was written by Connie Mistler Davidson. If you wish to use this content in any manner, you need written permission. Contact Connie Mistler Davidson for details.