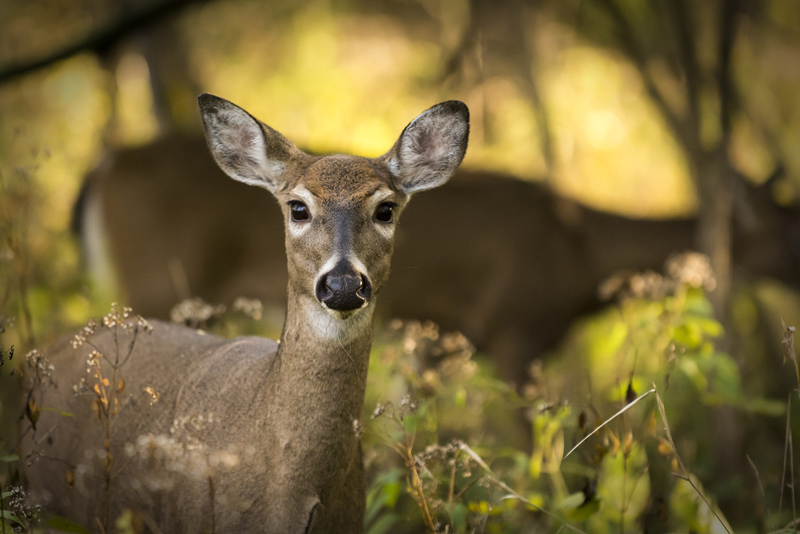 When I have my deer processed I choose the basic package, roasts, steaks, back strap and grind what is left over. I take it lean, I don't have any beef or pork fat added. That said, I do have to add some sort of fat while cooking the meat. There is nothing wrong with having the butcher add fat, it is just if you are looking for a low fat alternative to beef or pork, adding fats remove venison as the low fat alternative.

Venison is a healthier red meat then beef. Venison is higher in Omega 6 and Omega 3 fats at a ratio of 2:!. Beef is at a ratio of 5:1. Calories in venison per three ounces of unprepared meat are 103 to that of 200 in beef. The fat content is also less per that three ounces of meat. In venison fat is 2 grams verses 12 grams in beef. Both meats are excellent sources of protein. Beef comes in the winner here with 22 grams of protein per three ounce serving verses only 20 grams in three ounces of venison.

I try to substitute ground venison in nearly every recipe I prepare which normally calls for beef. Some find venison of any kind strong flavored and gamey. I find that only the meat from bucks during the rut tends to be gamey. And I have found that all meat from deer that fed mostly on sage and scrub brush to be strong in flavor. I prefer a doe which has fed on a variety of crops and natural falling trees , grasses and nuts.

Using a flavor, sauce or marinade can mask some of the gaminess. Spices which compliment venison are: garlic, salt, pepper, onion, chives, and lemon. Venison does well with spicy and sweet flavors. A trick I have found helpful is to soak thawed meat in milk for 24 hours or s , and rinsing thoroughly. Another trick is to elevate the meat as it thaws. I place mind in a strainer inside another bowl. This keeps the meat from resting in the blood and fluids as it thaws. Then before I use the meat I will rinse it well in cold water. Do one of these tricks before marinating, and much of the gaminess should be removed.

Many recipes with call for a meat source can be substituted with venison, not just beef recipes. While I have never substituted venison for fish, I have replaced beef, pork and chicken in most everything. While below is not a totally inclusive list, here are some ideas where you can use your ground venison:

Spaghetti
Tacos
Ground meat noodle mixes
Meat pies
Casseroles
Lasagna
Homemade sausage
Soups
Hamburgers
Loose meat open faced sandwiches



Related Articles
Editor's Picks Articles
Top Ten Articles
Previous Features
Site Map





Content copyright © 2023 by MaryBeth Crabb. All rights reserved.
This content was written by MaryBeth Crabb. If you wish to use this content in any manner, you need written permission. Contact MaryBeth Crabb for details.