Make Money Investing In Coins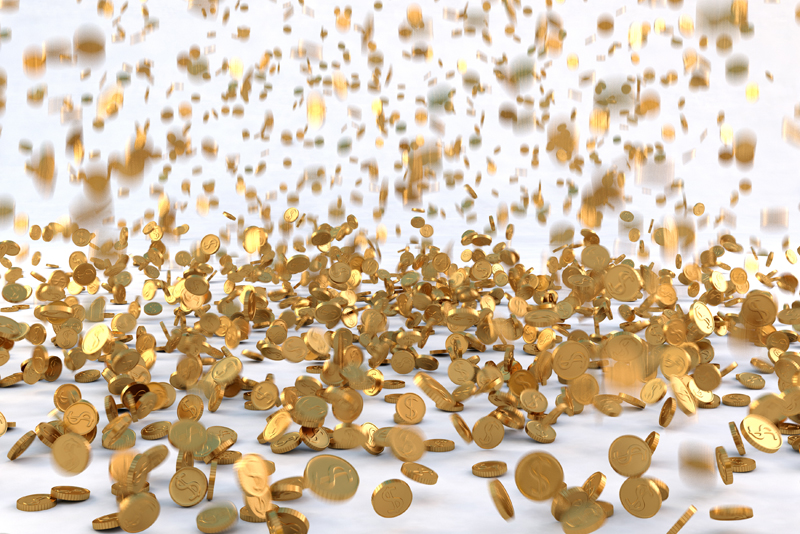 One thing I can tell you about investing in coins is that it is not only exciting and fun, but you can make money investing in coins as well. Searching for and researching coins for investment possibilities is highly interesting. And, taking a hefty profit on an investment purchase you selected is unquestionably one of the most thrilling things that can happen to you.

WHY COIN INVESTMENTS HAVE RECENTLY BECOME FASHIONABLE, DESIRABLE, AND IMPORTANT?

There are five reasons why you have been reading and hearing a great deal recently about investing in coins.

(1) Increased attention being focused on rare coins. YOu may not realize it, but many of the traditional forms of investment have not performed nearly as well as selected coins have. The stock market has been plagued by worries over unemployment, inflation, energy shortages, future potential crashes — problems that are not going to vanish.

Real estate presents disadvantages with higher property taxes and severe illiquidity. Savings accounts and bonds provide fixed yields that are often less than annual increases in the cost of living.
Certain coins have performed significantly better than the just mentioned forms of investment. For this reason, the investing public has been focusing more attention on numismatic articles.

(2) Steady price increases. Many rare United States coins and numismatic items, especially those minted in the 18th and 19th centuries, and in better states of condition, have shown rather remarkable price increases from what they were in the 1950's, 1960's, and 1970's.

Examples will be supplied later in this publication. Not all U.S. coins have increased dramatically in value, but it must be noted that particular classical uncirculated coins have literally skyrocketed in just the last fifteen years.
There is a good chance that if you buy the right coins at the right prices, they will again outperform other investments in the coming years.

(3) Coins are a hedge against inflation. While prices on many coins have increased a great deal in the last twenty years, at the same time the rate of inflation is still soaring. Dollars are becoming more and more worthless. There is no reason to believe this trend will not continue to even a greater extent than before.

Very choice coins are a better hedge against inflation, in my opinion, than stocks, improved real estate, or any form of savings. Today for you to break even on an investment it must increase in value seven to ten percent or more a year merely to compensate for cost of living increases. Coins in limited supply that are eagerly sought after by collectors can often rise in value 20% or more each and every year on the average.

(4) Investing in coins is a relatively new idea. For years it was thought that the only thing people did with coins was to either spend or collect them. Until 1963 not many people, in relation to the total number of coin collectors at the time, held coins purely for investment purposes. Those who cashed in their investments at a hefty profit were the subject of extensive news media coverage and publicity.

An analysis of dealers' ads in the 1940's, 1950's, and 1960's reveals that coins were not for the most part considered as a vehicle for investment the way they are today.

From only about 1963 on we have seen collectors being advised of the investment potential of coins by numismatic publications, investment writers, or coin dealers themselves.

Thus holding coins for profit is something rather new, except to dealers and investors who were fortunate enough to see the values of their holdings rise over the last few decades.

(5) Quality investment material is in short supply. Coins that dealers have a difficult time obtaining for their collector-customers are very often the ones in the most demand. Choice material is universally desired in the numismatic community.

The demand for it never seems to slacken and it is here to stay.
As an investor you will soon find that many of the coins you want, everyone else also wants. When lots of people are always willing to buy a few good coins, it makes coin investing a significant and noticeable investment opportunity.

When I use the word "coins", I am not merely referring to coins used as spending money or for a medium of exchange. The following list details numismatic items an investor can consider accumulating for profit.

(1) COINS USED AS A MEDIUM OF EXCHANGE AND FOR SPENDING PURPOSES. No doubt you are familiar with United States or Canadian (or other worldwide) coins used in everyday transactions. This includes cents, nickels, dimes, quarters, half dollars, and dollars.

However, buyers of numismatic items are generally not going to pay a premium for the common types of coins one can receive
POWERFUL SECRETS, FORMULAS, PLANS AND IDEAS
FOR MAKING BIG MONEY INVESTING IN COINS in everyday change. They will buy coins that are worth more than face value due to age, scarcity, historical value, condition, and demand.

(2) TOKENS. A token is a numismatic article that resembles a coin but is used as a substitute for coinage, such as a bus or trade token.

(3) CURRENCY. Just as numismatic buyers enjoy the beauty and fascination of coins, many also prefer to buy and collect currency and paper money.

(4) MEDALS Medals are produced and minted to honor a person or event. Numismatic buyers sometimes purchase medals and accumulate them just like coins. Unlike coins, medals do not have any intrinsic or face value other than their precious metal content, and medals cannot be used as money substitutes like tokens.

(5) SILVER, PLATINUM, AND GOLD BULLION. Silver or gold bars, rounds, ingots, or other forms of bulk precious metal weighing one ounce or more (or less than one ounce) can be categorized as bullion. The investor in bullion may be considered by many not to be an investor in a numismatic item but instead a commodity.
The U.S. Government has drawn, or is drawing attention to coins, or coin investing four ways:

(1) By the well publicized sale of Carson City Silver Dollars to the public.

(2) By the unique designs for 1976 United States Bicentennial Coinage,

(3) By the legalization of gold, and,

(4) By the continuous sale of proof sets, mint sets, and medals.

(5) By the introduction of U.S. Bullion Coins.

(6) By the issuance of modern Commemorative coins in gold and silver.

The aftermath of these events should be to convert more non-collectors into avid collectors. Some of these collectors will eventually become investors. With more investors going after the most choice coins (which never increase in supply, year after year), it should have the net effect of driving coin prices upward. It is a simple formula, that has proven itself again and again.


Related Articles
Editor's Picks Articles
Top Ten Articles
Previous Features
Site Map





Content copyright © 2022 by Gary Eggleston. All rights reserved.
This content was written by Gary Eggleston. If you wish to use this content in any manner, you need written permission. Contact Gary Eggleston for details.