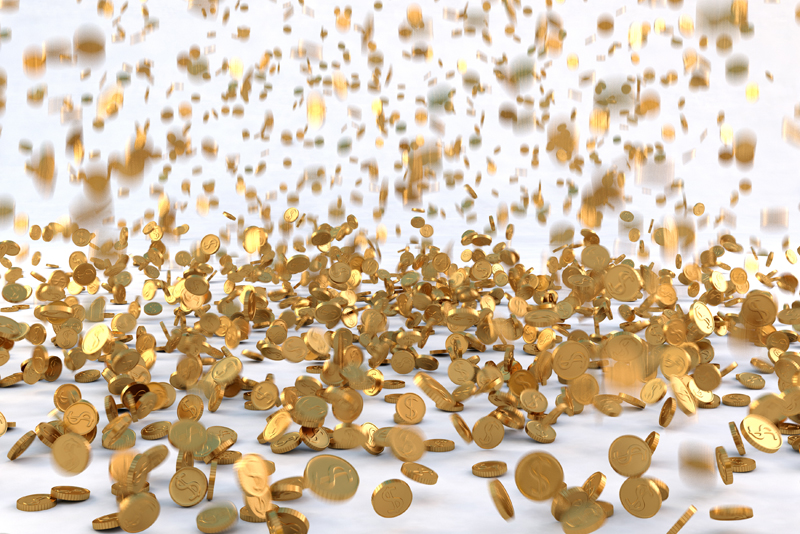 Coin collecting is the oldest collecting hobby with a history of more than 2000 years! Yes, more than TWO THOUSAND YEARS! Since the time of the beginning of the Roman Empire (arround 20 BC), a few noble romans were collecting ancient Greek coins (500-300 BC)... It is called "the hobby of the Kings" because European kings of the 15th-18th century were collecting ancient Roman and Greek coins...

There are literally millions of coin collectors worldwide, 10s of coin auction houses and 1,000s of coin dealers. In the US alone it is estimated that there are 250,000-500,000 serious coin collectors, 40,000+ members of the American Numismatic Association and millions of coin buyers (which do not systematically collect coins, but buy one or more coins from time to time).

There are several coins worth less than $1 each that even a minor can collect and today you can get an ancient coin 2000 years old for $5-$10 and on the other hand, there are coins worth several million dollars each. It is estimated that more than 250 different US coins worth more than $1,000,000 each and most of them are not unique pieces.

The biggest coin auction company of the world sells coins worth nearly a billion dollar every year. Coin values rise over time and especially high quality rare coins steadily grow in value over the past 100 years and achieve better results that the stock market or any other investment with an average estimated 10% per year profit in contrast to art that gains an average of 4% per year and real estate 5-8% per year.

So, the market is BIG, coin collecting is not a new bubble that is going to burst soon, but has a 2000+ year old history and has a long track record of high returns averaging 10% per year. I'm telling you all these to see that there's obvious value in investing in rare coins. So, let me tell you more about the basic stuff...

Coin collecting is fun and profitable and even if you focus just on investing you need to know how collectors act, what they seek and how they make their purchases to make the most profits. I'm going to focus here on the serious collectors that spend $100s or even $1,000s for each coin.

Some of them collect a specific series of coins, others several different series, or type sets or just rarities. Some of them collect every coin of their country or focus on ancients or coins of a particular continent or group of countries (like Latin American coins for example).

There are several different types of coin collectors these days and it's not uncommon one collector to have multiple interests or change interests over time and sell part or all of his/her collection to build a different collection.
Whatever the interest or the budget of the collector is, there are some facts you need to know to be a successful investor: All of them focus on quality and quality coins generally bring the highest prices plus have the most
profitability.

Rarity is important, too, but quality is more important and more often collectors pay top dollar for high-end common coins than worn out extremely rare pieces.

So, basic rule #1 you have to focus on quality, and you'll see in the next few chapters what I mean with "quality". Basic rule

#2: you have to invest in what most collectors buy, so popular series like Morgan Dollars or Lincoln Cents in US coins are better than scarce colonial issues. These days there are several companies that certify the authenticity and quality of coins and the 2 most reliable of them are PCGS and NGC. Both of them guarantee the grade and authenticity of the coin and are names all collectors trust. So, rule

#3 either buy PCGS or NGC certified coins or send your raw coins to one of these 2 companies to grade and slab them. These are the basic stuff you need to know about coin collecting to be able to successfully invest in rare coins.


Related Articles
Editor's Picks Articles
Top Ten Articles
Previous Features
Site Map





Content copyright © 2022 by Gary Eggleston. All rights reserved.
This content was written by Gary Eggleston. If you wish to use this content in any manner, you need written permission. Contact Gary Eggleston for details.