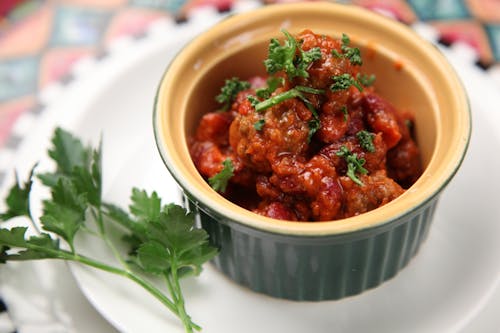 When you saw the title to this article, did you say, "What? VEGAN chili dog? No way!" Really, this is a tasty recipe for a vegan chili dog. It uses my wonderful recipe for Falafel Chili and pairs it with a large vegan hot dog. This mild, full-flavored chili enhances the Jumbo Smart Dog by Lightlife to make a chili dog that just drips with good taste.

Each of these jumbo dogs will fill a bun right up. Even though they are large, these tasty dogs only have 100 calories, which includes 3.5 grams of fat, 4 grams of carbohydrate, and 13 grams of protein. The protein is from soy and pea protein isolates. They also have soybean oil, cane syrup, tapioca starch, salt, potassium chloride, baker's yeast extract, carrageenan, dried garlic, natural flavor from plant sources, natural smoke flavor, xanthan gum, fermented rice flour, guar gum, and oleoresin paprika to add color. The ingredients are certified as non-GMO, which means that they are not made from genetically modified food sources.


Vegan Chili Dog Recipe

ingredients:

1/2 cup of falafel mix (I used Ziyad)
1/2 cup of cool water
2 tablespoons of olive oil
1/2 cup of chopped bell peppers
1/2 cup of chopped onion
3 cloves of minced garlic
1 can of diced tomatoes
1 rounded tablespoon of tomato paste (Cover the can and put it in a Ziploc in your freezer, if you have leftover paste.)
4 cups of mixed beans (You may use pinto, red, or black beans.)
2 tablespoons of chili powder (I used McCormick.)
1 tablespoon paprika,
1 tablespoon cumin
1 tablespoon dried cilantro
1 teaspoon seasoned salt (optional)
1 tablespoon brine from pickled jalapenos (optional)
1/2 cup water


Method:

Mix 1/2 cup of Ziyad falafel mix, or your favorite falafel mix, with 1/2 cup of cool water. Let it stand for half an hour to hydrate the falafel mix.

In an iron skillet, heat 2 tablespoons of olive oil and lightly fry 1/2 cup of chopped bell peppers and 1/2 cup of chopped onion with 3 cloves of minced garlic until they are soft. Remove the veggies from the pan and put into a bowl. Leave any remaining oil in the pan.

Add the hydrated falafel to the hot pan by tossing little chunks in. I use my hands and just drop it in, but you might like using a spoon--not as messy on the fingers! Cook it until it starts to firm up. Turn and chop it, so that all of it gets crispy. It should look like crumbled hamburger.

Add the peppers, onions, and garlic back in. Add one can of diced tomatoes, tomato paste, and 4 cups of mixed beans.. You may use any kind of beans that please you. Black beans, red beans, or pinto beans are fine. If you are using canned beans, drain the liquid. Add 2 tablespoons of chili powder, 1 tablespoon paprika, 1 tablespoon cumin, and 1 tablespoon dried cilantro. Add optional ingredients, if desired. Add 1/2 cup of water and stir the chili. Heat the chili on low heat for 10-15 minutes, stirring to keep the chili from sticking, then remove from heat.

Put the vegan hot dogs into the falafel chili and let stand, covered for 2-3 minutes. If you have more than 2 hot dogs, to heat, do that separately. Follow the directions on the package. Be sure not to overheat, or the outside layer will be very rubbery.


This is even better the next day! If you are reheating the chili for more chili dogs, heat it until it is bubbly, and then add the hot dogs to the falafel chili. Cover the chili and let it stand for 2-3 minutes. Since this is a mild chili, you can add spice to your taste to kick up the heat. We like a few Aleppo pepper flakes in ours.

Since we started making this Falafel Chili Recipe, my husband and I have made hamburger chili one time. Now, with these delightful Jumbo Smart Dogs, we have a great vegan chili dog option. Give it a try and embrace this delicious vegan treat! Enjoy your sandwiches!


When I mention stores or products by brand name, these are the ones that I use. I have not received free products from the manufacturers, nor have I been paid to mention the products or stores by name.

NEWSLETTER: I invite you to subscribe to our free weekly newsletter. This gives you all of the updates for the Sandwiches site. Sometimes, this newsletter has information and variations on sandwiches that are not in the articles. Fill in the blank below the article with your email address - which is never passed on beyond this site. We never sell or trade your personal information.

Related links: The Related Links below this article may be of interest to you.

There are times when I recommend an item related to my article and add an Amazon link, so that you can check it out. I am an Amazon Associate, and when you purchase an item after clicking on my link, I do make a commission for purchases made through that link.



You Should Also Read:
Chopped Salad Recipe
Creamy Coleslaw Recipe
Marinated Vegetable Salad Recipe


Related Articles
Editor's Picks Articles
Top Ten Articles
Previous Features
Site Map





Content copyright © 2022 by Connie Mistler Davidson. All rights reserved.
This content was written by Connie Mistler Davidson. If you wish to use this content in any manner, you need written permission. Contact Connie Mistler Davidson for details.