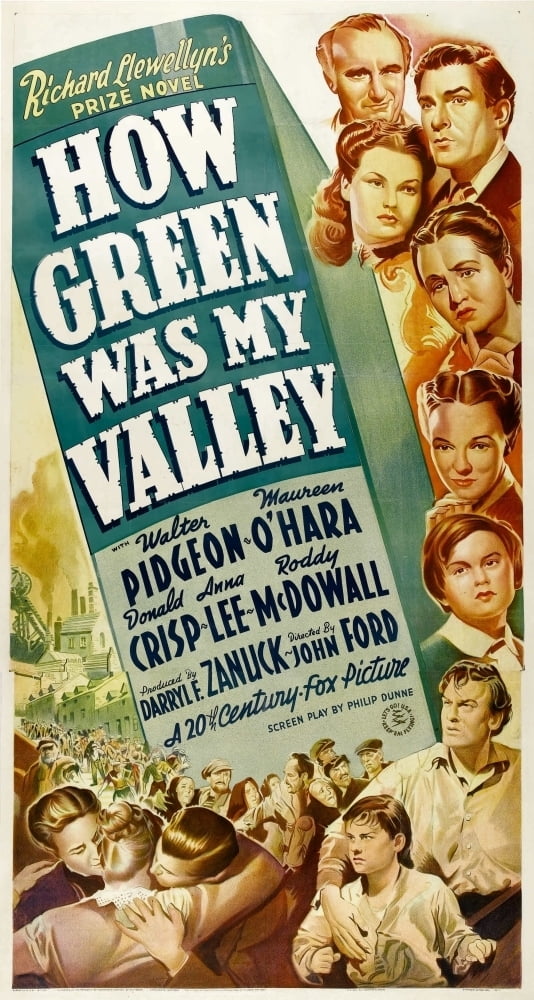 Life is hard in the small mining village in Wales. The Morgan family makes their living by working in the nearby coal mine. As life gets tougher for them with wage cuts and mining disasters, the Morgans place their hopes in young Huw to have a better life. Here are a few movie mistakes to look for while watching "How Green Was My Valley".

· Pa Morgan and the older boys are talking about the cut in wages at the mine. Pa's right hand is down, dangling past his coat in the side and front views when the conversation turns to unions. It cuts to a wider view when one of the boys says, "It's sense…", and his right hand is near his jacket pocket.

· Huw is sick in bed when the two birds show up on his windowsill. In the close-up, the first bird jumps down and is on the right side of his chalkboard. It cuts to a farther view as Huw tries to touch the bird and it's on the left side of the board.

· Huw is fighting with one of the boys in the coal mine. In the overhead view, the two are on the rails/tracks and roll to the right, toward the wall. It cuts to a closer view as the fight as being broken up and the two are on the rails/tracks again.

· The bells ring in the village for the marriage of Angharad and Evans. The front view of Huw looking into the church shows he's wearing a hat. It cuts to a wider view as everyone begins to leave the church, and Huw's hat is gone.

· Huw's mom and dad are arguing whether Huw should fight the school bullies. In the close-up view, his dad stands and says, "A boy must fight, Beth". Huw is standing directly in front of his father. It cuts to his mother when she replies, "Fight, fight it is…" and there is no one around her. The scene switches to a wider view of the three and Huw is now standing next to his mother.

· Huw comes home after being beaten by Mr. Jonas. The men in the village take his shirt off to look at his back and comment about the marks. A moment later, when his brother picks him up to carry him home, there are no marks on his back.

"How Green Was My Valley" (1941) stars Walter Pidgeon, Maureen O'Hara, Anna Lee, Donald Crisp, Roddy McDowall, John Loder, and Sara Allgood. It runs 118 minutes and is Unrated.

Get your copy of "How Green Was My Valley" here:




Related Articles
Editor's Picks Articles
Top Ten Articles
Previous Features
Site Map



Follow @IGMovieMistakes
Tweet



Content copyright © 2022 by Isla Grey. All rights reserved.
This content was written by Isla Grey. If you wish to use this content in any manner, you need written permission. Contact Isla Grey for details.