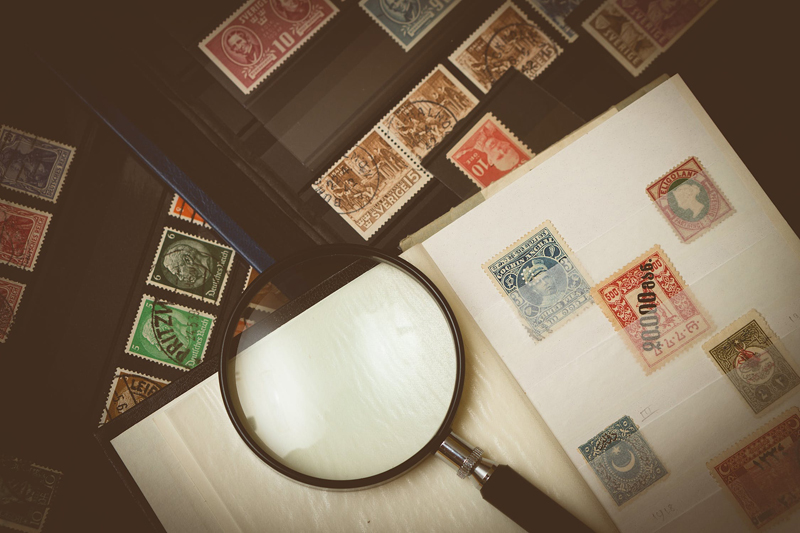 You will need to set up some type of a work area where your stamps can be spread out and not be damaged. Ideally this would be a separate room with a big desk and a computer. Unfortunately, we do not live in an ideal world, so you will have to make do with what you do have available.

At the very least you will need to have a desk or a table or other flat surface on which to work. Preferably it should be a large, hard, smooth surface such as wood. Glass is generally too smooth, making it difficult to pick up a dropped stamp without bending it.
A padded work surface is no good either. Setting your stamp tongs on a stamp on a padded surface could easily bend the stamp. Your work surface should also be stable.

Make sure that you have adequate lighting and a comfortable chair to sit in. You will likely be sitting at your desk or work area for long periods of time, so make sure you are going to be comfortable in the process. Use plenty of lighting to avoid eye strain.

Your work area should be in a place where your stamps will not be disturbed by pets or kids. Keep drinks and food far away from your work space. And do not smoke around your stamps either.

Your stamps need to be stored in such a fashion as to reduce the likelihood of damage to your stamps. If your stamps are to be stored in an album, they should be mounted in a protective sleeve. Only use sleeves that are specifically made for mounting stamps.

These sleeves are generally clear and come in various sizes and are chemically neutral. Some sleeves are already sized for mounting stamps, while other sleeves will need to be trimmed to size. When trimming the stamp mounts, be sure the stamps are NOT in the mount at the time you are trimming them. One wrong move with the scissors can make easily ruin your stamps. The stamps should fit snugly in their mounts, but not so tightly that removal could cause damage to the stamps.

Some stock pages have clear plastic overlays which securely hold your stamps in position. If you use this type of page, be sure to take extra care to be sure the edges of the stamp do not get caught and get bent during placement or removal.

No matter what mounting method you choose to use, be sure to use glassine separation pages. These are simply pages made of semi-clear glassine paper which will keep your stamps on facing pages from sticking to one another

In the past stamp hinges were the norm for mounting stamps. Today, they are shunned due to the damage that they cause to stamps over time. The damage is very obvious, widespread, and permanent. Some stamps that have never been hinged now command a significant premium over their previously hinged counterparts.

When keeping stamps in stockbooks, you should take particular precautions in the conditions in which your stamps are kept and stored. Variations in temperature and humidity can severely affect the condition of your stamps, causing them to curl and discolor.

The most horrifying thing that could happen is for the gum to soften and stick to the album pages, or to whatever the stamp is up against. Given the huge premium on most stamps with their original gum intact, care should be taken to keep extreme variations in humidity and temperature form happening, as such both variables should be kept as constant as possible.

The best way to store stamps that you will be selling soon is in glassine envelopes. While this isn't the best choice for long-term storage, it is great for the short-term. Also stockbooks offer better protection than glassine envelopes do over long periods of time.

If you must use envelopes to store your stamps, be sure to use glassine envelopes and not ordinary envelopes. Standard envelopes contain acids, which will make stamps fade over time. Do not store glassines flat on top of one another and do not rubber band them together.

If you store your stamps in a drawer, be sure not to place any heavy objects on top of the stamps as this could damage them. Store the glassine envelopes standing up in a sturdy box. Be sure to pack them so that they do not move around much, but not to tightly. If they are packed to tightly together, the stamps could easily be bent when you try to add or remove the glassine envelopes. And if they are too loose, they can shift around and bend each other.




Related Articles
Editor's Picks Articles
Top Ten Articles
Previous Features
Site Map





Content copyright © 2022 by Gary Eggleston. All rights reserved.
This content was written by Gary Eggleston. If you wish to use this content in any manner, you need written permission. Contact Gary Eggleston for details.