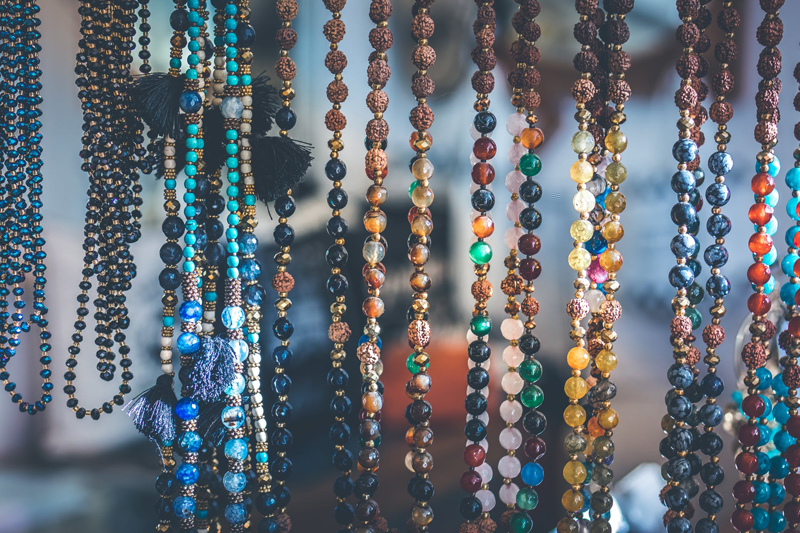 The 5R Chain
This chain is a simple adaptation of single needle right angle weave, and the name came from the fact that the first people I showed it to said it looked like rickrack, or railroad tracks.
So since the name is 5R, the shop I´m going to recommend this week is
5Z´s Beadshop
, it´s a very adaptable chain, and she carries beads that are hard to find elsewhere, the Olaf size 9/0´s. She also carries the hard to find in the USA Olaf beading books.
What you will need;
Size 12 beading needle
silamide thread, I don´t recommend Nymo for working with bugles, you may prefer it though
size 11 beads
4 mm bugle beads
This is just for the basic chain, there are lots of ways to adapt it,using different size beads, embellishing it, weaving two strips together.
So right now we will just cover the basic chain.
Start by threading your needle with a length of thread your comfortable working with, and string on 1 seed bead, 1 bugle, 3 seed beads, and 1 bugle, tie it off in a loop. Bring your thread back through the first seed bead and bugle.


Add 3 seed beads, 1 bugle, 1 seed bead, and pass your needle and thread through the bugle you came out of on the last step, go back through the 3 seed beads and bugle just added, add 1 seed bead, 1 bugle, go through the bugle from the last set, 3 seed, pass thread through the newest bugle added. (You know, ladders/single needle right angle weave are so easy to do, but describing it is hard!) Do that for 5 total seed beads across the bottom.
Now we reverse the order of the weave, so it will be 1 seed on top,bugle, 3 on the bottom. Keep adding to the chain in that manner until it´s the length you want, switching order of the beads every 5 units added (5 single seed beads on bottom, 5 single seed beads on top)
Okay! The curves are showing, and right now it´s a loose, liquidy weave. Nice looking, but very prone to twisting! Final step, weave seed beads down each side in between the seed bead units. The added seed beads are shown in yellow on this illustration. When you first get done adding them on one side it will curl, and look like it will not come straight. It will. You might have to press it down with your fingers when your done to get it to lie flat though.
Like I said, it´s very adaptable, after you make one, you´ll start thinking of lots of ways to adapt it, what happens when you use bigger beads? Longer bugles? More units per curve? Skip the beads in the final set and weave thread through tightly?
I hope you enjoy this project as much as I did, and find it as inspiring, I know I´m planning to see if I can make infinity symbol earrings using this technique!
The example above was done with a mix of size 8 and size 11 seed beads, and 4 mm bugles, It´s very stiff, a very pronounced curve, and had a tendency to curl up slightly on the corners, I weighted it down with a book for an hour and it was fine.
The example below is two strips with size 11 beads and 4 mm bugles, woven together.


Related Articles
Editor's Picks Articles
Top Ten Articles
Previous Features
Site Map



Follow @shala%5Fbeads
Tweet





Content copyright © 2022 by Shala Kerrigan. All rights reserved.
This content was written by Shala Kerrigan. If you wish to use this content in any manner, you need written permission. Contact Shala Kerrigan for details.