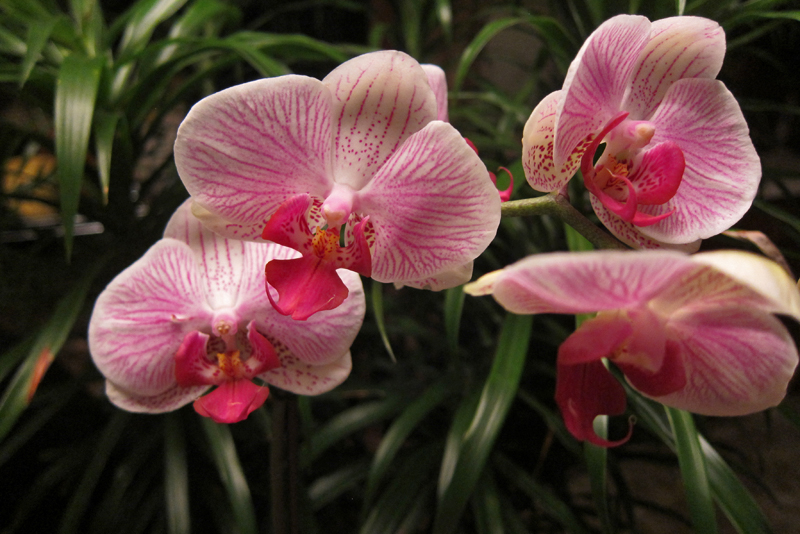 Aerides are generally erect, warmth loving orchids having beautiful flowers. Their size varies from miniature to large. Though they are rigorous growers, they still do not like to be disturbed often. Aerides can continue to grow in same container for more than three years. Repot this orchid only when it is absolutely essential.

Repotting of Aerides works best when the roots are least disturbed. This can be done by two methods.
• Some orchidologists have advised to simply pick up the orchid along with the old medium from its old container without disturbing the roots and place it in the new container. You can add some coarse potting mix.
• While others suggest that for repotting Aerides you do not need to remove the orchid from its old container, instead just place the old container in a new container which should be larger than the old one.

When to repot Aerides orchids
• Aerides can be repotted throughout the year. But the best time to repot these orchids is just before the start of growing season.
• It is advised to repot when the plant appears to have overgrown its container and there is no space left for new growth to emerge or the potting mix/growth medium has decomposed.
• In case there is any kind of infection (fungal, viral or bacterial) or there are some rotting areas on the roots, it is time to repot your orchid and remove these rotted parts.

How to repot: The basic process of preparing the new container is similar. However, the method of dividing each species of orchids can differ according to its physical structure. Though, I am repeating the process of preparing the container here, it is but to help prevent any harm to the orchid while repotting.
• Material required for repotting includes things like new containers (like pots, baskets etc), growth medium, tools for cutting and separating the plant material, clean paper (newspaper will do fine).
• Size of the container should be according to the growth of the orchid. Large pot for large and rigorously growing ones, while small sized containers for miniature Aerides. As these orchids prefer to grow in the same container for long periods, so select containers made of long lasting materials.
• Choose a growth medium which can retain a bit of moisture and is porous as well. As Aerides are epiphytes, potting mix can be of bark pieces, coconut fibre, charcoal and/or bricks pieces, fern roots etc. Make sure that the new potting mix is clean and devoid of pests. You should also discard your old medium if infected with pests, disease causing fungus, virus or bacteria.
• Before starting to cut or separate your orchid, clean the tools in soapy water and wipe with alcohol. This is to prevent spread of viral and bacterial infections, which are easily spread through dirty tools.
• Select a clean dry place to do repotting.
• Collect the material required for repotting and place all the stuff within close reach.
• Add the growth medium in the container. If planting in a pot, make sure there is an outlet for water drainage.
• Aerides can be divided by two methods:
Dividing Keikis: In Aerides, new growth can be seen in form of tiny plants (or baby plants) sprouting from the base/sides of older shoots. These are called 'keikis' that grow out into full-fledged orchid.
Separating from rhizomes: When your Aerides seems to overgrow the pot/container, it is time to repot. Divide the orchid by cutting the rhizome and separating erect stem carefully, without damaging the orchid. Also check for any rotted or diseased parts, which should be removed. Now, place the separated and cleaned orchid on a clean sheet of paper.
• In case of fungal or bacterial infections, remove the diseased parts. Clean rest of the roots with fungicide/ bactericide solution before repotting in the new container.
• Now place the cleaned orchid in the prepared container carefully such that there is ample space for new growth to spread out. Aerides have large number of aerial roots, do not cover these with the growth medium. Leave them exposed. You can tie the brown roots of the orchid to the medium as well as the container, if using containers like wooden log, baskets etc.
• Give the newly repotted orchid time to adapt to its new home. So water sparingly at first and place it in warm shaded place. You can shift and start with normal routine of watering and fertilizing when your see new growth emerging.

Notes:
Always label your orchid when potting in a new container. So that there is no confusion to its identity later on and needs particular to that orchid can be easily ascertained.

You Should Also Read:
Aerides Multiflora - Fox Brush Orchid
Re-Potting Your Orchids
Repotting Your Dendrobiums


Related Articles
Editor's Picks Articles
Top Ten Articles
Previous Features
Site Map





Content copyright © 2022 by Anu Dharmani. All rights reserved.
This content was written by Anu Dharmani. If you wish to use this content in any manner, you need written permission. Contact Anu Dharmani for details.