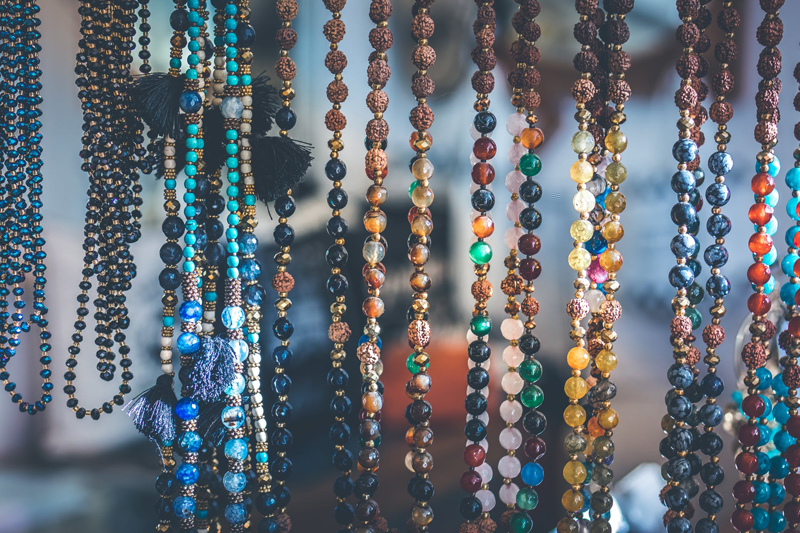 I like making earcuffs. I generally wear only sleeper hoops in my ears, so earcuffs give me the chance to get dressy and feel a bit wild.
It's a lot less expensive to make sterling wire earcuffs then to buy the findings as well.
Not to mention, for people who don't have their ears pierced, and want to wear earrings with their Halloween costumes, earcuffs are a nice alternative.
You can put a regular dangle type earring design on the bottom of them like you would with a regular ear wire.
So what is an earcuff supposed to do? It should wrap around the ear lobe of course, and preferably have some sort of loop to hang all those pretty earring designs from. It should be comfortable to wear.
I doodle in wire to find my earcuff designs, and the major thing to remember is to figure out exactly how long the main wrap has to be to be comfortable. I've found just under an inch works best for me. Then I have a 3/8's diameter dowel I use as a mandrel to curl the ends.
What you will need:
about a foot of 20-22 gauge wire whichever kind you prefer
round nosed pliers
needle nosed pliers with flat smooth surfaces. Not the kind with a hatch pattern for gripping, those will mar your wire.
wire cutters
file
For the simplest kind, start with about 2 1/2 inches of wire, and file the ends smooth. A nail file or emery board works fine for that.
Measure 3/4 inch from both sides, and mark it with a soft pencil. Fold the wire in opposite directions, make a small loop on the ends of the wire, then wrap around your mandrel. If you don't have a dowel, a pen or smooth round pencil (not hex shaped) will work fine.
The dangle would hang on a split ring from the bottom loop.
So that's the basic design, however, your only limited by your imagination. Remember to take into consideration function as well as design. Try on your designs, see if they work, if they are comfortable, wear them for a couple hours and see what you think.
With this technique, offering customers still another option for your gorgeous earrings is very easy!
The second design is my rendering of what the earcuff in the picture at the head of the article looked like before I curved it on a mandrel. You can see from the photo where I hung a dangle from it.
Done in inexpensive brass wire which you can get from any hardware store, you can make all sorts of earrings for your favorite gypsy or pirate for Halloween.
I hope you enjoy this project!


Editor's Picks Articles
Top Ten Articles
Previous Features
Site Map



Follow @shala%5Fbeads
Tweet





Content copyright © 2021 by Shala Kerrigan. All rights reserved.
This content was written by Shala Kerrigan. If you wish to use this content in any manner, you need written permission. Contact Shala Kerrigan for details.